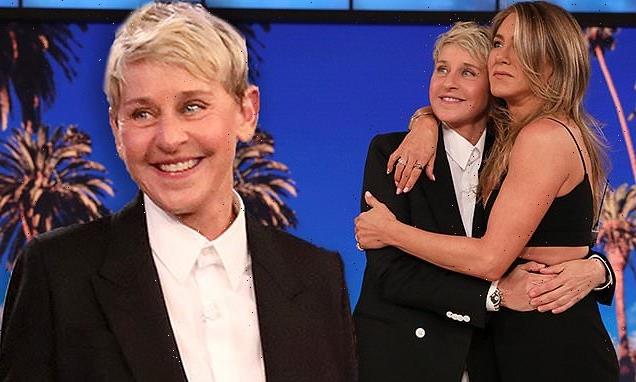 Tears, a celebration of being gay and an A-list love fest: Ellen DeGeneres ends her daytime talk show after almost two decades – and a near miss with getting cancelled – with plea for compassion after toxic workplace scandal
The Ellen DeGeneres Show came to an end after two decades on air on Thursday 
Host Ellen DeGeneres and guests Jennifer Aniston, Billie Eilish and Pink shared memories and affection as the show concluded its Emmy-winning, 3,200-plus episode run that began in September 2003
DeGeneres brought the show to a close with a celebrity lovefest and a forceful assertion of her achievement as a gay woman daring to be herself 
'Twenty years ago, when we were trying to sell the show, no one thought that this would work. Not because it was a different kind of show, but because I was different,' DeGeneres said of the pushback from TV stations
DeGeneres' daytime reign hit a serious bump in 2020, when the show was alleged to be a toxic workplace and three producers exited amid the claims 
On the air that fall, DeGeneres apologized for 'things that shouldn´t have happened,' but defended herself as being the same genuine person – if an imperfect one – on- and off-camera 
Ellen DeGeneres brought her nearly two-decade daytime talk show to an end Thursday with a celebrity lovefest and a forceful assertion of her achievement as a gay woman daring to be herself.
DeGeneres and guests Jennifer Aniston, Billie Eilish and Pink shared memories and affection as The Ellen DeGeneres Show concluded its Emmy-winning, 3,200-plus episode run that began in September 2003.
'Twenty years ago, when we were trying to sell the show, no one thought that this would work. Not because it was a different kind of show, but because I was different,' DeGeneres said of the pushback from TV stations.
End of an era: Ellen DeGeneres brought her nearly two-decade daytime talk show to an end Thursday with a celebrity lovefest and a forceful assertion of her achievement as a gay woman daring to be herself 
Let's dance! Ellen was joined by her close pal and Hollywood super star Jennifer Aniston 
Friends forever: Aniston was the first guest on the show's first episode on September 8, 2003
When the syndicated show went on the air, she was prevented from saying the word 'gay' or even the pronoun 'we,' DeGeneres said, since the latter would imply she had a partner. She didn't specify who imposed the ban.
'Sure couldn't say wife, and that´s because it wasn't legal for gay people to get married – and now I say 'wife' all the time,' DeGeneres added, with a touch of defiance, as actor Portia de Rossi watched from the studio audience. They wed in 2008.
The host, who became known for encouraging her audience to join her in impromptu dances, shared some last moves with her sidekick and DJ, Stephen 'tWitch' Boss, to the tune Best of My Love.
The dancer-choreographer saluted DeGeneres as someone who inspires others because she has 'the courage to step out and be your authentic self.'
Star power: DeGeneres and guests Jennifer Aniston, Billie Eilish and Pink shared memories and affection as The Ellen DeGeneres Show concluded its Emmy-winning, 3,200-plus episode run that began in September 2003 
Breaking barriers: When the syndicated show went on the air, she was prevented from saying the word 'gay' or even the pronoun 'we,' DeGeneres said, since the latter would imply she had a partner. She didn't specify who imposed the ban 
Aniston, who as the first guest on the show's first episode gave DeGeneres a 'Welcome' doormat, arrived with another that read, 'Thanks for the memories.' DeGeneres noted the Friends star has been on the show a total of 20 times.
'You're welcome,' Aniston said, teasingly, then turned serious.
'I love you, and I so appreciate you and what you have given to the world over the last 19 years. The contribution is endless,' she said. She introduced a career retrospective video that also touted DeGeneres' philanthropic efforts, said to include more than $400 million in donations to charities and 'deserving viewers.'
'I love you,' a beaming Eilish told DeGeneres during their chat. 'I love you so much, it´s dumb,' said Pink, who performed What About Us.
Sharing a moment: DeGeneres shared an embrace with her sidekick and DJ Stephen 'tWitch' Boss 
A-list: Aniston gestured towards the audience as she pulled a smiling Ellen in close  
DeGeneres' daytime reign hit a serious bump in 2020, when the show was alleged to be a toxic workplace and three producers exited amid the claims. On the air that fall, DeGeneres apologized for 'things that shouldn't have happened,' but defended herself as being the same genuine person – if an imperfect one – on- and off-camera.
The talk show represented a second major TV act for DeGeneres. In 1997, she made an indelible mark when she came out as lesbian and brought her character on the ABC sitcom Ellen with her. The series was axed the next year.
'Twenty-five years ago, they canceled my sitcom because they didn't want a lesbian to be in prime-time once a week. And I said, 'OK, then I'll be on daytime every day," DeGeneres said Thursday.
Talk show legend: DeGeneres was applauded during a taping of the show  
The comedian, actor and producer has said she'll take time to consider her next career move, but first she and de Rossi are making a trip to Rwanda. DeGeneres wrapped her daytime show with a plea to her audience, one she said was worth repeating.
'If I've done anything in the past 19 years, I hope I've inspired you to be yourself, your true authentic self. And if someone is brave enough to tell you who they are, be brave enough to support them, even if you don't understand,' DeGeneres said. 
'By opening your heart and your mind you're going to be that much more compassionate, and compassion is what makes the world a better place.'
Sing it! P!nk helped bring the series to a close as she performed What About Us for the audience
Billie Eilish was one of Ellen's last guests  
DailyMail.com first broke the news that the talk-show would be ending back in May last year, following her toxic workplace scandal that resulted in three top producers getting fired.
She confirmed the news herself shortly afterward in a statement saying: 'When you're a creative person, you constantly need to be challenged — and as great as this show is, and as fun as it is, it's just not a challenge anymore.'
DeGeneres addressed the workplace controversy in an interview with The Hollywood Reporter published Wednesday, where she called it a 'very, very difficult' time and said that she had been 'crying every day' while filming parts of her last series.
However, Ellen also revealed that she had been trying to keep the last two weeks of filming 'fun,' because of her 'struggle with anxiety and depression.'
The hostess with the mostest! Ellen beamed as she posed with guest P!nk  
The comedian said she had originally planned to stop the show three years ago, just before the allegations of a toxic environment had come to light, but was talked into staying.
'They talked me into staying a little longer and I did and it's fine,' Ellen informed the publication when asked if she had any 'regrets' about her decision to end the series when she did.
Referencing the scandal, the veteran star said: 'There was a lot that happened during that time that was unfortunate but it is what it is — you go through stuff in life and you just keep learning and growing. That's how I have to look at it.'
Executive producers Ed Glavin and Kevin Leman, and co-executive producer Jonathan Norman were fired in 2020 amid allegations of misconduct, sexual harassment, bullying and intimidation on set.
Crowd pleaser! The audience jumped to their feet as Ellen made her way through the crowd 
Leman and Norman both strenuously denied the allegations while Glavin did not publicly address the claims.
Ellen apologized following rumors of her own bad behavior including being 'mean' to staff, saying at the time: 'I'm so sorry to the people it affected.'
After continuing the series, the former sitcom star told THR that she believes it is the right time for it to come to an end, saying the world is 'in a crazy place' and has become 'very charged.'
'But it's definitely time to stop. And the producers, we'll all stay in touch. Andy [Lassner, her executive producer] still texts me at least three times a day,' she said.
Remember when? The duo reminisced on Jennifer's very first appearance on the show back in 2003. The Friends star was Ellen's very first guest 
Ellen was also asked if she had any regrets about ending the show sooner, which possibly would have avoided the toxic workplace backlash, but she suggested that it had happened for a reason.
'I have to just trust that whatever happened during that time, which was obviously very, very difficult, happened for a reason,' she explained.
'I think that I learned a lot, and there were some things that came up that I was shocked and surprised by. It was eye-opening, but I just trust that that had to happen.'
Zooming in! Ellen appeared to be peering through a pair of binoculars  
When it came to filming the final series, Ellen revealed that it was an emotional process.
'There was a time a couple of months out where I was crying every day. I was really emotional, even though it was my choice, and it's the right choice. I knew it was time to end this chapter and to do something different, but still it was really emotional.'
The final episode of the show was pre-taped in April, and Ellen explained how she tried to put herself in a more positive mindset during filming.
Emotional: Ellen was tearful during the show and had earlier admitted to being in floods of tears during the final week
Proud: Ellen's wife Portia de Rossi and her brother Vance DeGeneres could be seen sitting in the front row for the final show 
'But I did not want the last two weeks to be about that. I'd meditate every day on my intention and how much I wanted to be present and enjoy it and I wanted that for the audience, too.'
'I wanted people to be reminded of what we brought to television with the music and the games and everything. It was more of a variety show than anything, and I wanted the last two weeks to be pure fun because I struggle with anxiety and depression and I know how important it is to have an escape.'
'We're reminded every single day of what's going on in the world, from a sick family member to wars and fires and global warming. There are so many different things that make you sad.
As the show comes to a close, the TV star will be spending time in Rwanda with her wife Rossi, where she has opened an education campus helping save wild mountain gorillas. 
Where it all began: Ellen has long been considered the queen of daytime television since her show premiered back in 2003
And farewell: Ellen closed out the show by recreating her first ever moment on the couch 
Gay marriage, plenty of dancing and THAT viral truth bomb: A look back at Ellen's big TV moments   
After 19 seasons and well over 3,000 episodes, US talk show The Ellen DeGeneres Show aired its final episode Thursday.
Here are key memorable moments from over the years:
'I'M GETTING MARRIED!' 
One of the most famous LGBTQ person in America, DeGeneres came out back in 1997, when she was still a rising comedian and sitcom star.
Immediately hailed as a gay icon, DeGeneres has since helped transform mainstream attitudes towards the lesbian community.
So when the California Supreme Court overturned a ban on gay marriage in 2008, it was little surprise that she and actress Portia de Rossi decided to tie the knot.
'I would like to say right now — for the first time, I am announcing, I am getting married,' she told her delighted audience.
DANCING WITH OBAMA 
DeGeneres is known for dancing with her audiences at the start of each show.
Guests are also invited to offer a few moves – including an ambitious young senator called Barack Obama in 2007.
'You're the best dancer so far of the presidential candidates,' DeGeneres told Obama, as he grooved to Beyonce's 'Crazy in Love.'
'It's a low mark. But I'm pretty sure I've got better moves than (Rudy) Giuliani,' he replied, referring to the former Republican candidate.
SUPER BASS VIRAL SUPER STARS 
In 2011, young British girls Rosie McClelland and Sophia Grace Brownlee were invited onto the show dressed in frilly pink tutus to perform their recently viral rendition of Nicki Minaj's 'Super Bass.'
What came next melted audience and viewer hearts, and the cousins from Essex have returned multiple times since, hosting a segment called 'Tea Time with Sophia Grace and Rosie' — and eventually meeting Minaj on stage.
DAKOTA JOHNSON CALLS OUT ELLEN  
It has not all been lightness and fun on 'The Ellen DeGeneres Show,' with one particularly excruciating moment coming in 2019 when actress Dakota Johnson appeared on Ellen's couch.
DeGeneres jokingly complained that she had not been invited to the 'Fifty Shades' star's birthday party, to which Johnson bluntly replied: 'That's not the truth, Ellen.'
As the host frantically tried to backpedal, a seemingly offended Johnson stuck to her guns, adding: 'Ask anybody.'
The exchange swiftly went viral and was turned into countless memes, with some detractors even alleging that this moment exposed DeGeneres' chummy persona as less than genuine.
SUPPORT FOR KEVIN HART  
Arguably the show's most controversial moment came in 2019, when comedian Kevin Hart appeared as a guest soon after losing his role as Oscars host over a series of homophobic tweets.
DeGeneres backed Hart and told the audience she had personally called the Academy in the hope of having him rehired.
'As a gay person… I am sensitive to all of that,' said DeGeneres, before imploring Hart to not 'let those people win,' and to 'host the Oscars.'
Both DeGeneres and Hart were criticized for the conversation, with LGBTQ groups accusing the host of failing to stand up for her community, and also assuming to speak on its behalf.
Inside Ellen DeGeneres' toxic workplace scandal
For nearly two decades, The Ellen DeGeneres Show and its openly lesbian host beamed into homes across America, charming daytime TV audiences with a feel-good blend of quirky comedy and celebrity.
But after more than 3,000 episodes, a talk show that came to rival even Oprah Winfrey's in terms of its cultural impact bowed out Thursday under a cloud, after allegations of a toxic workplace at stark odds with its 'be kind' mantra.
Here's a look back at the allegations against DeGeneres and her staff:
Weathering the storm: Ellen DeGeneres, 64, was accused in 2020 of fostering a toxic work place. Three producers were later fired, and she apologized to staff in a memo later that summer. Below are key highlights of the allegations; seen in January 2020
April 2020
According to Variety, workers on DeGeneres' show were upset early in the pandemic after they received little communication about changes to their pay.
Some also resented the hiring of a non-union firm to manage the host's remote hookup from her home before she resumed in-studio taping. 
Crew members alleged that they were paid for a reduced number of hours, while many on-staff employees had the capability to manage DeGeneres' at-home studio but were left out. 
May 2020
A former bodyguard who protected DeGeneres when she hosted the 2014 Academy Awards alleged to Fox News that DeGeneres was the only client he's work with who has refused to acknowledge him.
He accused the comedian of being cold and dismissive when her wife Portia De Rossi introduced them, though he noted that De Rossi was kind.
Cold fish: A former bodyguard claimed to Fox News that DeGeneres was cold and dismissive of him when he protected her as she hosted the 2014 Oscars; seen on stage
July 19, 2020
A report by BuzzFeed quoted one current and 10 former employees — all of whom remained anonymous — alleging a culture of fear and intimidation on set.
Some employees also described allegedly racist incidents. 
Executive producers Ed Glavin and Kevin Leman, and co-executive producer Jonathan Norman were among those accused of misconduct and fostering the toxic workplace, though DeGeneres was also called out for being the top boss. 
One Black former employee accused a senior-level producer of making racist comments and perpetrating 'microaggressions.' 
The employee never heard back after asking for a raise after learning an employee hired into the same position made double what she did. 
Another former employee said they returned from a one-month medical leave for a suicide attempt, only to learn that their position was being eliminated.
'You'd think that if someone just tried to kill themselves, you don't want to add any more stress to their lives,' they said.
One employee said they were fired after requesting time off for medical leave after a car crash, as well as some time off to attend funerals. The requests were reportedly opposed by HR and their supervisors.
Another employee said they were filed for posting a selfie in the workplace, a violation of their contract, but they alleged that others got away with the behavior.
They were previously disciplined for starting a funding campaign to cover medical costs that their work insurance was not generous enough to cover. 
The report also referenced rumors swirling for years that DeGeneres was personally cold and 'mean' to her employees.
Serious claims: Former and current employees accused DeGeneres' producers of sexual harassment and making racist statements in a report by BuzzFeed in July 2020; seen in January 2020
July 30, 2020
In a memo to her crew, DeGeneres appeared to take responsibility for the scandal, as her name was on the show.
'As we've grown exponentially, I've not been able to stay on top of everything and relied on others to do their jobs as they knew I'd want them done. Clearly some didn't,' she wrote. 'That will now change and I'm committed to ensuring this does not happen again.'
She noted the irony of the allegations happening at the 'place of happiness' she had hoped to foster.
DeGeneres said she had 'deep compassion' and noted the struggles she faced after coming out as gay. 
She accused the soon-to-be-fired senior staff of 'speaking on my behalf and misrepresenting who I am,' adding that it 'has to stop.'
August 2020
DeGeneres announced in a video meeting with staff that three senior staff members — executive producers Ed Glavin and Kevin Leman and co-executive producer Jonathan Norman — had been fired after the report.
Glavin had been accused of inappropriate touching, while Leman and Norman were accused of sexual harassment. Leman and Norman denied the claims, though Glavin did not publicly respond. 
New tune: DeGeneres apologized to staff in a July 2020 memo, and three senior producers were subsequently fired. But in May of last year she changed her tune and called the allegations 'orchestrated' and 'misogynistic' to The Hollywood Reporter
September 2020
DeGeneres made an on-air apology to viewers on the season premiere of her series.
'I learned that things happened here that should never have happened,' she said. 'I know that I'm in a position of privilege and power, and I realize that with that comes responsibility, and I take responsibility for what happens at my show.'
May 2021 
In her first interview since announcing the end of her show, DeGeneres changed her tune and called the press cycle about the allegations 'orchestrated' and 'misogynistic' to The Hollywood Reporter. 
She defended herself on the Today Show, saying she couldn't have kept up with all of her employees.
'I don't know how I could have known when there's 255 employees here and there are a lot of different buildings, unless I literally stay here until the last person goes home at night,' she told Savannah Guthrie. 'It is my name on the show, so clearly it affects me and I have to be the one to stand up and say, "This can't be tolerated." But I do wish somebody would have come to me and said, "Hey, something's going on that you should know about."
Source: Read Full Article