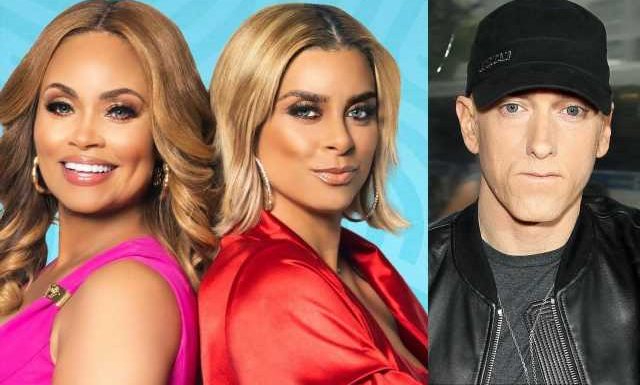 The Slim Shady files an opposition to the 'Real Housewives of Potomac' stars' trademark application for the title of their podcast, insisting that it will damage his brand.
AceShowbiz –Eminem is clashing with Gizelle Bryant and Robyn Dixon of the "Real Housewives" franchise. The rapper has challenged the two reality stars' attempt to trademark the name of their "Reasonably Shady" podcast.
According to Page Six, the Slim Shady filed an opposition on February 14 against Gizelle and Robyn's trademark application. He argues that his brand will be "damaged" if "The Real Housewives of Potomac" stars are issued the trademark for their broadcast.
The 50-year-old rap icon, who released his "Slim Shady EP" in 1997 followed by "The Slim Shady LP" in 1999, also says that "Reasonably Shady" can "cause confusion in the minds of consumers," who have known him by his monikers Slim Shady and Shady since the late 1990s.
The Detroit emcee has exclusively used the name "Slim Shady" and "Shady" for entertainment services since 1998 and owns the trademark for "Shady" to use on merchandise. His daughter Hailie Jade even has her own podcast series which title is a nod to his father, "Just a Little Shady", which was launched in 2022.
Gizelle and Robyn filed to trademark their podcast's name with the intent to begin selling products, such as water bottles, lip gloss, sweatshirts, hats, jackets and socks, weeks earlier before Eminem's opposition. Their reps have not responded to his filing. The ladies must respond to Eminem's request by March 26.
Their podcast has gained success since its launch in 2021. They recently celebrated the show receiving 5 million downloads in less than two years. "SOOO EXCITED! Less than two years and our little @reasonablyshady podcast has over 5 MILLION downloads," Gizelle wrote in a February 15 Instagram post. "Thank you so much for listening! Thank you for the love and support! We totally appreciate being apart of the @blackeffect family Thank you @iheartradio."
You can share this post!
Source: Read Full Article