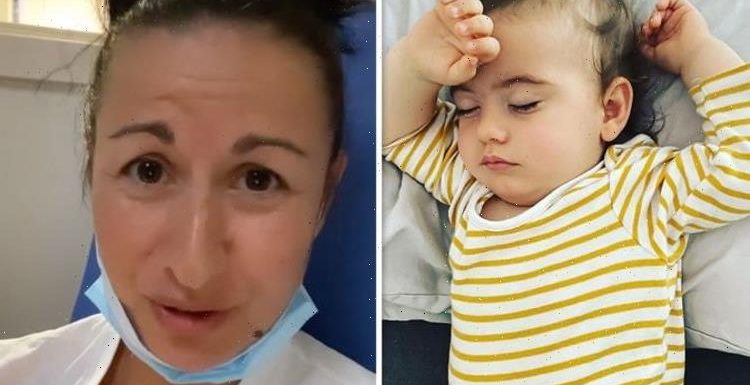 Hayley Tamaddon thanks fans for support as Jasper is in hospital
When you subscribe we will use the information you provide to send you these newsletters. Sometimes they'll include recommendations for other related newsletters or services we offer. Our Privacy Notice explains more about how we use your data, and your rights. You can unsubscribe at any time.
Hayley Tamaddon, 44, has taken her son, Jasper, one, to hospital after he fell ill with a "scary" fever just one month after a previous visit. The Emmerdale star revealed on Instagram he had tonsillitis after months of various infections and ended up getting medical help after a difficult night.
The worst thing is the fever

Hayley Tamaddon
Explaining the situation, Hayley shared a photo of Jasper asleep on their lounge sofa and wrote on her page: "It's 2 am.. we're in the living room. He's poorly. Again. Poor thing.
"In the past two months he's had so many infections, ears, eyes, throat .. and now he has tonsillitis.
"The worst thing is the fever… it's scary… it goes so high and makes him so ill. But.. he's a trouper. Deals with it so well! Better than I would I reckon!"
Just hours later she updated her followers revealing they were now in hospital as she filmed herself on sitting on a ward.
On her story, she said: "And we are back in hospital. Hopefully not for long but the amazing NHS staff are looking into what's making him so poorly."
As he lay in her arms sleeping, she explained: "He has a little cannula in his arm so he has the antibiotics."
The actress added that she had struggled with his blood tests, she continued "Oh my God, a baby having blood tests. I cried, he screamed."
She added: "Sending lots of love to all the parents out there who have got poorly babies.
"I know he's not that bad and there's a lot of babies out there suffering a hell of a lot worse."
Hayley welcomed Jasper in October 2019 with her estate agent fiancé Adrian.
At the time she told fans: "He's here. He's incredible. And we are besotted."
The star announced her pregnancy in April and three weeks later Adrian proposed during a romantic holiday to Crete.
DONT MISS:
Our Yorkshire Farm's Amanda urged to put 'some clothes on' (PHOTOS)
Dick Strawbridge's wife talks 'bickering' as Angel addresses age gap (NEWS)
Piers Morgan reignites Meghan Markle feud amid claims GMB dropped him (LATEST)
Hayley said discovering she was pregnant at the age of 42 was the "most unexpected news".
She had previously suffered a miscarriage, but the devastating event "taught" her she could become pregnant.
The star has played Del Dingle in Emmerdale for two years from 2005-2007.
Six years after leaving the Yorkshire Dales, Hayley arrived on Coronation Street in 2013 and spent two years in Weatherfield before leaving in September 2015.
In 2010 she won the fifth series of Dancing On Ice with skating partner Daniel Whiston.
Source: Read Full Article