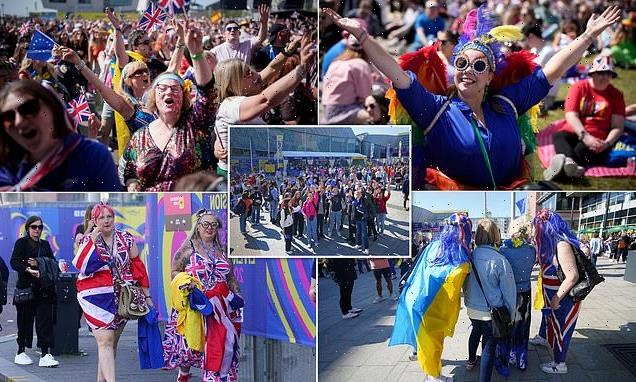 Let's get the party started! Eurovision fans pour into Liverpool's fan village hoping Britain's Mae Muller can beat Swedish favourite Loreen as build-up to song contest grand final goes into high gear
READ MORE: Follow all the action with MailOnline's Eurovision 2023 Live Blog 
Thousands from far and wide gathered for hours in the beating sun today, with flash mob choirs and DJs popping up all around the city as the countdown to the main event comes to an end.
The UK is hosting the competition on behalf of war-torn Ukraine, who won the contest last year, and fans have been showing their support for both countries.
Many were draped in Union Jack flags to support the UK's contestant Mae Muller, while others were seen donning the famous bucket hat worn by Eurovision champions Kalush Orchestra and Ukrainian flags.
Ecstatic fans were seen sprinting straight to the stage front to secure a prime spot to watch the final, which gets underway at 8pm, with 160 million more expected to be watching it from home.
Irish singers Jedward performed for crowds gathered in Liverpool's Eurovision Village
Liverpool is hosting the competition on behalf of Ukraine – and fans are showing their support for both countries
Liverpool's fan village has thrown open its gates ahead of the Eurovision final tonight
Thousands from far and wide gathered for hours in the beating sun today at the city's historic Pier Head venue
Eurovision superfans arriving at the grand final were ready to party with their bold outfits, face glitter and even an inflatable guitar
The grand final will see Muller finally take to the stage. After months of preparation, the 25-year-old singer from north London will finally perform her track, I Wrote A Song, for the international voting public.
READ MORE: Eurovision 2023 final LIVE: Mae Muller represents UK
 Mae Muller told how she hopes to make the UK proud as she prepared for the Eurovisional final on Saturday
Muller is hoping to continue the success of last year's UK entry Sam Ryder, who finished second behind Kalush Orchestra.
But the UK's entrant will need to beat the odds if she hopes to take the win.
She is currently 10th favourite to win with odds of 40/1. Sweden are favourites, followed by Finland and Ukraine. 
Muller said she had also been moved seeing 'just as many Ukrainian flags in the streets as British ones'.
'This is what Eurovision is about, it's about people supporting each other,' she added.
Twenty-six acts will be performing, as well as appearances from the UK's previous Eurovision winner, Katrina Leskanich of Katrina And The Waves.
Fans could hardly contain their excitement as they piled into the arena this evening.
Many were dressed up as Eurovision greats and wrapped in their countries' flags paraded through the fan village in the build up to the show.
Sean, 28, from Liverpool, came wearing a T-shirt featuring Finnish entry Kaarija, the eccentric rapper whose hyperpop hit Cha Cha Cha is among the favourites to win.
He said: 'As you can see, I think you know who we are supporting today. Obviously the favourite is Finland. I do think he has got a chance.'
Speaking about UK entry Mae Muller, who is performing last, Sean added: 'I enjoy the entry. I think there have been some issues with the vocals.
Eurovision lovers donned their most extravagant outfits in red, white and blue as they attended the contest
Brits supporting the UK act Mae Muller draped in Union Jacks as they prepare to celebrate
Excited fans gathered together in the countdown to tonight's big final 
Mae Muller told how she hopes to make the UK proud as she prepared for the Eurovisional final
'But I think it is a good closer. It will be a nice way to round off the show.'
Mark, 29, also from Liverpool, wore a luminescent green outfit reminiscent of Kaarija's own bolero-style jacket.
He added of Muller's song: 'It is very typically pop, it is not typical Eurovision style which I quite like. I think it will do quite well.'
Speaking about Liverpool's showcasing of Ukrainian culture, Mark added: 'I think it is amazing. If you go around you can see Ukraine everywhere, whether it is the signs or flags, it is just Ukrainian.
Union Jack flags filled the crowds today, with many Brits routing for singer Mae Muller
Finland's entry is one of the favourites to win tonight's competition. Finnish fans were pictured showing their support
There were cheers from fans dressed as Ukrainian acts Verka Serduchka and Kalush Orchestra and families in Union flag outfits
Some ran straight to the front of the stage to claim a prime spot for the performances
Twenty-six acts will perform at the M&S Bank Arena in Liverpool to an expected global audience of 160 million viewers
Liverpool is full of colour today as fans celebrate ahead of the Eurovision final tonight
'It is even the case that they have brought a Ukrainian host in to help with Liverpool. I hope we have done Ukraine proud.'
Nicki, 30, from Darlington, came to the fan zone dressed as Serduchka with the Ukrainian flag painted on her cheeks, and told PA she usually watched the grand final as part of a viewing party but had been 'wanting to do this for years'.
READ MORE:  Eurovision's Mae Muller says she is 'forever grateful as she prepares for her performance 
Squad: Mae shared a stunning snap of her and the dancing crew from the back on the stage of Eurovision
She said she was supporting Loreen from Sweden, another favourite to win, but also backed Muller.
However, Nicki added: 'I think it's hard to compete with last year's act. We kind of hit our peak last year. It is just unfortunate we missed out on winning but obviously everyone wanted Ukraine to do well. So hopefully she will be on the left side of the board.'
She said Liverpool's showcasing of Ukrainian culture around the city was 'fantastic' and showed 'we are united'.
Relationships between Liverpool and Ukraine will continue after the 'incredible' Eurovision Song Contest, the city's cultural director has said.
Director of Culture Liverpool Claire McColgan, who has led the cultural, community and educational programmes running alongside the contest, said: 'I think it's been the most incredible experience of my life ever.
'I think for lots of people in Liverpool and around the world, it will be the most incredible event that they've ever been part of, ever been to, ever looked at on the television, and I am hugely proud of this city, massively proud.'
She said that relationships forged with Ukraine, which was unable to host the contest because of the Russian invasion, would not end after Saturday's final.
The UK is hosting on behalf of Ukraine, whose entry won last year's song contest, but could not host this year's contest due to the war
Fans congregate behind barriers as they queue to get into the M&S Bank Arena
Pictured: Olena Ablaieva (pictured right),with her daughter Vasylysa (left). The pair are originally from Ukraine but but now live in Sidcup with a host family after war broke out last year. Today they are travelling from London to Liverpool to watch the contest
Liverpool in the lead up: The Eurovision grand final will air live on BBC One from 8pm tonight
It comes after the European Broadcasting Union (EBU), which produces the event, said it had declined Mr Zelensky's request to speak on Saturday over fears it could politicise the contest.
He had wanted to make an unannounced video appearance and had been expected to implore the global audience of millions to continue backing his country in its fight to repel Russian invaders.
The EBU said Mr Zelensky had 'laudable intentions' but 'regrettably' his request was against the rules.
The move prompted criticism from Prime Minister Rishi Sunak and his predecessor Boris Johnson, among other figures.
The EBU has declined to comment further.
The Eurovision grand final will air live on BBC One from 8pm on Saturday.
READ MORE: Rylan and Scott Mills are saved by Merseyside Water Rescue after Eurovision pandemonium leaves them unable to get back to their hotel 
Rylan and Scott Mills were forced to be rescued by emergency services during Eurovision pandemonium in Liverpool on Friday.
The duo, who commented on the two semi finals, found themsleves trapped in crowds of fans following dinner near the M&S Arena ahead of Saturday's live final.
Rylan, 34, took to his Instagram to share updates with followers revealing Merseyside Water Rescue helped him and Scott, 50, onto a boat, only for the vessel to fail to get out of the dock.
The former X Factor star was then forced to hop into the back of the emergency services' car as they were escorted back to their hotel slowly through the masses of music fans.
Decked out in a high visibility jacket Rylan could be seen giving directions to the driver as Scott bemoaned: 'This is ridiculous'.
Help! Rylan and Scott Mills were forced to be rescued by emergency services during Eurovision pandemonium in Liverpool on Friday
Source: Read Full Article