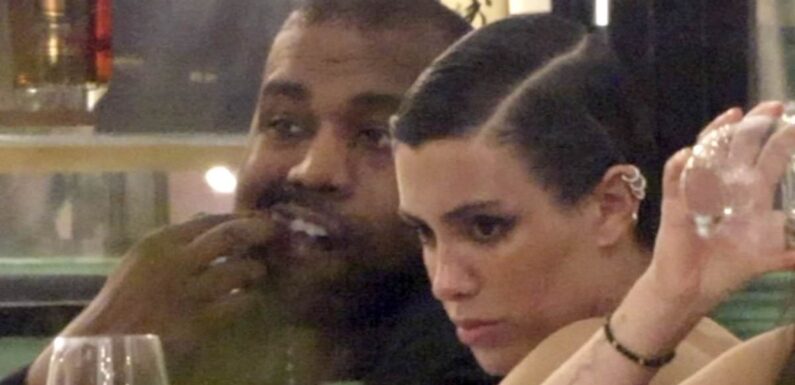 EXCLUSIVE: Kanye West 'instructs' his 'wife' Bianca Censori to 'NEVER speak', insiders claim – and has even 'given her a list of rules to live by' that dictates what she has to wear and foods she is allowed to eat
Kanye, 46, reportedly has a set of strict rules for his 'wife' to obey 
The Australian beauty has been pictured in nude tights and flesh-flashing tops
READ MORE: Bianca told friends to 'f*** off' after they criticized her relationship
Kanye West has instructed his new 'wife' Bianca Censori to 'never speak' – and has issued a set of rules to live by, including specific foods she can eat and what she can wear, a source close to the Australian architect has claimed. 
It comes amid ongoing fears that the rapper, 46, is manipulating his so-called 'wife', 28, into a 'radicalized' version of his ex-wife Kim Kardashian.
Insiders claim Bianca has 'no mind of her own anymore' and instead simply 'obeys' the controversial rapper, who also goes by the name 'Ye', because he has convinced her they have 'royal' status. 
'Kanye has a set of rules for Bianca, which includes never speak and wear what he wants her to wear,' the source told DailyMail.com exclusively. 
'She is also required to eat certain food items and to work out even though Kanye doesn't work out.
Kanye West, 46, has issued a set of rules for his 'wife' Bianca Censori, an insider has claimed, amid growing concerns over the pair's relationship 
The rapper (pictured with Bianca, 28, in Florence, Italy, last month) is said to be the influence behind her provocative outfits
The Australian beauty shocked with one particularly controversial outfit which saw her walking topless down the street with only a pillow to cover her modesty in Italy 
According to a source close to Bianca, the rapper (seen together eating kebabs in Germany over the summer) has given her a list of foods that she must eat 
'She has no mind of her own anymore and obeys him because he has convinced her that they are royal.'
The couple, who were first pictured together in January, exhibited some bizarre outfits during their summer European vacation, with Bianca frequently spotted wearing nude tights and flesh-flashing tops. 
She also went topless, simply carrying a purple pillow to cover her modesty, just days after the pair put on a lewd display on a boat in Venice.
Previous baffling outfits have also included a black nylon dress which featured a head covering and a giant foam collar.
When it comes to food, clearly a diet of kebabs, ice-cream and watermelon juice – which is an aphrodisiac – is permitted, with Bianca pictured indulging in all three in recent months.
The couple tucked into a kebab on a park bench after queueing up for the snack at a popular vendor in Berlin, Germany last month, while in August they ate ice-creams on a barefoot walk in Italy.
DailyMail.com has contacted spokespersons for Bianca and Kanye for comment.  
Concerns have been raised about Kanye and Bianca's relationship, with friends of the Yeezy-architect desperately trying to reach out – only to be told they should 'f**k off'.
'A few of her friends were finally able to reach her but she wasn't interested in talking, nor was she interested in anyone's concerns for her,' a close friend told DailyMail.com.
'She's shut everyone out and told one of her former friends to "f*** off" when they tried to ask if she was okay. She is saying that her friends are just jealous of her stardom.'
After giving a rare smile, Bianca was seen quenching her thirst with a watermelon juice box in Berlin 
One of Bianca's more bizarre outfits was a black nylon dress with an oversized collar, pictured in June at one of Kanye's Sunday Services 
Bianca, the daughter of a notorious Australian gangster, grew up in an upper-class neighborhood in Melbourne and attended the prestigious Carey Baptist Grammar School.
One of her former classmates described her as a 'social butterfly who was friends with everyone'.  
Another told DailyMail.com that she, 'is stuck and her friends are trying to save her, but no one can because of the blockades Kayne has put up [around her]'.
'Everyone is extremely concerned. This isn't who she is. She is an incredibly outspoken and lively person who is never one to keep her mouth shut.'
The continued: 'Kanye is trying to make Bianca into a radicalized version of Kim – almost like Kim 2.0. The difference is that when Kim was with Kanye he was respected in the fashion world. He has since lost this respect.' 
Kanye influenced Kim's fashion choices during their seven-year marriage. Their divorce was finalized last November.
Billionaire Kim, 42 – who has four children with Kanye – spoke publicly about his strict rules.  
In a 2018 interview with W Magazine, she said: 'I always thought I had really good style—until I met my husband and he told me that I had the worst style.'
And in an episode of Keeping Up With The Kardashians, the SKIMS founder said: 'Kanye has always dressed me. In the early 2000s, he would literally just send me random emails with all these looks and what my style should be.'
Unlike Bianca's raunchy wardrobe, Kim claimed she was forced to change her outfits if Kanye felt she was showing too much skin. 
Kim Kardashian in a wet-look dress, pictured with Kanye West, at the 2019 Met Gala
The couple were married for seven years and share four children, with Kim previously admitting to Kanye having influence over her fashion choices, pictured in May 2016 
One such instance was at the 2019 Met Gala when he told her that her corset was a 'form of underwear' the night before the event. 
When Kim disagreed with her husband's advice, he told her: 'You are my wife and it affects me when pictures are too sexy.'
It wasn't only Kim's clothes that Kanye took an issue with, but her appearance as well. 
At the Vogue 100 Festival in 2016, the brunette beauty said: 'My husband loves me without make-up. I would wear make-up 24/7 if I could, but he likes me without it.'
The Flashing Lights singer also implemented phone rules, with Kim revealing to  Paper that during the early days of their relationship she 'learned from him to not really bring my phone'.
She added: 'We have rules at the table. If we are eating at a restaurant, we'll wait to take pictures until we are done eating.'
Kim filed for divorce in 2021 citing irreconcilable differences. Their divorce was finalized in November 2022 and required Ye to pay $200,000 a month in child support for their children North, 10, Saint, seven, Chicago, five, and Psalm, four. 
Bianca, who is 18 years Ye's junior, started working for the rapper's fashion brand, Yeezy, as an architectural designer in November 2020.
She dropped out of University of Melbourne soon after the rapper started messaging her on Instagram – and said, 'come and work for me', a friend claimed.
The couple secretly wed in January 2023 during a private ceremony in Beverly Hills, but although they exchanged wedding rings and vows, they never filed a marriage certificate to make their union legal.
Controversy surrounding the couple reached new heights in August when they were caught allegedly engaging in a risqué act during a boat ride, with Kanye baring his naked buttocks in public. They were investigated by authorities.
Source: Read Full Article