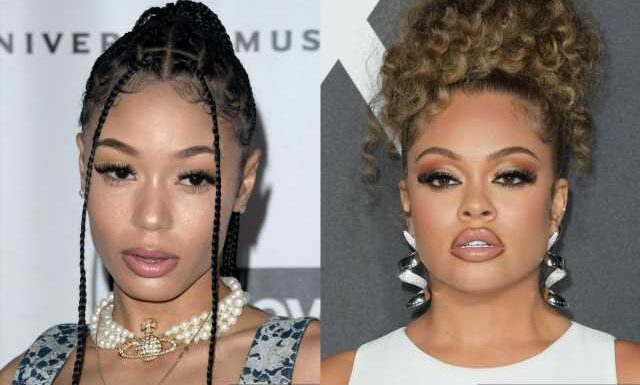 The 'Blick Blick' star and the 'Big Energy' femcee are said to get into a fight at the music festival with an alleged video of the two raptresses trading blows making rounds on the Internet.
AceShowbiz -Beefing stars Coi Leray and Latto (Mulatto), who were among the performers at Something in the Water festival, reportedly brought their feud to another level at the music festival. The "Blick Blick" star and the "Big Energy" femcee were said to get into a fight there with an alleged video of the two raptresses trading blows making rounds on the Internet.
"Coi Leray & Big Latto got into a fight in the compound area backstage of Something in the Water Festival," a Twitter account shared a screenshot of an Instagram Story. Multiple users also shared similar accounts on the blue bird app.
Not stopping there, an alleged video of Coi and Latto fighting went viral. The clip, which featured a large TMZ watermark, saw someone who looked like Latto aggressively hitting another girl. The account sharing the video wrote in the caption, "TMZ share muted video of Latto and Coi Leray fighting at Something In The Water Festival." The clip has quickly gone viral with more than 4M views and 16K likes.
However, it turns out that the video was fake. The account appeared to be a parody of popular gossip blog PopBase. Twitter also gave a warning underneath the video which read, "This account is a parody of the account 'Pop Base' and has been designed to fool readers into believing it is the real Pop Base account. The footage is not from TMZ, nor of rappers Coi Leray and Latto. It is a clip from the wrestling promotion TNA Impact Wrestling."
Coi and Latto's beef started after the latter appeared to body-shame Coi on her new single "Put It on Da Floor". On the track, Latto referred to Coi as she rapped, "Smokin' on that gas, blunt big as Coi Leray." Catching wind of the line, the "Players" femcee argued, "Anybody that talk about my body wants MY BODY!!!!!!!!!!! Like real badddddd."
"LITTLE MISS PRESSURE," Coi added in a separate tweet "These b***hes wanna be like the n***a so bad. Y'all wanna have rap beef SOOOOOO BADDDDDDDDDDDDDD." The 25-year-old added, "Latto bye. Here you go taking [sic] about my body. Please do not come on here and talk about nobody BODY. Lol like seriously. Out of all things. Lmaooo ya blunt my size? Lmaoooo this s**t is never ending."
Latto later appeared to do damage control by sending love to Coi at Coachella following body-shamming allegation. During her set, she recited some lyrics of her new song that mentions the daughter of Benzino as she added, "Aye, Coi. By the way I love your body, baby."
Meanwhile, Coi seemingly regretted overreacting in her initial responses. "Maybe I over reacted idk," she wrote on Twitter on Friday, April 21. She then warned the Ohio raptress not to name-drop her by writing, "End of the day. Don't say my name for clicks and likes. Specially if we don't speak or communicate."
"I'm not a big blunt small blunt. Don't compare me to nada. Mention b***hes you actually beef with," she went on to stress. "Put it on the floor but leave me out of the bs."
You can share this post!
Source: Read Full Article