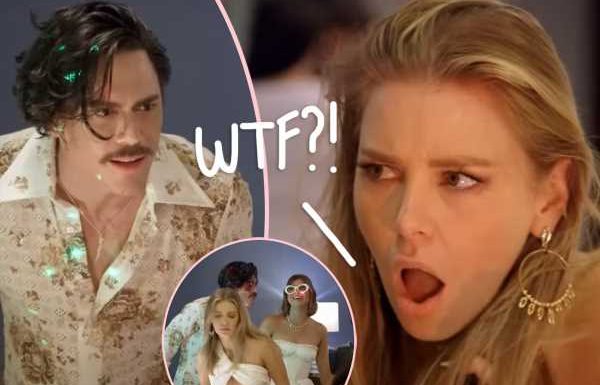 Bravo fans are reeling after the latest episode of Vanderpump Rules. Why is that? Many think the cameras caught Tom Sandoval grabbing Raquel Leviss' butt in front of Ariana Madix!
During Wednesday night's episode, the show picks up with the makeout session between the 28-year-old former pageant queen and Sandoval's best friend Tom Schwartz during Scheana Shay and Brock Davies' welcome bash for their wedding. When everyone went back to one of the hotel rooms to keep the party going, the Tom Sandoval & the Most Extras frontman could be seen obnoxiously repeating Raquel's name in front of his then-girlfriend Ariana – which noticeably irritated the hell out of her at the time.
After she snapped at Sandoval for "acting weird," he revealed to her that Raquel had just locked lips with Schwartz. This news came as a complete shock to Ariana, who said in a confessional:
"Just when I thought it was safe. You know, Katie's on her side of this resort. James and Raquel, they seem cool. Now that this happened, I feel like we're right back where we started, if not 10 feet underground."
If only she knew what happened next (and has been happening behind her back)…
Now, here is where fans believe they caught Sandoval's flirty move red-handed. When the group gets up to leave to join the party again, it looks like Sandoval taps Raquel's booty before she giggles and swats his hand away. No joke! Mind you, Ariana is right there in front of them! And of course, we know Sandoval and Raquel had already shared their first kiss by this point – making this scene between them even more disgusting. The nerve of these two!
To make matters worse, there is also an awkward moment where he offers Raquel the key to Schwartz's room. It's just so cringe. You can ch-ch-check out the jaw-dropping moment and butt grab (below):
WOW.
After watching the scene, Bravo fans immediately stormed Twitter to drop their reactions to the moment. Ch-ch-check it out (below):
"SANDOVAL DEFINITELY GRABBED RACHEL'S ASS WHEN ARIANA LOOKED AWAY #PumpRules."
"Ahhh I wasn't sure if I had imagined that so sick."
"Oh definitely some kind of touching/ grabbing going on there. Hadn't noticed it at first. I was distracted by Sandoval's hair."
"Um did tom really just grab rachel's butt? Really looks like he does and she swings her arm behind her back to swat it away. #PumpRules."
"This whole scene was cringe and it felt like Ariana knew something was off."
"Tom smacked Raquel's butt … when Ariana turned around and said 'can we have some fun' am I the only one who caught that? #PumpRules"
"Sandoval being giddy and psychotic over Raquel making out with Schwartz because he thinks they're tricking everyone… and then slapping Raquel's ass as soon as Ariana turns around. Narcissists are f**king evil."
It was definitely bold of him to do. What do YOU think, Perezcious readers? Do you think Sandoval grabbed Raquel's butt during the episode? Sound OFF in the comments below!
Source: Read Full Article