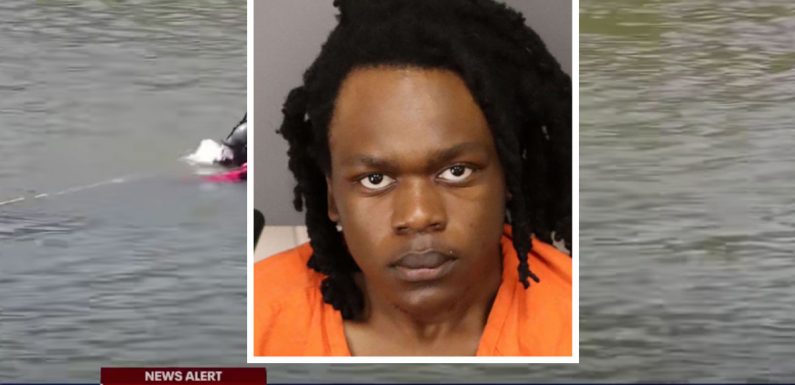 A Florida father has been charged with murder after his son's body was found in an alligator's mouth… Just days after the child's mother was stabbed to death.
Last Thursday, 20-year-old Pashun Jeffery was found dead in her St. Petersburg apartment after celebrating a birthday just a day prior. Shortly after the discovery of her body, her 2-year-old son Taylen, whom she shared with 21-year-old Thomas Mosley, was reported missing, according to St. Petersburg Police Department spokesperson Yolanda Fernandez.
An investigation was quickly opened, and a search party was launched to trace the whereabouts of the missing toddler. A day later, the investigation led to Dell Holmes Park and Lake Maggiore, where authorities were alerted to an alligator in the area with an object in its mouth, according to the St. Petersburg Police Chief Anthony Holloway in a Friday press conference:
"As the detectives got closer, they fired one round to the alligator. The alligator dropped the object that he had in his mouth, and we were able to retrieve Taylen's body intact."
How completely awful. That poor little baby. Holloway added:
"We didn't want to find him this way, but at least we can bring some closure to that family."
The Police Chief added that Thomas was arrested and charged with two counts of first-degree murder, as he was "identified as a person of interest hours after the discovery of his girlfriend's body and the search for Taylen began," according to a St. Petersburg PD Facebook post. He was later taken to the Pinellas County Jail, where he currently awaits trial.
According to arrest records released Saturday night, guests in attendance of Thomas' 21st birthday celebration left Pashun's apartment around 5:15 p.m. Wednesday, before a neighbor allegedly heard noises coming from the residence a few hours later. Thomas left at 8:42 p.m. to head to his mother's home, with "severe lacerations" to his arms and hands, which were found to be "consistent with injuries caused by slippage during a knife attack," according to the records. He was later admitted to the St. Anthony's Hospital.
Pashun's family then went to check on her Thursday, where they discovered blood on the sidewalk near her residence, and eventually her body with over 100 stab wounds.
Investigators found a cleaning bottle placed underneath a bed in Pashun's apartment with a bloody fingerprint, which allegedly matched Thomas', according to the affidavit. Furthermore, a bloody footprint with a Gucci emblem was discovered, helping authorities to identify the 21-year-old as a person of interest in the case.
As of now, authorities have not discovered a cause of death for Taylen. See more (below):
We extend our deepest condolences to Pashun and Taylen's family right now, as they are surely reeling from this unimaginable tragedy. We hope to see justice served. Rest in peace.
Source: Read Full Article