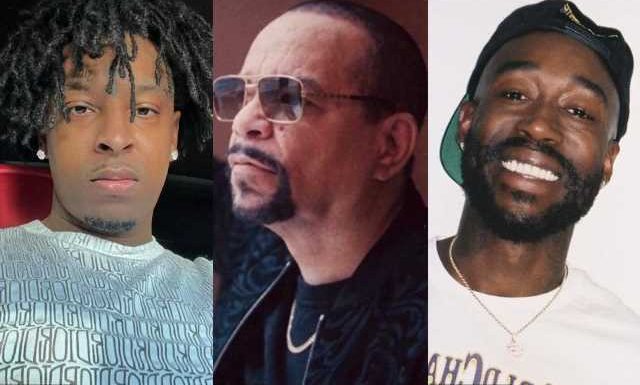 The 'Savage Mode' rapper was previously trolled by Internet users after an audio of him getting into a heated argument on social media app Clubhouse emerged online.
AceShowbiz –Freddie Gibbs and Ice-T were dumbfounded when they learned about 21 Savage's controversial comments on Clubhouse. During the argument, 21 Savage threatened his unnamed rivals from Chicago.
In response to the potentially incriminating comments, Freddie wrote on Twitter, "N***az arguing over who killed the most n***az on clubhouse lol." He also added a facepalm emoji.
As for Ice-T, the "Law & Order: Special Victims Unit" star denounced the blue bird app. "I actually think that app was created by the police. Especially for Dumb MFs," he tweeted.
The "Savage Mode" rapper was also being slammed by Atlanta-based journalist George Chidi. "Rappers who think APD and the attorney general's office don't listen to Clubhouse are talking in a public forum on recorded audio about committing murders," Chidi tweeted. "Gentlemen. Stop living in a Key & Peele sketch."
21 Savage was trolled after an audio of him getting into a heated argument on social media app Clubhouse emerged. In the audio that circulated online, the "Rich Flex" rapper was heard getting into it with someone from Chicago. Though what they were beefing over didn't make it into the one-minute clip, the result was the "Her Loss" rapper promising that his detractor would die.
"You waited for this moment your whole life, so you could argue with a n***a on Clubhouse," the agitated 21 Savage said. "You keep letting all these Chicago n***as boost your head up, like y'all n***a ain't dying in real life, man. Stop playing."
When asked by his detractor about his own team's losses, 21 Savage became more aggressive. "Every n***a that we beef with, 30 of they n***as get smoked and don't nothing happen to us," he fumed, "In real life, n***a. It's real life!"
21 Savage went off again as he continued, "Aye, cap, you from Chicago. I advise you to shut the f**k up. 'Cause the n***as that I f**k with up there spanking s**t, so stop playing. Y'all ain't spanking nothing, n***a." When one of the other men on the app tried to counter his claims, he additionally repeatedly said, "You will die."
You can share this post!
Source: Read Full Article