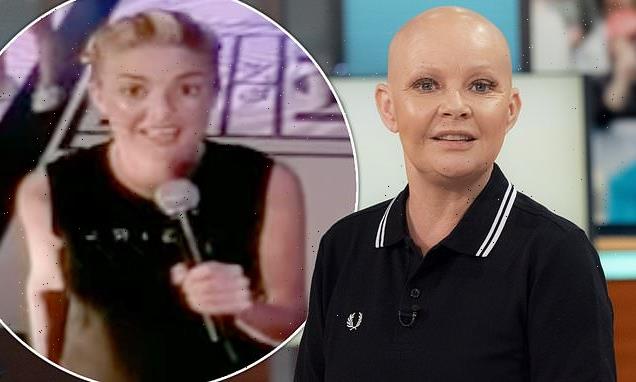 Gail Porter reveals the surprising amount she earned for presenting Top Of The Pops – and admits her most lucrative job was behind the camera
At her peak she was arguably one of the most recognisable presenters on TV, but Gail Porter says her undeniable popularity didn't get her rich. 
The Scottish star became a household name thanks to regular appearances on The Big Breakfast, The Movie Chart Show, VH1 and iconic BBC music show Top Of The Pops.  
In 1999, her popularity – boosted by modelling jobs with the likes of cult lads mags FHM and Loaded – led to a nude photograph of Porter being projected on the Houses of Parliament without her consent as part of a guerilla marketing campaign. 
But the former pin-up, now 52, insists she earned little money during the early years of her mainstream career, citing the amount she received per episode on Top Of The Pops as one of her lowest earners. 
She told The Telegraph: 'I think £500, and then you've got 20 per cent to your agent, then you've got to pay your rent.
Basic salary: Gail Porter says she earned little money during her mainstream career, citing the amount she received per episode on Top Of The Pops as one of her lowest earners
Old times: Porter presenting an episode of Top Of The Pops in 2000 – according to the star she was paid £500 per show
'All the front covers of magazines, I never got paid for any of them.' 
Weighing up her biggest payday, Porter says a voiceover for a Sainsbury's commercial provided a moderate income.   
'It was a few hundred quid a week, and you can't complain about that,' she recalled. 'But other than that, I can't remember well-paid jobs.' 
Porter previously admitted she wasn't paid for her magazine work, at a time when lads were at their commerical peak. 
She told the Daily Star: 'I never got paid for anything that I did – I never got paid for FHM, GQ, or a lot of the magazines that I did.
'Some of the others may have got paid, but I never did and I was quite vulnerable at the time.
'They were saying "This is going to be great for your career, it will be great fun, and think of the pics you can give your kids when you're older.'"
Porter recently announced she would headline a series of stand-up comedy shows dealing with her alopecia, mental health struggles and being homeless.
Back then: The TV presenter, now 52, also revealed she wasn't paid for any of her magazine photoshoots (pictured in 1999)
https://youtube.com/watch?v=Q_z9vGF8FMc%3Frel%3D0%26showinfo%3D1%26hl%3Den-US

Publicity stunt: Porter had her naked body projected onto the Houses Of Parliament in 1999 without her consent
The Scottish TV presenter will launch her stand-up career at the Edinburgh Assembly Rooms from August 2-28 as well as shows around the UK.
Her routine will talk about how she went from being a children's TV presenter to posing nude and seeing her naked image beamed onto the Houses of Parliament to being sectioned, diagnosed as bipolar and sleeping rough.
Gail, once listed by FHM among the world's sexiest women, said: 'I'm super-excited to be coming to Edinburgh. I'll be doing stand-up seven-nights-a-week.
'I don't know if it's a mid-life thing or whatever but I got offered it and I thought, why not?
'I'll be doing a few little gigs around the country to trial the material before that. I've always wanted to do it and I've been writing a lot.'
She added 'I think when you have gone through pretty tough times and you can turn it into humour, other people can relate. 'The material will be about my life.
'I take things that happened that were pretty bad and talk about it in a way that is pretty funny and that I hope can help people.'
Source: Read Full Article