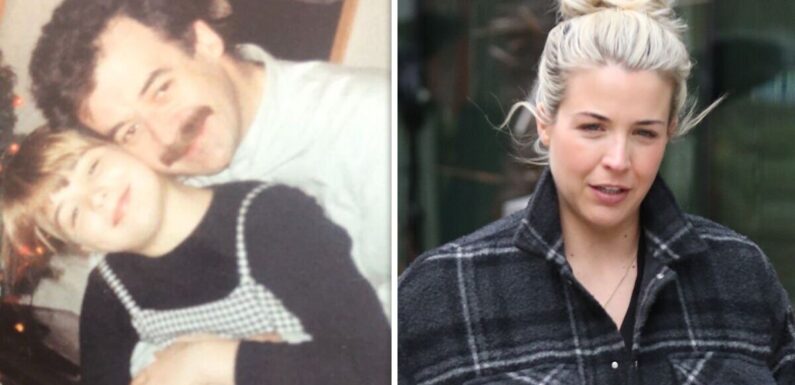 Gemma Atkinson, 38, took to Instagram today to commemorate the 21-year anniversary of her father David's death.
The former Emmerdale actress, who is expecting her second baby with her Strictly star fiancé Gorka Marquez, 32, reflected on the last time she saw her dad, in his hospital bed.
Sharing a throwback photo of herself and her dad from when she was a little girl, Gemma wrote in view of her 1.8 million followers: "21 years ago today, I sat by your hospital bed sharing a mars bar and laughing.
"You were due to come home the following day. I gave you a kiss, said I'd see you tomorrow and left.
"A few hours later the hospital rang mum to tell her you had passed away. A heart attack in your sleep. My world shattered then and there. Completely broken."
READ MORE: 22 Kids And Counting couple's business runs into trouble after holiday
Gemma continued that despite being happy in her life now, she still feels the "void" her dad left from when she was just 17 years old.
The soap star, who got engaged to Gorka in 2021, continued: "Although my life is pretty amazing now, there's still that void that you left. There always will be, because I imagined you'd be here forever.
"To at least meet your grandchildren and one day walk me down the aisle.
"Having to remember you longer than I had you here is a weird feeling, but I'm always grateful and thankful for the wonderful 17 years I had you in my life Dad.
17 years of feeling safe, loved, protected and happy. The best Dad in every way.
"Today we miss you more than most, but we can sit and laugh talking now about you, and I know you're regularly ear wigging and watching us all too. I feel it often and it's always a comfort," Gemma concluded, alongside two love heart emojis.
Later today, Gemma returned to Instagram to thank her fans for their supportive messages following her emotional post.
She said in a video: "So many of you have messaged saying you've lost parents and loved ones. It is weird isn't it?
Don't miss…
James Corden snatches his phone away after Prince Harry calls[INSIGHT]
James Corden insists wading into Prince Harry row is 'not fair'[LATEST]
Sir Roger Moore seen in final video with son three days before he died[PICS]
"It never gets easier, even though it's been so long.
"It's a weird one grief, isn't it? You don't get over it, you just learn to deal with it, it's like your new norm.
"But to anyone who's lost a parent recently, you will get your new norm, you're probably thinking at the moment that you won't, but you will and you'll be ok."
Gemma then admitted reading her Instagram DMs had left her feeling tearful, before she vowed to stay strong and continue with the day ahead.
In 2021, Gemma underwent medical tests to see if she had the same heart condition that killed her dad.
After having a full heart MOT, she shared her relief over being given the all clear during an appearance on Channel 4's Steph's Packed Lunch.
She told the presenter: "When that happened I rung my mum and said, 'as if it's took me 20 years to do that,' because I was so nervous at finding something.
"It's not even just in this minute, it's throughout everything in life. If I'm training and my heart's going fast I think, 'maybe I should slow down just in case'."
Source: Read Full Article