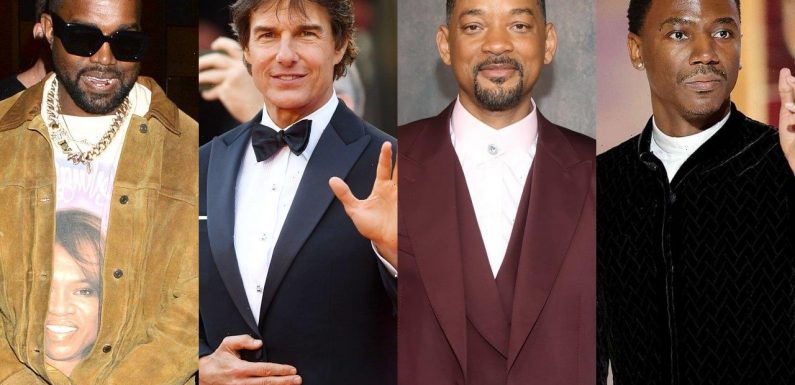 The comedian makes fun of the 'Emancipation' actor's Oscars slap, roasts the 'Top Gun' actor for returning his three Golden Globe awards and jokes that 'The Fabelmans' 'changed everything' for Ye.
AceShowbiz –Will Smith and his movie "Emancipation" were snubbed by the Golden Globes, but Jerrod Carmichael made sure that the actor wasn't forgotten at the live ceremony. Hosting the 80th annual event, the comedian roasted the Oscar winner, who slapped Chris Rock at last year's Academy Awards.
"While we were on commercial, we actually presented Will Smith with the Rock Hudson award for best portrayal of masculinity on television," the 35-year-old said onstage. "So please give it up for Will Smith. Please! Please!"
Smith wasn't the only victim of Jerrod's jokes. He mocked Tom Cruise and Scientology as he mentioned the actor's three Golden Globes which were returned. "Hey, guys backstage I found these," the funnyman said while holding three trophies in his hand on stage. "[It's the] three Golden Globe awards that Tom Cruise returned. I'm just a host briefly, or whatever, but I have a pitch I think maybe we take these three things and exchange them for the safe return of Shelly Miscavige."
Shelly Miscavige is the wife of Scientology leader David Miscavige. There have been questions about Shelly's whereabouts as she has not been seen in public in many years, while Tom is a high-ranking member of the church.
Jerrod also mocked Kanye West while praising Steven Spielberg's movie "The Fabelmans". He said, "I saw [your movie] 'The Fabelmans' with Kanye and it actually changed everything for him." Steven loved the joke, putting up prayer hands and laughing.
While Steven loved Jerrod's joke about Ye, not all had positive responses to his witty remarks at the show. They mostly took issue with the joke about Will's Oscars slap as one person said, "Hey @goldenglobes bringing up Will Smith was not only in poor taste but hope you got the memo by the solo clap of presenter. Still a hard pass. And the 'masculinity' reference was very offensive."
Another user added, "After #GoldenGlobes host #JerrodCarmichael delivered a scathing joke on Scientology, I wonder if #WillSmith jumped off his sofa & smacked the s**t out of his television." A third similarly warned the comedian, "Y'all better keep it cute about Will Smith before it gets nasty again #GoldenGlobes."
Earlier at the show, Jerrod also took aim at HFPA and its long absence of black members. "I'll tell you why I'm here," he said in his monologue, "I'm here because I'm black." Joking about how he got the hosting job, he added, "One minute you're at home making mint tea, the next you're invited to be the black face of an embattled white organization."
You can share this post!
Source: Read Full Article