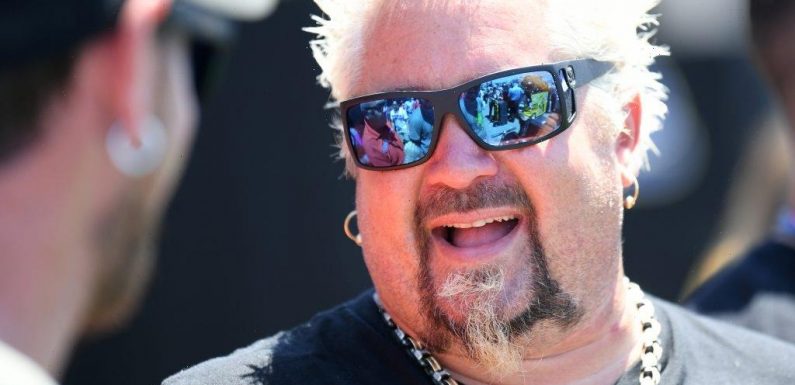 Guy Fieri has become one of the most recognizable celebrity chefs — thanks in no small part to his signature attire. While his over-the-top public persona is grating to some people and makes him seem a bit goofy, critics shouldn't conflate that into thinking he doesn't have the skills to earn his way to his reputation as a chef. 
Fieri may be outlandish, but he is a legitimately talented chef, and he's been one since an early age. In fact, he entered a barbecue boot camp when he was just 12 years old. 
Guy Fieri has become a dominating force on The Food Network
In the late 1990s, Fieri started working in the food industry with the restaurant Johnny Garlic's. The effort was a success, so Fieri started expanding his presence with an emphasis on flavor-filled American classics with some slightly elevated twists. 
In the early 2000s, Fieri participated in a show called The Next Food Network Star. The reality TV show promised the winner a shot at their very own series on The Food Network. Fieri won, and that was the genesis of Guy's Big Bite as well as the launching pad for Fieri's public persona.
While some may find the shouted catchphrases and wacky attire a bit much, there's no denying that Fieri has been a boon for The Food Network's popularity. Over the years, he's had many shows, and he's now a ubiquitous presence with the popular channel. 
We can expect to see even more of Fieri in the years to come. A recently inked three-year deal has Fieri continuing with The Food Network into the future.
Guy Fieri entered barbecue boot camp as a kid
There are two qualities that defined Fieri even from a very young age: a love for good food and a hunger for competition. As Delish reports, a young Fieri got a Little Chief smoker and put himself to work concocting delicious treats right away. As a kid, Fieri perfected his recipes for beef jerky and smoked cheese before turning to barbecue. He had eyes on the American Royal, a huge cooking competition.
Just because Fieri was young and confident in his skills didn't mean he was unwilling to learn from the masters. He enrolled in a two-day barbecue camp with Lola Rice, a former winner of the American Royal. Fieri remembers the moment he walked up to the boot camp, which was held in a Houston parking lot. "I was wearing red Dickies shorts, skateboard shoes and a tank top. I could've worn a Godzilla costume and gotten a better reception," Fieri says. Some even sneered at the 12-year-old and asked him, "Boy, you lost?"
In true Fieri fashion, he used his charisma and cooking talent to win over the skeptics. When he learned the event had no dinner plans for its participants, he got to work. After cooking up a huge amount of pasta to share, he was taken much more seriously. 
Guy Fieri passed his love for cooking to his own child
Knowing that Fieri started exploring his skills at such a young age makes his own son's budding passion in the food industry even more fitting. Hunter Fieri appears to be following in his dad's footsteps. While it certainly helps that his famous dad can provide him with connections and opportunities, it's also clear that the younger Fieri is talented in his own right.
Hunter Fieri often tags along to the set of the shows his dad works on, and he's made several appearances — with increasing frequency as he's gotten older. Many fans expect to see the young chef start to branch out and work on his own soon.
Source: Read Full Article