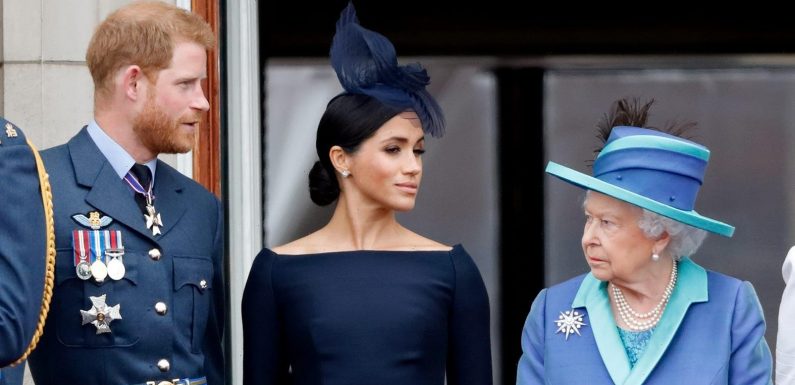 On June 2, the royal family will gather (along with thousands of Brits) for Queen Elizabeth's Platinum Jubilee, celebrating her 70th year on the throne. There are going to be several events (/chances for royal watching) over the course of the four-day celebration, including Trooping the Colour.
Trooping the Colour, in case you need a reminder, is the annual celebration of the sovereign's official birthday and it takes place every year—not just Jubilee-worthy milestone years. The event involves a parade of over 1400 parading soldiers, 200 horses, and 400 musicians and members of the royal family traditionally gather together on the balcony at Buckingham Palace to watch and be watched.
In May, news broke that the Queen is changing things up a bit this year and only allowing *working royals* to join her on the balcony during the Jubilee, meaning that Prince Harry and Meghan Markle won't make the VIP balcony guest list. While this might sound like high drama in the royal fam, it really isn't. Turns out, Harry and Meghan didn't want to be part of the balcony crew anyway.
According to The Sun, the Harry and Meghan's biographer, Omid Scobie, wrote in a recent Yahoo News piece that the Sussexes were not "cut" from the balcony group. In fact, Scobie said Harry had actually "spoken with his grandmother about the possibility of not attending Trooping the Colour long before" the decision was reported in the media.
Harry and Meghan's anti-balcony stance isn't part of any royal family feud, either. As the Sun report notes, they just felt like it would be "inappropriate" for them to participate in the big balcony photo op now that they've stepped back from their roles as working royals.
They are, however, apparently very "keen" to be on hand for other big moments during the Jubilee weekend, like the Queen's Service of Thanksgiving that's scheduled for June 4th, so at least there's that.
Source: Read Full Article