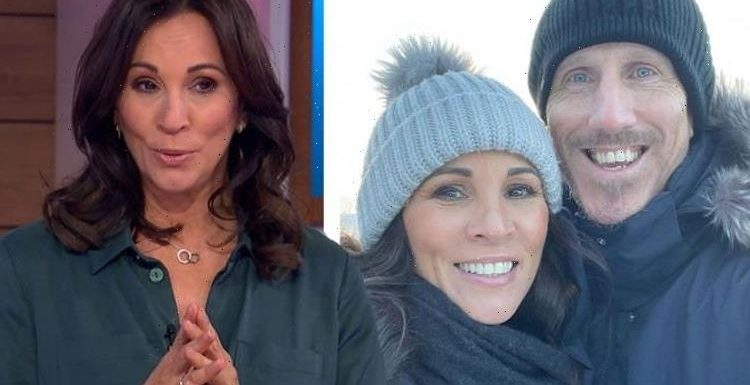 Andrea McLean laughs as husband mocks her '80s' hair
We use your sign-up to provide content in ways you've consented to and to improve our understanding of you. This may include adverts from us and 3rd parties based on our understanding. You can unsubscribe at any time. More info
Loose Women star Andrea McLean, 51, spoke candidly about her husband Nick Feeney, who married in 2017. The pair met on a blind date back in 2015 set up by a make-up artist on the show and her husband, but before Andrea and Nick ended up hitting it off, neither of them really wanted to go.
He didn't want to be there either because he was getting divorced and it was a really difficult time for him

Andrea McLean
Chatting to Jennie Becker on her Sliding Doors podcast, she explained how nervous she was to begin dating again after her divorce.
After dropping off her kids at their dad's houses and the dog at the kennels, she drove down to Brighton and hoped it would be worth her while.
"I wasn't wearing my glasses so I didn't see what he looked like when he walked in, but when he got closer the main thing I remember was he looked really nervous and he smelt nice," Andrea giggled.
"So that was endearing!"
But it turned out Nick was just as nervous as she was, and only went because he didn't want to let his friend down – a similar situation as Andrea.
"He didn't want to be there either because he was getting divorced and it was a really difficult time for him," the TV star explained.
"He literally only went because he was friends with the husband!"
She continued: "I couldn't look at him for the first 20 minutes because I was so nervous.
"We were all sat there chatting and we walked out to go to the restaurant and our friends walked ahead and left us to chat by ourselves.
"It was just cringey!" she winced, remembering the awkward walk.
Andrea went on to explain that they discussed work and what they did for a living, and she soon realised he hadn't clocked who she was.
"'Oh you're the one that sits on the end!'" she recalled Nick saying, admitting it was "so awful", worrying that the date would end with him telling his pals, "I've been on a day with that woman from the telly".
And things only got more awkward for poor Andrea, who was trying to keep her identity lowkey.
She remembered they turned the corner and ran straight into a hen party who begged Nick to take photos of them.
After the photo chaos was over, they headed to a club, where Andrea gushed over the "bolt of electricity" that shot through both of them as they danced the night away.
She admitted that she told him everything about herself and it seemed he liked what he heard.
The pair announced their engagement in August 2017 and they married three months later in November, surrounded by many of Andrea's co-stars.
Source: Read Full Article