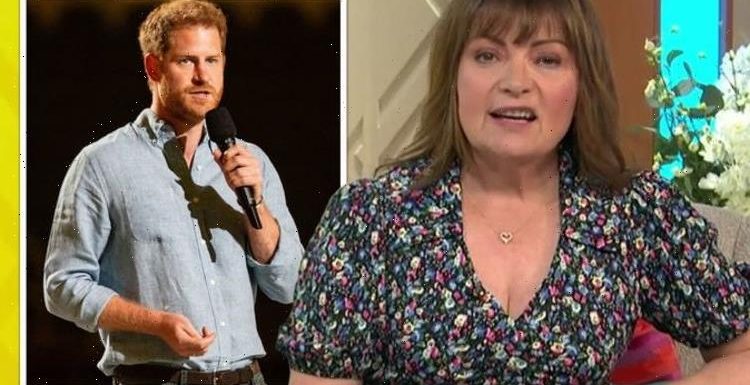 Prince Harry 'put his foot in it' claims Lorraine Kelly
When you subscribe we will use the information you provide to send you these newsletters. Sometimes they'll include recommendations for other related newsletters or services we offer. Our Privacy Notice explains more about how we use your data, and your rights. You can unsubscribe at any time.
Lorraine Kelly discussed Prince Harry's latest interview and comments on her television show today. The 61-year-old presenter was chatting to LA correspondent Ross King about the royal, following his appearance on Dax Shepherd's Armchair Expert podcast.
The ITV star said the Duke of Sussex should be "careful" what he says, after he branded the US constitution's First Amendment as "bonkers".
Lorraine said Harry had "put his foot in it" over his remarks.
The comment has not gone well in America, where Harry is now living with his pregnant wife Meghan Markle and their two-year-old son Archie.
"As we know, Prince Harry and Meghan left the UK partly because they didn't like the intrusion into their private lives but since they've gone to America they have done quite a lot of interviews and things, and poor wee Harry has put his foot in it, hasn't he?" Lorraine said to Ross.
"Again, just a little bit strange, he called the first amendment here, he was talking about it being a bit bonkers and he's a little bit confused by it," the reporter said.
"So for people who don't know, the First Amendment out here is the freedom of speech, religion, freedom of the press, the right to assemble, the right to petition the government.
"It has been around on the constitution since something like 1791.
"So it's been around a long time, so if you really want to have a look at it, there's plenty of time to have done that.
"As you can imagine as well, it's drawn quite a bit of criticism from, not only in the UK, but also out here in the states too," he continued.
"He just has to be careful," Lorraine warned following a clip of Harry's interview.
"It's a difficult one and obviously they are very, very popular in the US and he doesn't want to fritter all that away, I guess," she continued.
DON'T MISS…
Tom Jones' confession after wife furiously lashed out over affair [INSIGHT]
Stacey Dooley worries she'll be single after Kevin discovers purchase [INSIGHT]
Eric Clapton, 76, blasts Covid jab safety after 'disastrous reaction' [UPDATE]
Prince Harry has come under-fire for his "bonkers" comment despite admitting that he doesn't fully understand the First Amendment, which protects freedom of speech.
During his appearance on the podcast, Harry told Dax: "I've got so much I want to say about the First Amendment as I sort of understand it, but it is bonkers.
"I don't want to start going down the First Amendment route because that's a huge subject and one which I don't understand because I've only been here a short time.
"But, you can find a loophole in anything. You can capitalise or exploit what's not said rather than uphold what is said."
Also during the show, Lorraine reunited a family that had been separated for 17 months amid the coronavirus pandemic.
She appeared visibly moved by the segment, as reporter Ria told viewers she was "welling up" at the scene.
The grandmother, a key worker, had not seen her family at all in order to protect her family.
This included a granddaughter, who she was meeting for the very first time on live television.
Source: Read Full Article