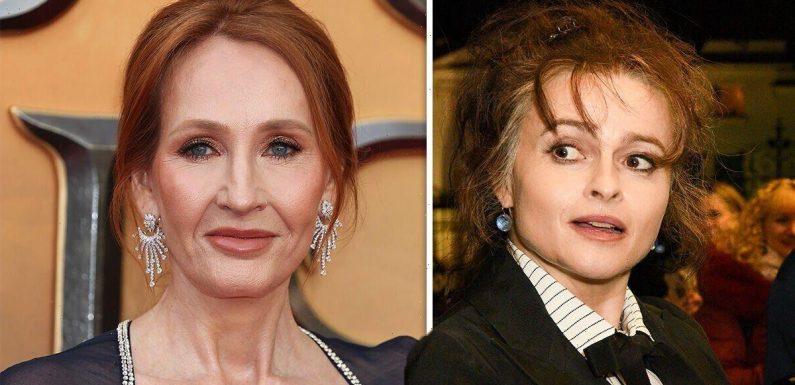 Helena Bonham Carter on preparing to play Princess Margaret
We use your sign-up to provide content in ways you've consented to and to improve our understanding of you. This may include adverts from us and 3rd parties based on our understanding. You can unsubscribe at any time. More info
Helena Bonham Carter, 56, who famously played Bellatrix Lestrange in JK Rowling's Harry Potter franchise, has come to the defence of the author and said that she feels JK has been "hounded".
JK has come under fire from LGBT+ activists in recent years, with some accusing her of being transphobic, which she denies.
In a new interview, Helena described the treatment as "horrendous" and "a load of b*****ks".
She went on: "I think she has been hounded. It's been taken to the extreme, the judgmentalism of people.
"She's allowed her opinion, particularly if she's suffered abuse. Everybody carries their own history of trauma and forms their opinions from that trauma and you have to respect where people come from and their pain.
"You don't all have to agree on everything that would be insane and boring. She's not meaning it aggressively; she's just saying something out of her own experience."
Helena also added to The Sunday Times that she believes if JK "hadn't been the most phenomenal success" then the reaction would not have been so heightened.
She concluded: "So I think there's a lot of envy unfortunately and the need to tear people down that motors a lot of this cancelling. And schadenfreude."
The Crown star also proclaimed that she "hates cancel culture" and deems it to be a "kind of witch-hunt" and "lack of understanding".
Helena is not the only Harry Potter star to have defended the author.
Just last month, Voldemort actor Ralph Fiennes said that the "abuse directed at [JK] is disgusting".
He told the New York Times: "The verbal abuse directed at her is disgusting, it's appalling.
"I mean, I can understand a viewpoint that might be angry at what she says about women. But it's not some obscene, uber-right-wing fascist.
DON'T MISS
Zara Tindall's hug with Mike on I'm A Celeb questioned by Ant and Dec[LATEST]
I'm a Celeb's Owen Warner's girlfriends unveiled after dating co-star[INSIGHT]
Jeremy Clarkson says 'everyone will tire' of Meghan Markle[NEWS]
"It's just a woman saying, 'I'm a woman and I feel I'm a woman and I want to be able to say that I'm a woman.' And I understand where she's coming from. Even though I'm not a woman."
JK has been subject to abuse on social media since 2020 when she took aim at an article that referenced "people who menstruate".
The backlash against her was huge, and she subsequently responded with messages of support for transgender people.
She tweeted: "If sex isn't real, there's no same-sex attraction. If sex isn't real, the lived reality of women globally is erased.
"I know and love trans people, but erasing the concept of sex removes the ability of many to meaningfully discuss their lives. It isn't hate to speak the truth.
"I respect every trans person's right to live any way that feels authentic and comfortable to them."
She also went on to write an essay in which she said she was a "domestic abuse and sexual assault survivor".
She explained that she was speaking out in "solidarity with the huge numbers of women who have histories like mine, who've been slurred as bigots for having concerns around single-sex spaces".
Source: Read Full Article