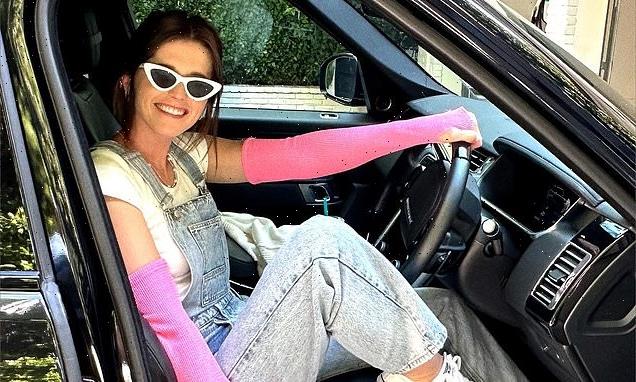 Her father is a movie icon, her mother is a TV journalist, her brother is a heartthrob, her husband is a Marvel star – and there is a Kennedy link. Who is she?
She has quite the family around her.
Her father is a movie icon who is not from the US but has starred in some of the biggest money-making movies – think action-packed blockbusters.
He also dipped his feet into politics for a few years.
Her mother is a veteran US TV journalist who often conducted interviews with VIPs and was seen on the nightly news.
Her husband is an action star who has worked for Marvel and has more than one movie franchise attached to his name.
There is also a link to the Kennedys.
As for her career, she has been successful at writing books both for adults and kids.
She is normally easy to recognize but in this recent snap she looked very unlike her usual polished self as she tried on a Barbie look ahead of the film's weekend release.
Who is she?
Who is this beauty? Her dad is a movie star, and so is her husband
She is Katherine Schwarzenegger Pratt, 33.
In the new image that was shared to Instagram, she was almost unrecognizable because she had on glasses and a funky outfit.
She was getting in the mood for the new film Barbie with her pink arm warmers.
There are a lot of famous people in her family tree. 
Her dad is one of the biggest movie stars of all time: Arnold Schwarzenegger.
Schwarzenegger began lifting weights at age 15 and won the Mr Universe title aged 20, and subsequently the Mr Olympia title seven times. 
The Austrian import then came to Hollywood.
He made his mark with the scifi action bonanza The Terminator and then he parlayed that fame into hit films like Twins and Kindergarten Cop.
He branched out later with movies like True Lies, all the while slipping into more Terminator movies.
He served as the 38th governor of California from 2003 to 2011 and was among Time magazine's 100 most influential people in the world in 2004 and 2007. 
Family: from left, Katherine's husband Chris Pratt, Katherine, Katerine's dad Arnold Schwarzenegger and her sister Christina in May
Her mom is Maria Shriver.
She is an American journalist and author.
Shriver began her journalism career at CBS station KYW-TV and briefly anchored the CBS Morning News before joining NBC News in 1986. 
After anchoring weekend editions of the Today show and the NBC Nightly News, she became a correspondent for Dateline NBC where she became a household name.
In 2004 she left NBC News but then she came back in 2013 as a special anchor.   
And she is the former First Lady of California when her husband at the time Arnie was Governor.
Shriver is also the founder of the nonprofit organization The Women's Alzheimer's Movement. 
She was wed to Arnold from 1986 to 2021. A cheating scandal with their maid, which resulted in son Joseph Baena, caused their split.
More fam: from left, her mom Maria Shriver, her brother Patrick Schwarzenegger, Katherine and Chris in March
His big film franchise: Chris, far right, with Sam Neill, Isabella Sermon in Jurassic World Dominion – 2022
Another money maker: With Pom Klementieff as Mantis, Groot (voiced by Vin Diesel), Chris as Peter Quill/Star-Lord, Dave Bautista as Drax, Karen Gillan as Nebula in a scene from Guardians of the Galaxy Vol. 3
Her brother is 29-year-old actor Patrick Schwarzenegger. 
The heartthrob started his career as a model then headlined films like Midnight Sun with Bella Thorne. He has also starred in The Staircase and The Stowaway. 
Katherine's husband is 44-year-old Christopher Pratt.
He rose to fame starring as Andy Dwyer in the NBC sitcom Parks And Recreation.
Pratt also appeared in The WB drama series Everwood and had supporting roles in the films Wanted, Jennifer's Body, Moneyball, Zero Dark Thirty and Her. 
He is best known for his Jurassic World franchise and also his Guardians Of The Galaxy films. 
Schwarzenegger started dating Pratt in 2018 after meeting in church. 
They announced their engagement in January and married in June 2019. They have two daughters, Lyla and Eloise.
Katherine also has a Kennedy link.
Her maternal grandparents are Eunice and Sargent Shriver. Her grandmother was a younger sister to President John F. Kennedy. 
John Fitzgerald Kennedy, often referred to by his initials JFK and by the nickname Jack, was an American politician who served as the 35th president of the United States from 1961 until his assassination in 1963. 
So in love: Schwarzenegger started dating Pratt in 2018 after meeting in church. They announced their engagement in January and married in June 2019. They have two daughters, Lyla and Eloise
One of her two kids: She does not show the faces of her children on social media
Katherine has her own fame.
She has written several books including Rock What You've Got: Secrets to Loving Your Inner and Outer Beauty from Someone Who's Been There and Back.
The USC graduate has also penned I Just Graduated . . . Now What? 
Her latest is the children's book Good Night Sister. 
In April she teamed with globally inspired brand Cleobella on a charitable capsule of matching dresses and accessories for women and kids. 
And she is a red carpet fixture as she has posed with her parents as well as her husband at movie events.
Source: Read Full Article