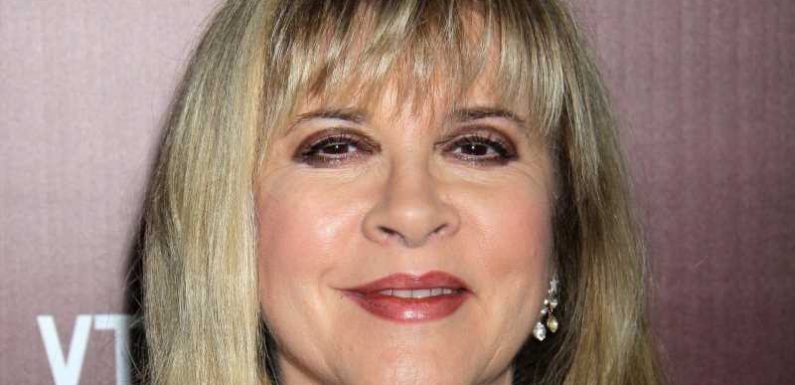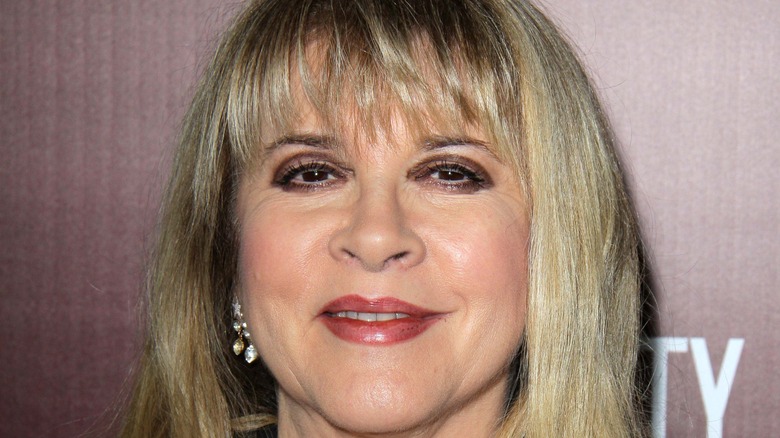 s_bukley/Shutterstock
By Camila Barbeito/Sept. 1, 2021 11:23 am EDT
Fleetwood Mac will go down as one of the most magnetic, otherworldly, downright-ethereal bands in history, thanks to mainstay drummer Mick Fleetwood, bassist John McVie, legendary singers Christine McVie and Stevie Nicks, as well as the über-innovative guitarist Lindsey Buckingham. 
The group originated in 1960s London but soon moved to California, where Nicks and Buckingham added a softer, individualistic, inward-looking flair to the band's music (via AllMusic). Of course, as many fans know, Nicks and Buckingham were longtime lovers even before joining the band (via Ultimate Classic Rock), and Christine and John McVie were married from 1968 to 1976 (via Smooth Radio). As per AllMusic, both of the couples' respective breakups fueled their chart-topping, epic 1977 album "Rumours," giving it an emotional rawness evident in every note and lyric.
Whether you're a longtime Fleetwood Mac super-fan or are just getting into the band's good vibes now, "Rumours" is a great place to start. Rolling Stone named it the seventh-best album of all time, citing the way it turned the band's two simultaneous romantic breakups into "gleaming, melodic public art." The blend of mystic storytelling, witchy metaphors, cool Californian guitars, and '70s sensibilities makes "Rumours" an album that will live on forever. 
Still, with Fleetwood Mac now past its 50th anniversary as a band, it is pretty unexpected that it just started trending on TikTok recently. Yes, the "rumours" are true: Fleetwood Mac has gone viral — and it all has to do with cranberry juice. Yes, you read that right.
Why Fleetwood Mac's "Dreams" is a TikTok trend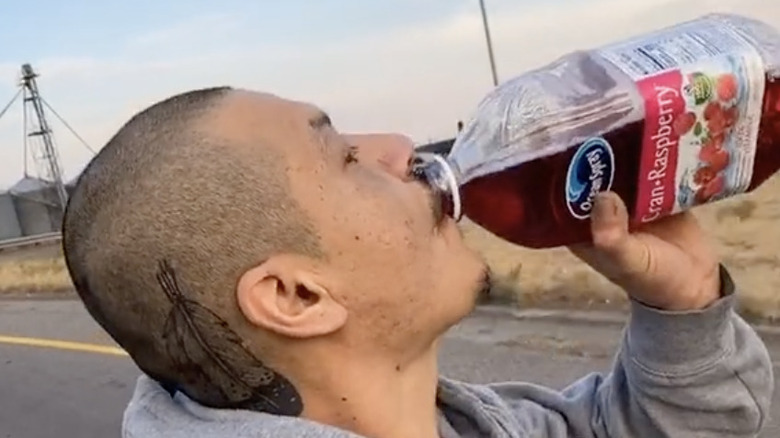 Fleetwood Mac began to see an uptick in streams within the Millennial set several years ago — a '70s-era renaissance few saw coming. As Spotify data storyteller Eliot Van Buskirk explained to Digg in 2018, "the under-35 crowd is now listening to a whopping 58% more Fleetwood Mac than they did [in 2016]." And there isn't much science to it: Fleetwood Mac connects to listeners who enjoy chill yet profound music regardless of time period. Accompanied by a global rise in tarot cards, crystals, astrology, and anything witchy and mystical (via The Guardian), all major facets of frontwoman Stevie Nick's persona, it's no wonder Fleetwood Mac is a group that continues to remain relevant.
But the '70s band made new waves recently, and it all has to do with TikTok. It wasn't a publicity stunt or an orchestrated record label comeback — just a fan with a great idea. TikTok user @420doggface208, an Idaho potato worker, posted a video of himself skateboarding down a winding road, listening to Fleetwood Mac's iconic "Dreams" and taking a swig right out of a bottle of Ocean Spray Cran-Raspberry juice. The TikTok user, whose real name is Nathan Apocada (via Billboard), lip-syncs to the mythical track, breezing through his street in a comfy gray hoodie. The video is relaxing to watch and emulates freedom — much like the album "Rumours" itself. 
The clip quickly gained traction, racking up 82 million views, 12.8 million likes, and thousands of comments asking, "Why is this such a vibe?"
Here's how Fleetwood Mac reacted to the viral video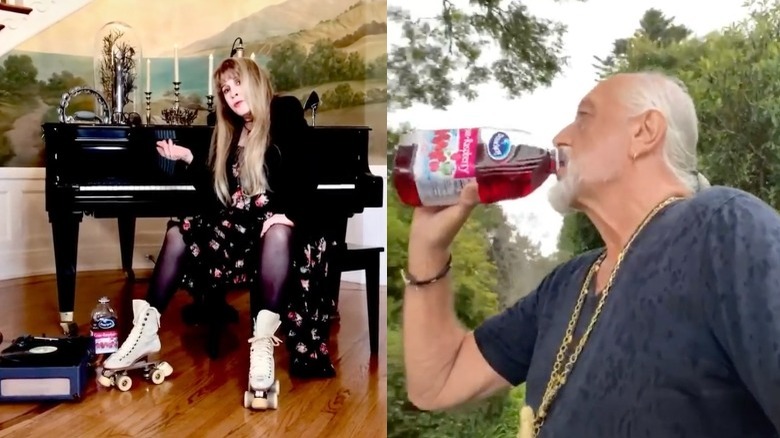 While Nathan Apocada's TikTok video could have gone unnoticed, it actually connected with millions of people. A "vibe" in every sense of the word, commenters wrote: "The multitasking is out of this world," "This needs to be an entire music video," and "This man on a whole different level of chillin." As the video's views went into the millions, Fleetwood Mac members took notice.
As per Billboard, the band tweeted "We love this!" as they shared Apocada's viral video on their page. Their tweet got more than 500,000 likes, and the trend only grew more viral within younger and older generations alike. According to Billboard, the TikTok video was responsible for 2.9 million on-demand U.S. streams of "Dreams" in just three days, boosting its streams by more than 88%. "Dreams" even got to No. 24 on Spotify's U.S. Daily Chart, an almost-unheard-of figure for a song that's more than four decades old.
As could be expected, Fleetwood Mac had to get in on the "Dreams" challenge, and it was pure internet magic. Days later, drummer Mick Fleetwood recorded a TikTok video of his own, skateboarding down a tree-lined street swigging cranberry juice, too. He told NPR, "It was spontaneous. It was heartfelt. It was fun, and God knows we need some of that right now." A few weeks after, mystic queen Stevie Nicks herself recorded her own homage video, sitting at a piano, lacing up her rollerskates, and listening to the track — with some cranberry juice right next to her.
Now, countless celebrities are jumping on the challenge, too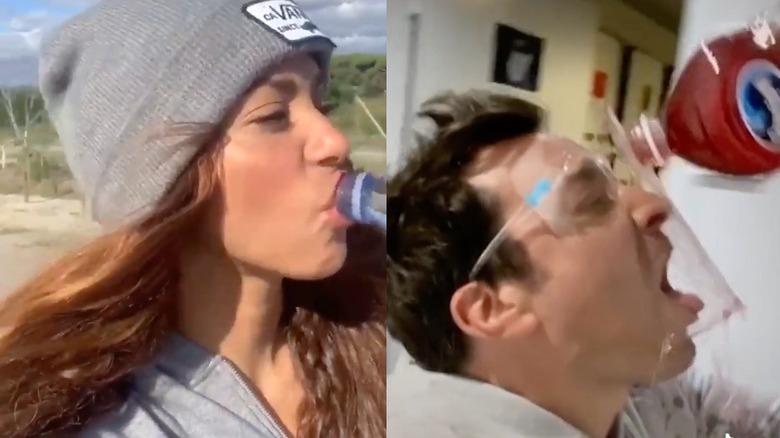 Once it was clear that the cranberry juice "Dreams" challenge had become a phenomenon, other celebrities decided to get in on the trend, too. As Nathan Apocada's video was shared millions of times, Ocean Spray decided to gift him a cranberry-red truck chock-full of their famous juice (via NPR). Living in an RV, the TikToker and warehouse worker got several fan donations and surreal shoutouts from celebrities all over the world.
One of the first celebs to take on the trend was Shakira, who posted her video on Twitter, captioning it, "Morning vibe #feelinggood #doggface." The "Hips Don't Lie" singer can be seen wearing a gray hoodie, a clear nod to Apocada, as well as a gray beanie as she skateboards along a farm-lined road, drinking water and lip-syncing to "Dreams." 
While Shakira's video is all about good vibes, Jimmy Fallon's "Dreams" TikTok is a bit different: The comedian-host nonchalantly tries to swig some cranberry juice, but sprays it all over his plastic face shield instead (via Business Insider). Fallon still keeps singing though, proving that "Dreams" can help you keep your cool no matter the circumstances.
As per Business Insider, Dr. Phil also hopped on the challenge, drinking his Ocean Spray bottle and listening to "Dreams" from the comfort of his golf cart. Even Ocean Spray's CEO Tom Hayes posted his own rendition, asking Mick Fleetwood and Apocada if they were all "best friends" now. We love to see it!
Source: Read Full Article