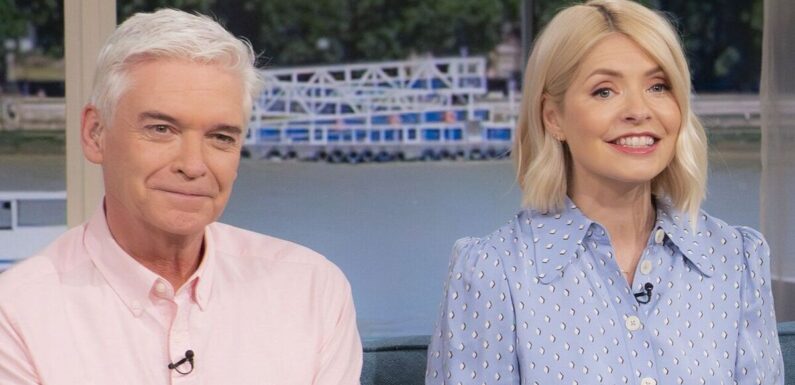 Jodie Marsh, 44, appeared on This Morning in 2018 to discuss her decision to give up sex and has since spoken out about her experience on the show.
In the explosive Sun interview, Jodie claimed Holly Willoughby was not nice to her during her time and claimed the presenter did not tell her red lipstick was stained on her teeth.
She also used the interview to compare the "lovely" Ruth Langsford and Eamonn Holmes to Holly and Phil's presenting skills.
Jodie explained: "Holly and Phil, they've always been the same. You go on This Morning, and they will not talk to you off-camera.
"You'll get thrown in a dressing room by a producer or runner and then you don't get to talk to them until you're sitting on the sofa."
The reality star said she would never return to the show despite being asked to come back, but admitted that would be different if Ruth and Eamonn "or anyone else" was presenting.
She explained: "I love Ruth and Eamonn. Absolutely adore them. They would make time for you, they would talk to you. They were amazing."
Jodie also mentioned former hosts Richard Madeley and Judy Finnigan, and "how nice they were" to her when they presented the show.
Holly returned to the This Morning sofa today, addressing Phillip Schofield's departure from the show.
In an emotive speech, she stated: "Hi there, good morning. Right, deep breath. Firstly, are you ok? I hope so.
DON'T MISS…
Rowan Atkinson confesses he feels 'duped' by the electric car trend[COMMENT]
Emmerdale's Amy Nuttall and husband rumoured to be back together after fling[LATEST]
Alesha Dixon branded 'insanely beautiful' by BGT fans in ab-flashing final look[ITV]
We use your sign-up to provide content in ways you've consented to and to improve our understanding of you. This may include adverts from us and 3rd parties based on our understanding. You can unsubscribe at any time. More info
"It feels very strange indeed sitting here without Phil, and I imagine that you might have been feeling a lot like I have, shaken troubled, let down, worried for the well-being of people on all sides of what's been going on, and full of questions.
"You, me, and all of us at This Morning gave our love and support to someone who was not telling the truth, who acted in a way that they themselves felt they had to resign from ITV or stepped down from a career that they loved.
"It's a lot to process and it's equally hard to see the toll that it's taken on their own mental health."
She continued: "I think what unites us all now is the desire to heal for the health and well-being of everyone.
"I hope that as we start this new chapter and get back to a place of warmth and magic this show holds for all of us. We can find strength in each other."
Her statement received a mixed response on social media, with some viewers questioning her authenticity on Twitter.
@Colone1flanders penned: "And the Oscar for epic-level lies and cognitive dissonance goes to… #ThisMorning."
@Scrivo35 commented: "Perhaps when Holly has left #ThisMorning we will get the truth. I don't think she will be back in September."
@MaggieJ42656809 fumed: "Omg what a load of b******s #Hollywilloughby think it's time to say goodbye to you is not fooling anyone the sickly sweet act does not wash."
Phillip left his role on This Morning last month following reports of a rift with Willoughby.
The 61-year-old later exited ITV altogether after he admitted lying about an affair he had with a young male colleague while he was still married.
Express.co.uk has contacted ITV and Holly Willoughby for comment.
Source: Read Full Article