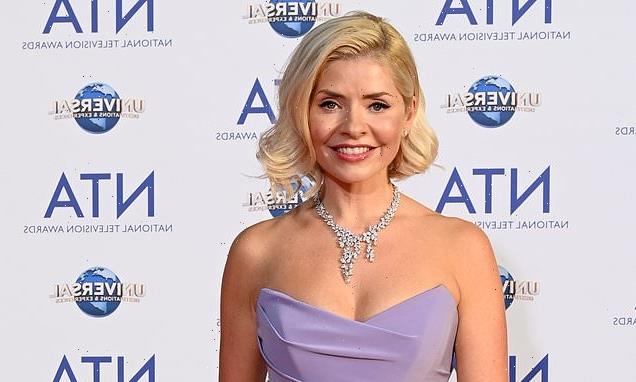 Holly goes it alone! Holly Willoughby puts on a brave face at the National Television Awards following nomination snub – and walks down red carpet for first time in 14 years without former bestie Philip Schofield the same day he unfollows her on Instagram
There were probably many other places Holly Willoughby would rather have been last night than sashaying down a red carpet with millions watching – even if she was dressed in the most stunning lilac dress by British designer Suzanne Neville.
The night wasn't exactly great timing.
After two days of being ridiculed for her appearances alongside her new best friend Alison Hammond during her This Morning comeback after eight weeks off for her annual summer break and losing 200,000 viewers at the same time, she knew there was no way she could get away with being a no-show at last night's National Television Awards.
Her torment was furthered by the fact she was shunned from being shortlisted for best presenter.
In fairness to her, she knew it. It was the first time since she, as the host of the ITV show she joined in 2009, had attended without Phillip Schofield since they began working together 14 years ago.
Alone: Holly Willoughby attends the National Television Awards 2023 at The O2 Arena
Still smiling: There were probably many other places Holly Willoughby would rather have been last night than sashaying down a red carpet with millions watching
Focus of attention: Alison Hammond
Ms Willoughby, 42, was also there to support Ms Hammond, who is described within television circles as her 'bestie', as she went up against Ant and Dec for the best presenter title – with the Geordie duo winning the award for the 15th year in a row.
It was indeed a quandary for the woman who until this time last year – when she jumped the queue to see the late Queen lying in state – was one of the most popular on television.
READ MORE: NTA 2023 LIVE: Ant and Dec win AGAIN! Duo beat fan favourite Alison Hammond to win Best Presenter for the 22nd time
So what was Britain's under-threat national treasure to do? Well, brazen it out, of course. Launch a PR charm offensive and do something she hasn't done for more than a decade and speak to the Press. Even if it was somewhat woolly.
Ms Willoughby spent 15 minutes on the red carpet at London's O2 – a stark contrast to her usual awards regime.
She walked separately from Ms Hammond, who arrived 20 minutes later.
When asked to address the toxic culture claims that have engulfed the show, she said: 'We are very blessed, we have a great team of people, we really do.
'I know there's been a lot of talk about things and for me personally, I don't want to speak on behalf of other people, it's a world I don't recognise.
'For me, I look around and see the team getting ready and giving it all. I just want to come to work and have more of that.'
While that may have not washed for some of the staff on the programme, she backed her friend Ms Hammond, adding: 'Alison doesn't need any advice tonight. She's wonderful, exactly what she's like on the telly.'
Duo: Ant and Dec pictured on the red carpet of the National Television Awards
Selfie time: Ant and Dec pose with two fans
Leading ladies: Celebrities on the red carpet included Davina McCall
Big Night: Alex Jones also poses for a picture on the red carpet
Those close to Ms Willoughby said she had to speak out last night in the hope that she can 'start again tomorrow'.
The presenter has for some time been wrestling with how Schofield's exit affected This Morning and that it is her job to 'turn things around' after she – as the strong woman that she has vowed to be – took the helm of This Morning.
READ MORE: Maura Higgins turns heads as she puts on a VERY racy display in a daring cut out black gown at the National Television Awards
Sources close to Ms Willoughby say that she decided that the best thing she could do to deal with the criticism was to be honest.
It coincides with her agreement to stay with This Morning, which lost out to The Repair Shop last night in the best daytime show category.
One said: 'Holly knows she needs to answer questions about This Morning face on and tell the story. It has been difficult. She knows this is a tricky time but she has made a pact with herself to take the rough with the smooth and deal with it.
'Hence why she is here tonight and actually dealing with what has been hard for her and hard for the show.'
Away from the tribulations of morning television, it was a joyful night for BBC1's Happy Valley as it won the returning drama award.
And the night only got better for lead Sarah Lancashire who beat co-star James Norton to win the best dramatic performance after the NTAs scrapped separate categories for best actor and best actress.
Sparkles: Good Morning Britain host Susanna Reid arrives at the O2
Smile: Line of Duty star Vicky McClure takes her turn on the carpet 
Thumbs up: Olly Murs looks happy to be at the awards
Ms Lancashire said: 'It's a wonderful thing to have, we didn't know if we would win it. It's a great accolade – great for Sally Wainwright.'
But despite sweeping up at the NTAs, beating the likes of Call The Midwife, Ms Lancashire confirmed the much-loved show would not return for a fourth series.
The 58-year-old said: 'No, because the story is complete – it's a story told as a trilogy which is the best way to tell the story. The danger is you carry on and you carry on and it loses its potency.'
Ms Lancashire, who played harassed police woman Catherine Cawood also told of her joy at how there are more older actresses winning roles, saying: 'I think things are changing and they have needed to change for a very long time.
'But evolution is slow and we need to catch up.'
Graham Norton beat Piers Morgan to best TV Interview while his ex Good Morning Britain co-host Susanna Reid paraded the red carpet in a red dress while debuting her new short hair.
Meanwhile, Line of Duty's veteran cop-drama actress, Vicky McLure also stunned at the event – held at London's O2 Arena – in a black Versace frock.
One Show host, Alex Jones, also pulled out the stops in a white feathered mini-dress.
Big Brother host Davina McCall, 55, beamed on the red carpet in an E Stott jumpsuit with her latest boyfriend, the hairdresser Michael Douglas, 48.
Source: Read Full Article