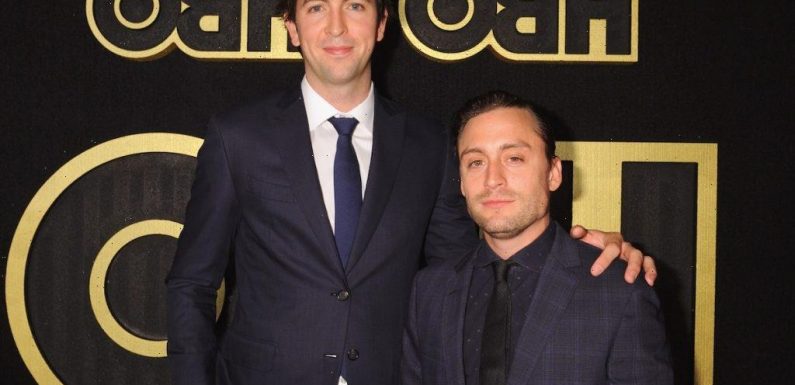 Nicholas Braun has appeared in a number of big projects over the last decade. But his role in the HBO series Succession really brought him acclaim and earned him legions of fans. In the series, which premiered in 2018, Braun plays Greg, a well-intentioned but occasionally dim young man. In real life, however, Braun is whip-sharp. He's learned how to leverage his towering height to his advantage after years of struggling to find where he fits in the acting world.
How tall is Nicholas Braun?
Nicholas Braun is certainly one of the tallest performers in Hollywood, standing at 6-feet-7. In a January 2020 interview with Insider, the 33-year-old opened up about how, he struggled a great deal to try to land roles in the early years of his career, primarily due to his impressive height.
"Six-seven is the real number," Braun said, discussing his height. "I used to make it shorter because most people hear 6'7″ or even 6'6″ and I think are a little spooked by it, like I'm going to be too tall. I'm just talking about in auditions or when I'm going for a part. So I used to sort of make it low, 6'4″, 6'5″. I'm really 6'7″ when I stand."
Braun admitted he would occasionally misrepresent his height when applying for parts. He had a hard time accepting his massive height difference compared to other actors. "It's been the biggest impediment to getting roles I think my whole life. Because even as a kid when I was younger, like 11, 12 years old, I was very tall, I just kept being very tall."
Braun on landing his role on 'Succession'
In certain cases, Nicholas Braun's great height has been a benefit to him. For example, when he landed the role of cousin Greg on Succession in 2018. Braun's bumbling performance on the show has endeared him to fans and given him the sort of instant recognition many actors only dream of. Braun has admitted that while he doesn't mind being known exclusively as Greg, he's trying to "widen" the kind of parts he plays.
In recent years, Braun has really embraced his height, even using it to throw his hat in the ring for truly original characters. Notably, as Insider reports, Braun has been cast as WeWork founder Adam Neumann, who is well over 6 feet tall. While that particular project is still in development, there's no doubt Braun will make a splash in the lead role.
Nicholas Braun is the tallest 'Succession' cast member
Nicholas Braun might not be the only critically-acclaimed member of the Succession cast, but he's certainly the tallest. Braun is far and away the most towering of his co-stars. Jeremy Strong, who plays Kendall Roy in the hit HBO series, only stands at about 5 feet 8 inches, according to Celeb Heights. Brian Cox, who plays the intimidating father figure, Logan Roy, is even shorter. According to Celeb Heights, he is only about 5 feet 6 inches tall.
In cast photos, fans can clearly see Braun towering above the rest. However, it is his talent, rather than his height, that makes him one of the breakout stars of the show. As he tackles new projects, it seems likely that fans will follow his career with great interest.
Source: Read Full Article