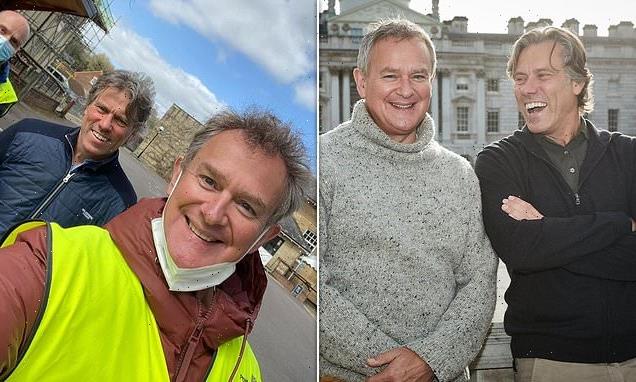 'It's spooky!' Hugh Bonneville and John Bishop are stunned to discover surprising family link in ITV's DNA Journey… after becoming pals during chance meet at Covid vaccine centre
The stars met by chance at the Midhurst Riverbank Medical Centre in 2021, where Hugh, 59, was working as a Covid vaccine volunteer
The actor and John, 56, appear in ITV's DNA Journey where they delve deep into their ancestry 
Hugh Bonneville and John Bishop are stunned to discover a surprising family link as they appear on an ancestry television programme together.
The stars, who first became pals during lockdown after meeting each other by chance in a vaccine centre, uncover their histories in ITV's DNA Journey,
The pair discover on the show that Hugh's ancestor, John Freeman, worked a short distance from John's relative Andrew Keegan.
John, 56, had a family bakery while Andrew had a music shop on Capel Street, Dublin.
The men were both part of unions and according to the program, they both went on a March in support of workers' rights in the 1840s. 
Friends: Hugh Bonneville and John Bishop discovered a surprising family link as they went on an ancestry journey together
Let me take a selfie: They uncovered their ancestry after they struck up a friendship when they met by chance at the Midhurst Pharmacy vaccine centre during lockdown
After hearing the bombshell, John said: 'I thought it was a coincidence that you were at the vaccine centre. 
'To find out that generations before, our ancestors were working within 30 yards of each other… then to discover they were on a march together on the same day that started the path for discussions for Irish independence… staggering.'
Hugh, 59, added: 'That is quite spooky. It's the sliding doors of fate and time. 
'Not only are we friends, but I'd like to think that Andrew and John were friends back in the day.'
The show also sees the men uncover more fascinating family information, including about John's great-great-great grandfather Patrick Reardon.
Patrick started a business in the salt industry, travelling from Ireland to Liverpool. 
Meanwhile, Hugh's ancestor Richard Bonniwell rallied to make working conditions for sailors better in the 1820s after working as a naval architect. 
It comes after the two stars shared selfies on their respective social media accounts in 2021 after their surprise encounter at the Midhurst Riverbank Medical Centre.
Thumbs up! Hugh also posed for a thumbs up selfie with John as they met at the vaccine centre 
Hugh was volunteering at his local centre to help the fight against coronavirus throughout the pandemic.
Alongside a snap of himself and Hugh, John wrote: 'You know you've picked a posh centre when Hugh Bonneville volunteers here!
Meanwhile, Hugh shared a similar snap and wrote: 'My turn to ask for a selfie. @nobleandstace and I had to up our Welcome game when the one and only @johnbish100 arrived for his vaccination #MidhurstPharmacy #vaccination.'
Hugh was sporting a yellow hi-vis jacket and a face mask, which he pulled down for the photo opportunity with John – who was stood at a social distance.
*DNA Journey starts Tuesday 7 March, ITV and ITVX, 9pm.
Source: Read Full Article