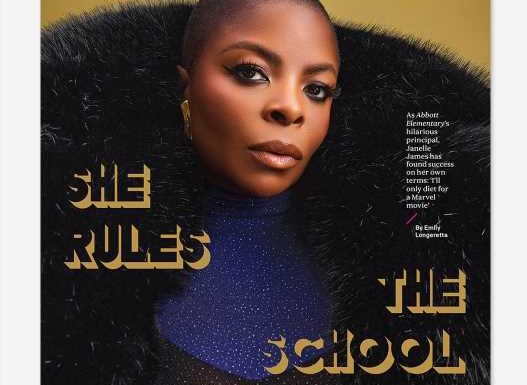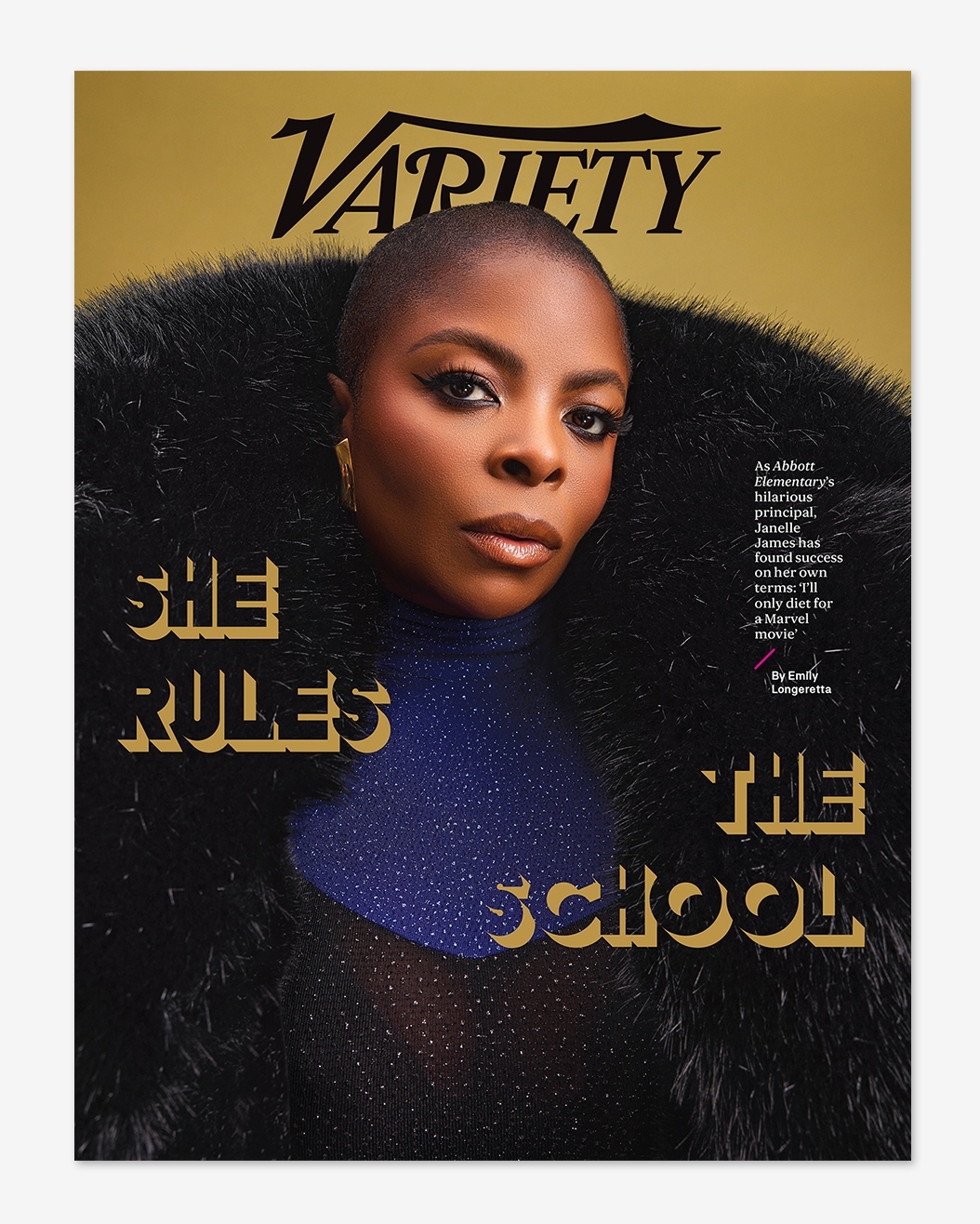 I read Janelle James's Variety cover story last night and it's honestly one of the funniest profiles I've ever read in my life. She tosses off brilliant one-liners constantly and her attitude towards her newfound stardom is: f–k this, I don't need any of this. Like, she's happy to have the work, but she would rather not be a huge star. Too bad – playing Ava on Abbott Elementary has made her an in-demand actor, comedian and writer. She also refuses to tell anyone her age and she's not going to confirm her kids' ages either. My vibe is that she's in her 40s, but I respect the fact that no one knows for sure and she's not talking about it. Some highlights from Variety:
Chris Rock did not "discover" her: "He's done a lot. He's done enough for me. He didn't make my career or anything. I was never close with Chris Rock. We went on tour together, and then I didn't speak to him after that." And of course, she followed what happened to him at the Oscars, but hasn't watched his Netflix special. She doesn't want to be cornered into talking about him or the slap in interviews like this one. "I want to truthfully be like, 'I ain't seen it. No opinion!' I don't want to be involved."

James prefers her privacy: "Truly wealthy people don't watch TV."

Her age & motherhood James declines to disclose her age. She has two sons — one who is 20, the other whose age she's not revealing. She doesn't see the point of sharing that. "I'm grown. I have a 20-year-old son. I'm not ashamed of my age or anything like that. But for women — and everybody knows it and acts like they don't — it gives an idea of what you are in people's heads." As soon as people in the industry learn that James is a mother of two, they assume she's a "mom comic." "That's not my jam. People have this idea of motherhood, the same way they have an idea of women as we reach a certain age. Each age group, people have an idea in your head of what it is. I don't want that to prevent me from doing anything, because I can do everything."

Getting her stand-up start in Illinois: "The Midwest was new for me. White people were new for me. Seeing white boys and talking to them like that, it was a new experience for me. And I love new experiences." She didn't know what these men meant when they eventually offered her "time." When they explained she could have four minutes on the mic with her own material, she got right to work on writing. "I remember the first laugh I got. In my head, I was like, 'Oh, this is it. This is what I'm doing now.' I was in it then."

She doesn't want to play characters described as 'sexy': "If I see it, I'm like, 'F–k, I have to diet for this? I don't want to do that.' That turns me off. And I don't want to maintain that. I'll only diet for a Marvel movie. I will give up bacon and waffles to be Storm." She's determined to manifest landing that role — and until then, she won't be dieting. She lost about 15 pounds between seasons 1 and 2 of "Abbott," simply because the first season was filmed right after quarantine, when she'd been "eating Cheez-Its for the whole year. Now I'm seeing all these people like, 'Oh, Janelle is hot!' So now I've gotta maintain that! I really do. I was like, I should have never lost this weight. Now that's what people expect from me. I just want to be funny and do things! Being hot is work — that's another job."

She doesn't want to ever starve herself. "That's not fun. My body would be like, 'What the f-ck are you doing?' Not because I'm against being hot; I just know myself, and that won't make me happy."

Her confidence: "There're so many men walking around with confidence that's unearned. If women do the same, they're monsters. I'm confident in my abilities, confident that I'm funnier than most people. That's not even my ego, that's years in the game. I did the work, have the respect of others. And not only others, but men. Once a man says you're funny, that's all it takes — which sucks. But you need the respect of men because they are who're at the top of this profession. You need that co-sign. So nobody can take that away from me. All I have in this sh-t is respect and admiration for people who've done it already."

On Dave Chappelle: "The last thing I watched of his was when he came out with all the specials at once. Regardless of what he said, I thought it was boring. I like silly Chappelle. He's in his wisdom bag now. We're clowns! Once we forget that we're clowns, then it becomes bad. Your objective is to make people laugh and then sneak your thoughts in underneath the jokes. If your thoughts are on top, that's not funny or entertaining to me."

She got to schmooze with Mike White. Like many, she'd love to be a part of "The White Lotus" in the future. "I want people to see me outside of the character of Ava. I am not Ava; I am acting. I'm not ashamed to be Ava, but when people say, 'You're just like your character,' that's an insult. I'm doing a lot of work to bring this bitch to life."

Her money: "I turn down so much sh-t. I could be so much richer than I am right now. I only do what I want." Now, two seasons into "Abbott Elementary," she still doesn't consider herself wealthy. But, she proudly notes, she has a great credit score and is debt-free. "I bought my mom an expensive blender, not a house. A plus of coming into money later in life outside my 20s is I'm not a dumbass with it."
[From Variety]
"A plus of coming into money later in life outside my 20s is I'm not a dumbass with it" and buying her mother a nice blender… amazing and true. Throughout the piece, I got the feeling that Janelle mainly sees herself as a writer and comic, not an actress, but she's also studied fame, celebrity and rich white folks, so she's approaching her new life carefully. I love that she simply declines to disclose her age, and she's absolutely right about how women of certain ages are seen within the industry. It absolutely feels like she's "allowed" to play Ava as younger than Janelle's real age because no one is screaming "Janelle is 49, why is she acting like that!" Also: I would LOVE to see her on The White Lotus. Please, make it happen.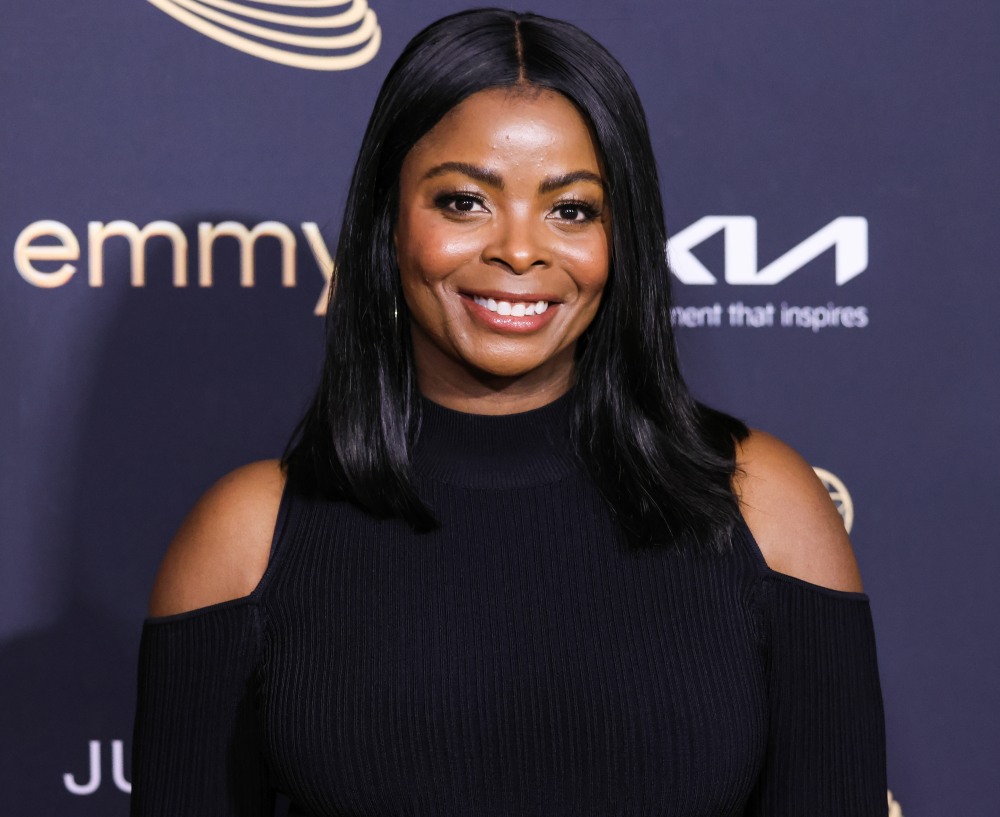 Photos courtesy of Avalon Red, cover courtesy of Variety.
Source: Read Full Article