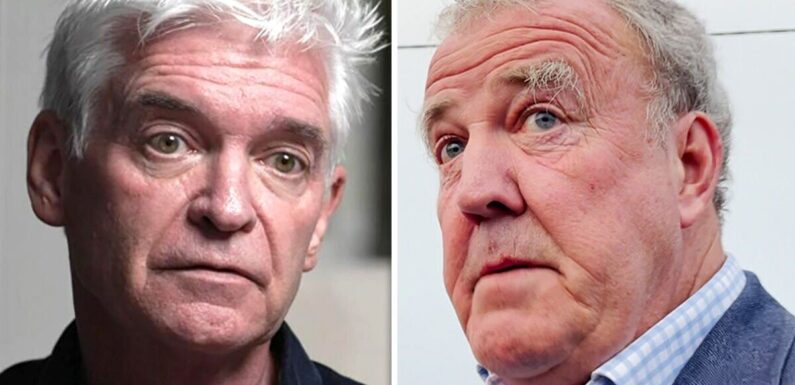 Former Top Gear presenter Jeremy Clarkson, 63, complained about the "end of romance in the workplace" in his new column today.
The Clarkson's Farm star made the comments shortly after ex-This Morning host Phillip Schofield, 61, publicly admitted to having an affair with a much younger colleague.
The ITV star's admission came after he stepped down from the show after more than 20 years following reports of a growing rift between himself and co-host Holly Willoughby, 42.
In his article for the Sun, Jeremy made reference to Phillip's affair, before suggesting that modern rules about dating in the workplace were "difficult to get your head round if you stared work in the seventies".
He recalled: "Back then, everything was allowed. So you could definitely ask a colleague out on a date. It was weird if you didn't.
"Which is why, at most Christmas ­parties, everyone drowned in everyone else's saliva."
He also went on to suggest that "your advances could be seen as harassment" if a person tried to ask out someone from work now.
"To get round the problem, many companies ban workplace relationships and those that do allow a bit of water-cooler love will often send in the HR department to throw water all over you if you try anything," he added.
Don't miss…
Holly Willoughby's 'saddened' by 'downtrodden' Phillip Schofield after scandal [LATEST]
Dan Walker fears This Morning axe as 'people are on edge' over Schofield scandal [NEWS]
Phillip Schofield's 'turmoil' as he's stopped eating after affair news [INSIGHT]
"So what does this mean for the office romance? If you are frightened by the concept of online dating and you can't be bothered to sit around hotel bars dressed up like Jessica Rabbit, then the office is a sensible alternative."
Jeremy also gave examples of famous celebrity couples who met at work, including Barack and Michelle Obama, Bill and Melinda Gates and Brad Pitt and Angelina Jolie.
"And where would The Office have been without Tim and Dawn?" Jeremy asked, referencing Ricky Gervais' iconic 2001 series starring Martin Freeman and Lucy Davis.
We use your sign-up to provide content in ways you've consented to and to improve our understanding of you. This may include adverts from us and 3rd parties based on our understanding. You can unsubscribe at any time. More info
"Strange to think that today, this — the greatest love story ever screened on television — would simply not be possible."
Following his admission to the affair with a younger colleague while still married, Phillip released a lengthy statement where he apologised to all those he had "lied to" about the "unwise but not illegal" romance and has since said he has "lost everything".
Meanwhile, ITV released a statement saying that had been "badly let down" by the star, who had been with them for over 20 years.
Express.co.uk contacted ITV at the time for comment.
Source: Read Full Article