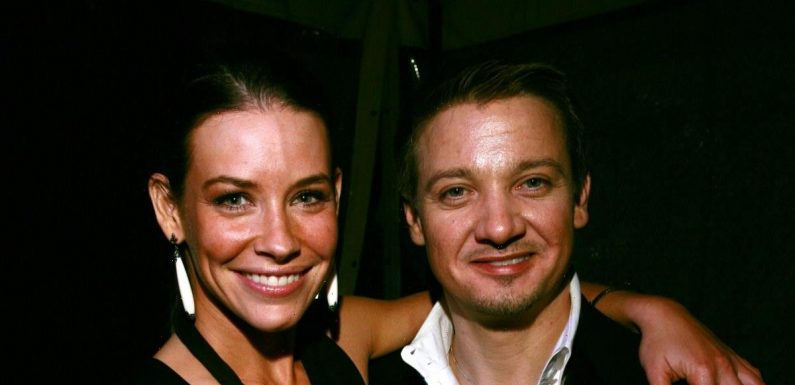 Renner update
Evangeline Lilly is marveling at the progress Jeremy Renner's been making since his snowplow accident. "He has recovered like a mofo," Evangeline said, adding that she saw her "Avengers: Endgame" costar "the other night" in his wheelchair. "I walked in his house and got chicken skin, 'cause I was like, 'Why are you mobile? Why are you mobile? What's happening?,'" she told Access Hollywood. Evangeline initially went to Jeremy's house expecting to sit by his bedside, but that didn't happen, saying he was "wheeling himself around, laughing with his friends." "It's a miracle, a straight-up miracle," she said. "He's made of something really tough, that guy. You've always been able to see that in him. He is recovering incredibly, and I'm so grateful." Jeremy broke over 30 bones after a 14,000-pound snowplow ran over him on Jan. 1, 2023. Earlier this week, Paul Rudd told Entertainment Tonight that his Marvel costar was "doing alright, he's doing well."
RELATED: Marvel stars ranked
Intervention plans scrapped
Britney Spears' friends and family are becoming increasingly worried about her behavior… so much so that an intervention was planned. However, the pop star caught wind of the plan and the meeting was scrapped. TMZ reported on Feb. 9 that Brit's manager rented a house near Los Angeles for several months and the plan was to take an unsuspecting Britney to the house. There, she'd be met by friends, family and doctors. The hope was that Britney would live in the house for two months and receive medical treatment and psychological counseling. Britney, TMZ says, is struggling with her mental health and substance abuse and friends are worried that the consequences could be dire, even fatal. Plus, the singer's taking meds that "hype her up" and she's been "flying off the handle" regularly, sources tells the webloid. It's not known why the whole thing was scrapped when Britney became knowledgeable of the intervention plan, particularly because her inner circle thinks an intervention is needed. Britney's father, Jamie Spears, and her two sons were not involved. The "Toxic" singer did reportedly meet with a doctor on Wednesday, Feb. 8, and things when "well."
RELATED: Celebrity mug shots
Feeling 'amazing' about Congress
A four-year-old foul-mouthed tweet from Chrissy Teigen found its way into Congress (yes, the United States Congress!) this week, and the model thinks the whole thing is "amazing." On Feb. 8, a Congressional hearing was held to investigate Twitter. During the hearing, a Sept. 8, 2019, tweet by Chrissy was read aloud by former Twitter content moderator Anika Collier Navaroli. In the tweet, "Lip Sync Battle" host used some vulgar language aimed at then President Trump. The tweet was so foul that the Twitter employees apologized in advance before reading it. Afterward, TMZ cameras caught Chrissy and husband John Legend in Los Angeles. Chrissy said it feels "honestly amazing" to have her tweet read in Congress, and she joked that this is better than John's EGOT win. John then laughed, "The family is very proud."
Lovely messages
To this day, Pamela Anderson still thinks Tommy Lee is her "one true love." Some of the "Baywatch" alum's recent texts to her ex-husband have surfaced online, and she's romancing about the way they were. In the message, she's speaks of how adorable their family was and she blames paparazzi for their split. The messages appear to have come about after she filmed her Netflix documentary. "I only have good things to say about you —[especially] in hindsight I realize I only have one true love – I never recovered," she text. She later added that she and Tommy had a "true love story" and regrets the pain she caused. Sources close to Tommy and his wife, Brittany Furlan, have conflicting opinions on the texts — one source tells TMZ that Pam simply wanted to express her thankfulness to the Motley Crue drummer for their history together. But, another source said Pam is desperate to rekindle the flame with Tommy despite his marriage. 
RELATED: Ageless wonders
'Cancel culture is real'
Candace Cameron Bure is opening up about the backlash she got after her "traditional marriage" comments in November 2022. "Cancel culture is real, and it's difficult, and it's hard," the "Full House" alum said on the "Unapologetic with Julia Jeffress Sadler" podcast. During the chat Candace said she believes Christians face persecution. "I know there's all the places in the world, all different countries, where people get severely persecuted for their faith," she said. "I feel like we've had this cushion here in North America where someone yells at us or someone says a mean, negative thing and our feelings get so hurt over it. And that isn't nearly the persecution that other people go through from being a Christian in other countries." Regardless of the backlash, the actress has dug in more in regard to her beliefs. "It's hard, no matter what. Especially when you are a compassionate person and you have a heart for people," she said. "But it's important that we speak truth in love, 'cause, listen, nobody's gonna change, nobody's gonna listen to you when it comes out angry, when it comes out in a harsh way, but it's important that we don't back down." At the time of her comments, Candace told Page Six that critics were "trying to assassinate [her] character."
Legal filing
Stephen "tWitch" Boss died without a will, prompting his wife, Allison Holker, to file for half of their joint estate. Multiple media outlets said Allison's California Spousal Property Petition is standard procedure in situations like this. In the filing, Allison is asking for a "determination of property passing to the surviving spouse" as well as "confirmation of property belonging to the surviving spouse." In essence, the "Dancing With The Stars" pro is asking for everything to be placed in her name. tWitch, Ellen DeGeneres' longtime sidekick, tragically died on Dec. 13. Allison and tWitch marred in 2013 and share three children. 
All the buzz
He's back! Tim Allen has confirmed that he will again voice the Buzz Lightyear character in the upcoming fifth installment of "Toy Story." "See ya soon Woody, you are a sad strange little man and you have my pity. And off we go to a number 5! To infinity and beyond," the actor tweeted. The move comes after Tim was left out of last year's "Lightyear" movie. There was a theory that Tim was out of the film due to his conservative political views. However, "Lightyear" producer Galyn Susman defending the casting decision, saying, "Tim Allen is Buzz Lightyear the toy. We weren't making a Toy Story movie. We're making Buzz Lightyear's movie." The idea is that the Buzz Lightyear action figure (which Tim voices) was based off of the "Lightyear" movie. 

Source: Read Full Article