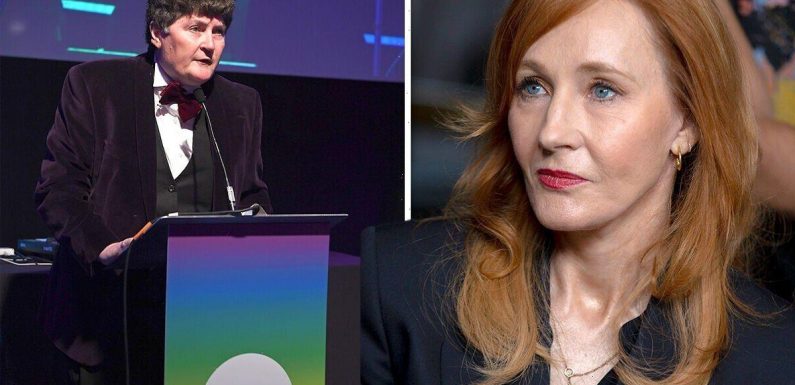 JK Rowling defended by author for open letter on free speech
We use your sign-up to provide content in ways you've consented to and to improve our understanding of you. This may include adverts from us and 3rd parties based on our understanding. You can unsubscribe at any time. More info
Harry Potter author JK Rowling has faced backlash from LGBT+ campaigner and founder of Lesbian Visibility Week Linda Riley after sending out a tweet today. The writer has previously been criticised by LGBT+ groups and fans of her books about the wizarding world for her views on transgender rights.
This morning, Rowling sent out a tweet to her 13.9 million followers, sharing a picture of her friend Allison Bailey marching for lesbian, gay and bisexual rights in San Fransisco back in 1991.
She captioned the photo: "Lesbian Visibility Week starts today in the UK.
"A good moment to salute the resilience and courage of my inspirational friend."
She then added the hashtag #IStandWithAllisonBailey in solidarity with the barrister.
Bailey is a divisive figure within the LGBT+ community due to her stance on trans issues.
The lawyer describes herself as a "lifelong campaigner for racial equality, lesbian, gay, and bisexual rights".
She is currently suing the LGBT+ charity Stonewall on the grounds of discrimination, claiming the organisation is "policing free speech via its Diversity Champions scheme".
Soon after Rowling had tweeted out the image, Riley, founder of Lesbian Visibility Week, appeared to be angered by its contents.
In view of her 76,600 Twitter followers she penned: "Wow! I certainly did not create #LesbianVisibilityWeek so that people like @jk_rowling could use it as a vehicle to stir up more hate within our community.
"This is a perfect example of #HowNotToBeAnAlly."
She also added the hashtags #IStandWithStonewall and #LWithTheT, which indicates the lesbian community standing in solidarity with the transgender community.
The comments section under Riley's post seemed to be split on her response to Rowling's tweet.
Demi Rose in risqué display flashing cleavage in sheer corset [PICS]
Donald Trump mocks Prince Harry as HE 'made the Queen smile' [INSIGHT]
Michelle Keegan dubbed 'fittest woman ever' after 'unreal' bikini snaps [PICS]
QuizzicalGoat commented: "How exactly is a supportive post celebrating a lesbian on Lesbian Visibility Week stirring up hatred?"
While Latsot added: "I don't understand what's hateful about JKR's tweet."
Babbity Rabbit asked: "Which lesbians are we allowed to celebrate then Linda? Is there an approved list? Asking for a friend…."
While Dolly_Darren penned: "Well said Linda. I can't believe that woman has tried to hijack all the brilliant work you have done. Keep on being you. #GWithTheT #LGBWithTheT."
Rebecca Wednesday commented: "Thank you for your support Linda. #HowNotToBeAnAlly…indeed!! She just seems to want to divide, and is becoming increasingly obsessed.
"It's wonderful that you are so strong and defensive of our communities. #IStandWithStonewall #LWithTheT #LesbianVisabillityWeek." (sic)
Beetogee added: "Linda you are the best. Thank you for speaking up." (sic)
Express.co.uk contacted Rowling's representatives, who declined to comment.
Source: Read Full Article