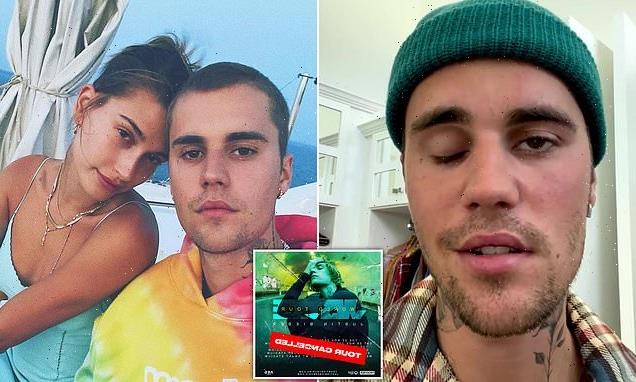 REVEALED: 'Fragile' Justin Bieber was 'FORCED to cancel his tour' by doctors amid fears for his health after Ramsay Hunt syndrome diagnosis: 'Hailey and his family have been so worried'
Justin, 29, was first diagnosed with Ramsay Hunt syndrome in June 2022 when he was experiencing facial paralysis
The remaining dates of the Sorry singer's Justice World Tour were cancelled on Tuesday amid his ongoing battle with the condition 
DailyMail.com has exclusively learned that Justin's doctors 'forced' him to pull the plug and that his wife Hailey, family and friends are 'worried'  
Justin Bieber's decision to pull the plug on his Justice World Tour was actually not his decision at all – but rather an urgent recommendation on the behalf of the 'fragile' star's doctors. 
Sources close to the Sorry singer tell DailyMail.com exclusively that Justin, 29, was 'forced' to pull the by his team of doctors amid growing concerns about his ongoing battle with Ramsay Hunt syndrome. 
'Justin is fragile and has has been worn thin lately. He was told that this needed to happen and he was left with no other choice,' an insider says.
'He knows that if he did not cancel the remaining tour dates, it could have a horrible impact on his overall health. If he does not have his health, he has nothing.' 
Justin Bieber was 'forced' to cancel his tour by doctors who have grown increasingly concerned about his health amid his ongoing battle with Ramsay Hunt syndrome (seen) 
Standing by her man: Justin's wife Hailey is very 'worried' about him, along with other family members and friends, a source told DailyMail.com
'Justin is fragile and has has been worn thin lately,' the insider said of the singer's health woes
Justin – who was set to perform in the UK, Australia, Poland, France, New Zealand, Denmark, and the Czech Republic – has not yet spoken out since the news was announced via the tour website this week.
According to the source, 'He feels horrible about it. He is aware that this impacts so many people who really on him and he is committed to making sure that they are all okay.' 
And it's not only Justin's doctors who have expressed concern; his wife Hailey, 26, family and friends have all been 'worried' about his declining health, the insider added. 
'For so many years, Justin felt like he was invincible and that nothing could hurt him. But after getting sick with Ramsay Hunt, it became so clear to him that he is not,' the source shared. 
No official reason was given as to why the tour was prematurely ending when the news was announced on the website, which stated, 'Justin Bieber has officially CANCELLED the remaining dates of his Justice World Tour. Check in with your point of purchase for refunds for your show dates.'
When the cancellation was announced, fans were told that they would get a 'full refund for their tickets.' 
Although there was no official explanation offered for the axing of the tour, many fans were quick to assume the reason was rooted in Justin's health woes. The singer has been completely transparent about his battle with Ramsay Hunt syndrome since he was first diagnosed with the debilitating condition in June 2022. 
At the time of his diagnosis, he was experiencing facial paralysis and shared photos and video online about it.  At the time, little was known about the ailment, which generally occurs when a shingles outbreak affects a nerve near the ears.
Pulling the plug: This is the fifth time that Justin has been forced to cancel the Justice Tour, the first time being when the COVID-19 pandemic crippled the world 
His loyal fans were told that they would get a 'full refund for their tickets' 
Before the sickness: Months before being diagnosed, Justin showed off his incredible body at the 2022 Coachella Valley Music And Arts Festival in April 2022
Symptoms of the horrific sickness can include an incredibly painful rash, hearing loss and facial paralysis, the latter of which Justin was experiencing at the time of his initial diagnosis. 
What is Ramsay Hunt syndrome? The rare shingles complication that leads to facial paralysis
Ramsay Hunt syndrome is a complication of shingles, caused by the same virus as chickenpox (VZV), that can lead to facial paralysis.
The virus becomes reactivated after laying dormant for years and causes inflammation and irritation on the facial nerves. 
VZV is harmless unless it is reactivated and should this happen new symptoms will appear. 
The virus can be reactivated when the immune system is weakened, and less able to fight off infection. Stress is often a trigger.
Figures suggest that five in every 100,000 adults in the US will develop RHS.
Children are rarely affected by RHS, as the complication most often affects adults in their 60s. 
Treatment usually involves antiviral medication. Doctors recommend seeking help within three days of the start of symptoms.
Justin first explained his condition in a three-minute video at the time of his diagnosis, revealing that he was unable to blink with his right eye and the right side of his face did not move.
He began the video saying: 'Hey everyone Justin here, I wanted to update you guys on what's been going on.'
'Obviously as you can probably see with my face. I have this syndrome called Ramsay Hunt syndrome and it is from this virus that attacks the nerves in my ear and my facial nerves and has caused my face to have paralysis.'
Justin later shared a sad update on his Instagram story about his condition, which read, 'Been getting progressively harder to eat which has been extremely frustrating, please pray for me [tearing up emoji]'.
Justin's tour has been postponed five times prior, the first time being when the Covid-19 pandemic crippled the world.  
In September 2022, Justin cancelled the tour due to physical and mental health issues. Weeks prior, he revealed that he had overcome the facial paralysis. 
Twitter exploded following the announcement, with fans offering their words of support.  'So proud of him for putting his health first. He's an incredible artist,' wrote one fan. 
Another fan tweeted, 'Oh well. As much as I would live to see @justinbieber perform again, his personal health takes priority over my disappointment. Wishing him all the best'. 
'Just saw the Justin Bieber cancelled the rest of his tour dates. I honestly wish him nothing but healing he's been through a lot and although I'll probably never see him live I rather him do what's best,' a third fan added. 
On July 31, Justin resumed the tour in Italy. He performed seven total gigs before making the decision to walk away again. 
'After resting and consulting with my doctors, family and team, I went to Europe in an effort to continue with the tour. I performed six live shows, but it took a real toll on me,' he told fans on his Instagram. 
Happy Birthday: Justin's wife Hailey, 26, shared a birthday post for her husband's 29th birthday earlier this week
'This past weekend I performed at Rock In Rio and I gave everything I have to the people in Brazil.' He also touched on his battle with facial paralysis which was why he cancelled weeks of dates earlier that year. 
'Earlier this year, I went public about my battle with Ramsay Hunt syndrome, where my face was partly paralyzed,' Justin wrote. 
'As the result of this illness, I was not able to complete the North America leg of the Justice Tour.'
The announcement came just in time for Justin to celebrate turning 29 years old. On March 1, his wife Hailey shared a sweet tribute on Instagram to her man. 
The model shared three photos of the couple as well as a throwback photo of Justin as a toddler.
'29 never looked so good,' the 26-year-old cover girl wrote. 'Happy Birthday to you best friend! Words couldn't possibly sum up all that you embody.'
'So here's to more joy, more travel, yummy food, adventures, more peace, fun, and most of all more love.'
Hailey and Justin first got together in December 2015 and dated for about a month. They reconciled in June 2018, got engaged in July 2018 and married later that same year. 
Source: Read Full Article