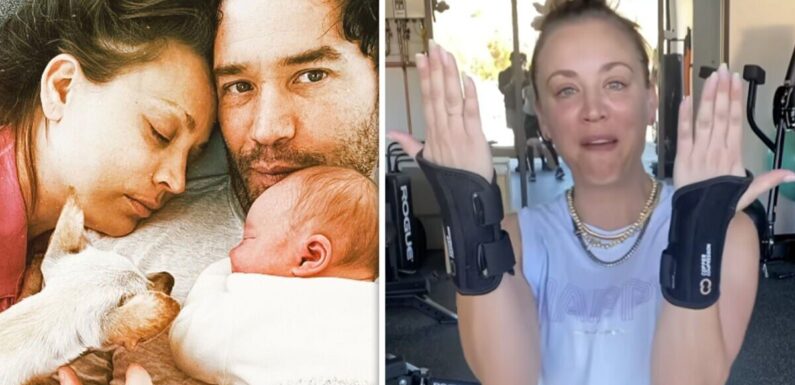 Kaley Cuoco has revealed that she has been diagnosed with carpal tunnel syndrome (CTS) from holding her 5-month-old baby daughter, Matilda.
The Big Bang Theory actress welcomed her daughter in March with partner and fellow actor, Tom Pelphrey.
The 37-year-old shared a hands-free workout on trainer Ryan Sorensen's Instagram account, as she demonstrated how they are navigating her diagnosis.
She began: "Some of you may know I have this major wrist/hand injury from holding the baby.
"It's a very real thing – Google it! I think the only way to make [my wrists] better is for us to start working out without using my hands, and without using any body weight on my hands."
For all the latest on news, politics, sports, and showbiz from the USA, go to Daily Express US.
READ MORE Tyson Fury's son shuts down boxer's fans as he fumes 'stop wasting dad's time'
View this post on Instagram

A post shared by Ryan Sorensen (@ryan_sorensen)
Kaley acknowledged that while the diagnosis sounds "crazy", she wanted to show that "you can still get a workout even if you are injured".
According to the NHS, CTS is pressure on a nerve in your wrist that causes tingling, numbness and pain in your hand and fingers, with symptoms usually worse at night.
At-home treatments recommended by the health body are wearing a wrist splint, taking painkillers, hand exercises and avoiding actions that aggravate the condition.
For the Instagram video, Kaley pulled her blonde tresses in a messy updo and went makeup-free in a white cropped tank top.
DON'T MISS…
Angelina Jolie steps out with new assistant and youngest daughter Vivienne, 15[HOLLYWOOD]
Tracy Morgan 'cut appetite by half' taking Ozempic as he shows off weight loss[HEALTH]
Michael J Fox attends Ed Sheeran concert in wheelchair after health admission[LATEST]
We use your sign-up to provide content in ways you've consented to and to improve our understanding of you. This may include adverts from us and 3rd parties based on our understanding. You can unsubscribe at any time. More info
She also had two black braces around her wrists and she wore skin tight, black, high-waisted leggings.
Trainer Sorensen wrote in the caption: "No Hands Workout. Since having her baby @kaleycuoco has been suffering with what's called Carpal tunnel syndrome, basically numbness and tingling in the hands and arms from a pinched nerve…mostly due to holding the baby.
"So, [rather] than laying off her workouts, we just adjust and make them more about lower body and core work. Always finding ways to work around these things and most importantly no excuses!"
Kaley proved her athletic skills as she completed challenging circuits, including squats, high knees, mobility drills, and running.
The actress has been dating Tom Pelphrey since last May, with the relationship being confirmed by a heartwarming Instagram post.
She was previously married to equestrian Karl Cook and the two announced their divorce in September 2021, finalising it in June 2022.
Although the pair split amicably, Kaley has previously opened up about how hard it was for her to navigate life afterward.
She previously told Glamour: "I would love to have a long-lasting relationship or a partnership. But I will never get married again. Absolutely not. You can literally put that on the cover."
Source: Read Full Article