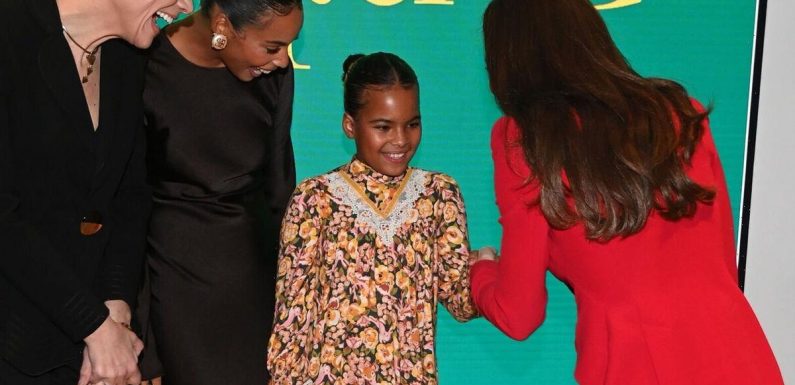 Kate Middleton made Rochelle Humes' daughter Alaia-Mai jump for joy
Kate posed for photos with the youngster yesterday.
We use your sign-up to provide content in ways you've consented to and to improve our understanding of you. This may include adverts from us and 3rd parties based on our understanding. You can unsubscribe at any time. More info
Rochelle Humes, 33, shared a sweet photo on her Instagram today as her nine-year-old daughter, Alaia-Mai, met Kate Middleton.
The Princess of Wales held on to delighted Alaia-Mai's shoulders and smiled down at her for the sweet snap.
TV presenter Rochelle's husband Marvin Humes, 37 – who was at home with the couple's other two children – also uploaded the moment to his stories.
The Hit List host gushed over how he was "proud of my girls".
Rochelle, Alaia-Mai, and Kate were also joined by beaming BBC journalist Kate Silverton, who looked lovely in a black maxi skirt and blazer.
Kate looked stunning in a bold red suit
Prince William, who was also present, was smart in a navy blazer and trousers.
Rochelle was ever the radiant beauty in a chocolate brown satin maxi dress.
The Saturday singer's satin garment had a long-sleeved design and scooping neck as it fell to her ankles in a figure-accentuating style.
Rochelle teamed the number with a pair of dark court heels to match
The This Morning star scooped her dark locks away into a sleek bun, while adding a pair of gorgeous pearl and gold earrings. 
Rochelle revealed that she had brought her daughter, Alaia, to the event "on a school night".
She revealed the "only reason" her daughter came was so she could meet the Princess of Wales.
Source: Read Full Article