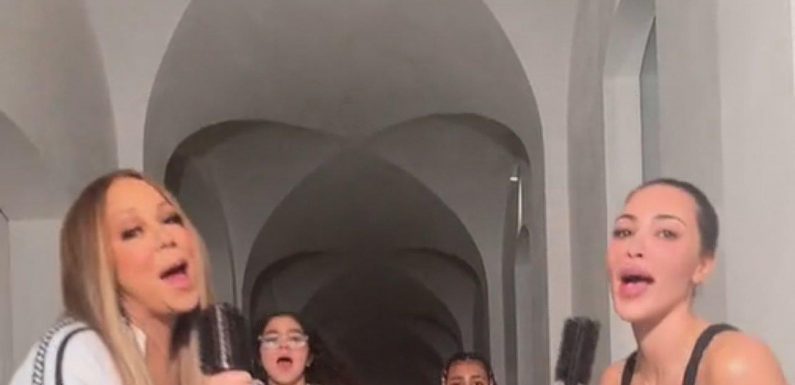 The two moms join their daughters, North West and Monroe Cannon, for a fun-filled clip as they appear on either side while holding hairbrushes as their mics.
AceShowbiz -It's a legend meeting another legend. On Monday, February 20, Kim Kardashian and Mariah Carey joined forces in a new fun TikTok video with their daughters. In the new clip, which was filmed at the SKIMS founder's Hidden Hills home, Kim's daughter North West and Mariah's daughter Monroe were seen performing a routine to Mariah's track "It's a Wrap".
At one point, the moms joined their daughters as they appeared on either side while holding hairbrushes as their mics. The youngsters, however, jokingly pushed their moms out of the shot, prompting the four to start laughing.
For the funny video, "The Kardashians" star wore a black cami top, black sweatpants and dark gray sliders. Meanwhile, the "All I Want for Christmas Is You" hitmaker donned black leather pants, heeled black boots and white patterned jacket. "It's a wrap! But never for us!" Kim wrote in the caption.
Fans were amused by the collaboration. "Imagine casually inviting Mariah Carey to your house," one fan wrote. Another person commented, "I did not expect that…iconic."
Some fans also noticed that Mariah didn't take off her shoes while inside the house. "She's Mariah Carey for wearing the shoes inside," one said. Another fan raved over Mariah's look by saying, "Can we talk about how stunning mariah still looks."
That wasn't the only TikTok clip that North and Monroe did together. In another video, North and Monroe recreated a part of Rihanna's Super Bowl halftime show in honor of the singer's 35th birthday on Monday.
The two lip synced to a soundbite of the musician's "Work" during her 13-minute long performance during the Sunday, February 12 event.
Monroe was dressed for the video in head-to-toe red and held a pink sparkly microphone as she channeled the Barbadian singer, who donned a red jumpsuit at the big event. As for North, she acted as one of the Super Bowl backup dancers in a white outfit and black shades.
You can share this post!
Source: Read Full Article