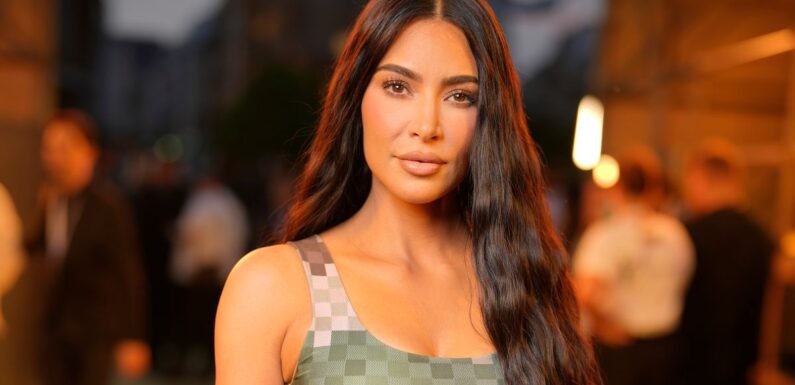 Follow OK! on Threads here: https://www.threads.net/@ok_mag
Kim Kardashian was left stunned when she discovered that a bodysuit from her shapewear line, SKIMS, saved a fan's life.
Kim, 42, who recently hit out at speculation of a Kardashian dating "curse", reposted a TikTok video that had originally been posted in May, in which a fan explained how she had been shot four times on New Year's Eve but that the bodysuit had "saved" her.
"Kim Kardashian saved my life," the fan, who goes by @angelina on TikTok, said. "This New Year's I got shot four times. When I got shot under my dress I was wearing a SKIMS shaping bodysuit."
"It was so tight on me that it literally kept me from bleeding out," Angelina Wiley continued. "I recommend it. I'm definitely going to buy some more. I should wear it everyday, it's like body armor for women. Call it fate, or Jesus, but imma call it Kim! Imma call it Kim for sure!"
The video garnered a huge response online and has been liked more than 240,000 times and shared more than 50,000.
In the comments, thousands of other fans had tagged Kim, in the hopes that she would respond to the astonishing story.
On 15 July, it finally looked like she had spotted the clip and shared it on her Instagram story.
She captioned the share "woww" and added a praying hands emoji.
Angelina set up a GoFundMe in January 2023 to help her with medical bills related to her injuries.
On the page, it says that the young woman suffered some serious injuries, including "a ruptured bladder that was repaired in surgery", "a cracked pelvis" that means she needed to learn to walk again and a bullet that was "still lodged in her abdomen."
It also highlights the great deal of "mental trauma" Angelina will now have to cope with and says that the shooting happened while she was just trying to call a cab for her and her pals at the end of their night out.
The page describes the attack as "a random act of violence" and explains that they're raising money to ensure Angelina "does not have to worry about expenses" while she tries to recover from her injuries.
"Missed wages need to be the last thing on her mind," it reads.
So far, the GoFundMe has raised $3,943 dollars (or just over £3000) of a stated $6,500 goal.
Fans in the comments of the original video have been urging Kim to ensure Angelina meets her fundraising goal, with one viewer calling on the Keeping Up With The Kardashians star, who recently broke down on camera about her divorce, to "do the right thing" while another suggested Kim sponsor the video.
Source: Read Full Article