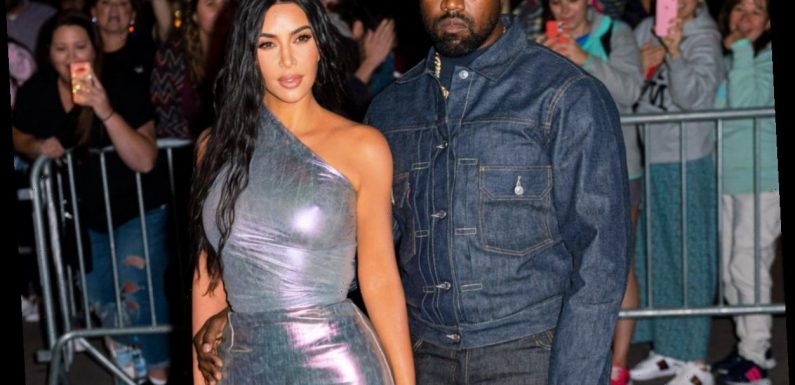 Kim Kardashian West is staying put in the home she and Kanye West once shared.
Since filing for divorce from the rapper in February 2021, new details surrounding Kardashian West and West's legal separation have emerged, including the former couple's future living situations.
Kim Kardashian West and Kanye West purchased their minimalistic mansion in 2014
KimYe's Hidden Hills mansion will most likely remain Kardashian West's permanent home once her divorce from West is finalized.
According to a new report from TMZ, the KKW Beauty mogul plans to stay in the 15,000-square-foot Southern California mansion she and West purchased together amid their divorce proceedings.
The outlet notes that the Hidden Hills compound is the only home the couple's four children — North, 7, Saint, 5, Chicago, 3, and Psalm, 1 — know and Kardashian West doesn't want to take that away from them.
Additionally, the reality star loves the mansion and has most of her family in a close proximity, so it doesn't come as a shock that she's opted to stay in the home.
For those who don't know, Kardashian West and West purchased the stunning home in 2014 for a whopping $20 million. Three years and many extensive renovations later — spearheaded by Ye himself — the powerhouse couple moved into the lavish compound.
Since then, the pair has made the mansion their very own by covering each wall with white and neutral tones and installing interactive art. They've also specially designed their household appliances, including their master bathroom sink, which fans were extremely confused by until Kardashian West explained how it worked in 2019.
According to Kris Jenner, KimYe HQ is now worth an eye-watering $60 million.
Kim Kardashian West recently filed for divorce from Kanye West
Now that Kardashian West has officially filed for divorce from West after nearly seven years of marriage, it seems that she will be raising her kids alone in the mansion she and the rapper built together.
Before news of their divorce filing was announced, HollywoodLife revealed that the Life of Pablo performer was staying in Wyoming, where he owns acres of land and a ranch.
Since then, West has been traveling back and forth from Wyoming to LA, where he was last photographed on Feb.23 without his wedding ring while visiting his Yeezy Academy.
A few weeks prior, media outlets reported that the father of four had moved some things out of the Hidden Hills mansion, including 500 pairs of sneakers.
As of this writing, it's unclear where West will reside once the divorce is finalized. Though he's been living in Wyoming these past few months, it's possible that the rapper could buy another residence in California to be closer to his kids.
Since Kardashian West requested in her divorce filing that she and West share joint legal and physical custody of their children, it's likely the A-listers will co-parent their kids on a regular basis.
So, there's a good chance the golden state hasn't seen the last of the rapper.
"Kim filing for divorce from Kanye is just a formal part of the process," a source told Entertainment Tonight. "The couple has been done for a while and have been amicable for a while. At the end of the day, Kanye and Kim love each other immensely, but knew it was time to call it quits. Their children are their number one priority and no matter what will maintain a positive relationship for them."
Source: Read Full Article