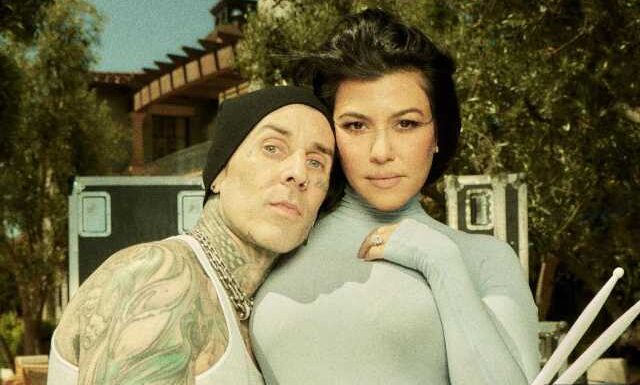 The Poosh founder and her Blink-182 drummer husband, who are expecting their first child together, hired Corrie Mendes to create the 'iconic moment' in just two days.
AceShowbiz –Kourtney Kardashian and Travis Barker's gender reveal took only 48 hours of planning. The Poosh founder and the Blink-182 drummer hired Corrie Mendes to create the "iconic moment" in just two days.
Kourtney, who already has Mason, 13, Penelope, 10, and Reign, eight, with former partner Scott Disick, and Travis shared the moment they staged a gender reveal for family and friends on social media. A Poosh newsletter read, "While they were both excited for whatever God's plan was for their baby, the blue pop bursting from the streamer cannons was electric. You couldn't really see them until they were floating in the air, making the anticipation of the big secret that much more emotional and exciting."
As guests arrived, they could pick a pink or blue wristband from the "will-call" stand to guess the gender of the unborn tot. There were also AAA passes and artwork with Travis' drum kit with "World Tour with special guest Kravis" written on it.
The newsletter added, "Everyone was so obsessed with it, they wanted merch with the design, although it was a one-time special piece". They even got Blink-182's production designer, John McGuire, to create the stage where the reveal happened.
The couple went all out on the food and drink, with gender-themed drinks from sister Kendall Jenner's 818 Tequila. As for the food, they added, "She wanted to just have the yummiest food possible and lean into her pregnancy cravings. There were nachos, popcorn, chicken nuggets, corn dogs, hot dogs, sliders, pizza, and more, as well as vegan options of everything for Travis."
In an Instagram clip, Kourtney sat on the rocker's lap as he sat behind his drum kit. Travis, who has Landon, 19, and 17-year-old Alabama with ex-wife Shanna Moakler and is also stepdad to her 24-year-old daughter Atiana De La Hoya, could be seen saying to Kourtney, "Tell when you're ready. Is our pyro guy ready?" Kourtney smiled, "I don't know what's happening."
The 47-year-old musician then gave a drumroll and as he slammed the cymbals while he and his wife shared a kiss, blue confetti rained down on them and a mass of blue streamers, which were biodegradable, floated down. Guests could be heard shouting, "I knew it!"
The couple, who both wore white for the gender reveal, announced Kourtney's pregnancy at a Blink-182 concert in Los Angeles last month. In a callback to a moment from Travis' band's "All the Small Things" music video, the 44-year-old reality star jumped up and down as she clutched a sign which read, "Travis I'm pregnant."
After seeing his wife's message, the drummer jumped off the stage and made his way toward her for a celebratory kiss. It was later claimed the couple see the pregnancy as a "complete miracle".
A source told "Entertainment Tonight", "Kourtney and Travis are on cloud nine. This pregnancy is beyond Kourtney's wildest dreams. Kourtney and Travis feel like this is one of the most magical things to happen to them and a complete miracle. They are so thrilled and can't wait to experience this pregnancy together, bring a baby into the world as a unit, and expand and grow their families."
You can share this post!
Source: Read Full Article