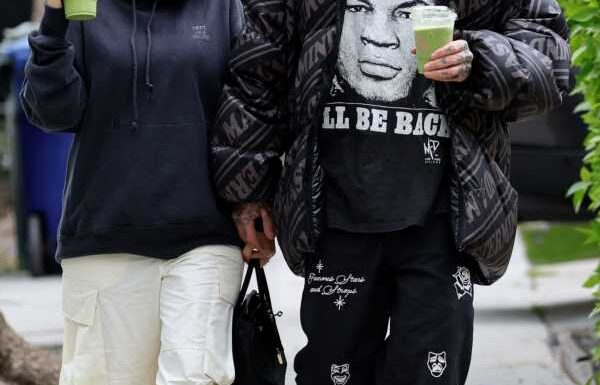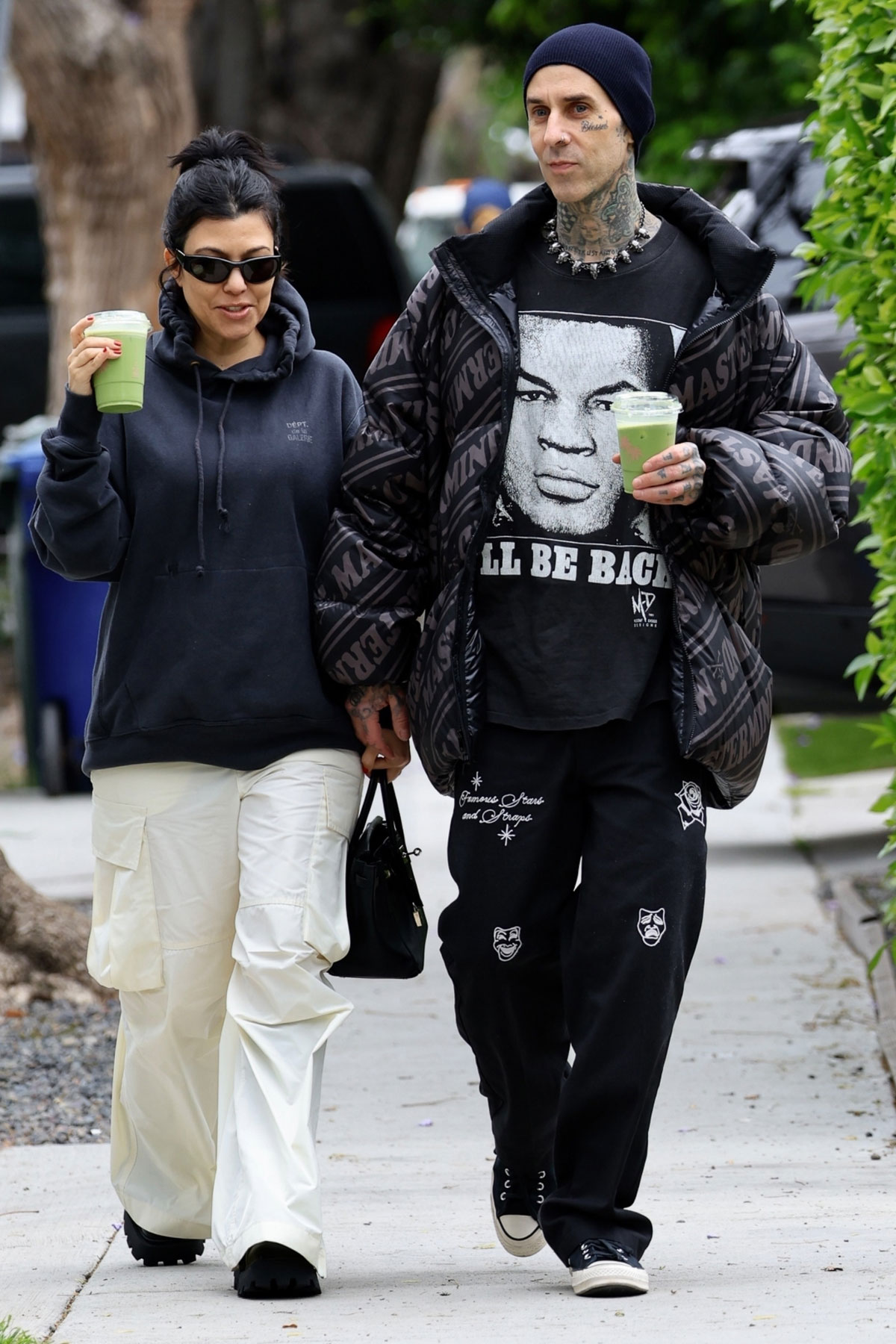 Earlier this month, Kourtney Kardashian gave birth to her fourth child, and her first baby with husband Travis Barker. The baby is a little boy named Rocky Thirteen. His first name was inspired by both the movie and the guitarist for the band Suicidal Tendencies. If you briefly wondered if they announced his middle name as Thirteen because they're huge Swifities and wanted to troll Kim, ha, I did too. But no, it's Travis' favorite number and he has it tattooed on his elbow. How very Beckham of them. Rocky is also the thirteenth(!) Kardashian/Jenner grandchild.
Kourtney had a pretty difficult pregnancy, and back in September, she was rushed to the hospital for urgent fetal surgery to save Rocky's life. After that scare, Kourtney's pregnancy seemed to be a bit better. Now that little Rocky is here, Kourtney and Travis have decided that for the time being, they'll be having family time amongst just themselves and their children. When they decided to have extended family over to meet him, it will be by invite-only.
Kourtney Kardashian has been reportedly keeping a strict 'invite-only' rule for anyone coming to visit her baby boy, The U.S. Sun has exclusively learned.

According to an insider, even Kourtney's sister Kim, 43, "still hasn't met" her new nephew.

The source exclusively told The U.S. Sun: "Kourtney is going to be introducing the new baby to her family on an 'invite-only' basis.

"[Kourtney] and Travis have communicated that they will be taking 'family only' time for the newly blended family and for Kourt to rest, and then they will be inviting the extended family over on an individual basis," the insider explained.

The source continued: "So now everyone's talking about where Kim will be on the list.

"Obviously, Kris will be first – but who is going to get the second invite?

"Kourtney has said it's a germs thing – to protect the baby and not expose him to any risk – but it's, like, part of her new strategy to keep everyone at arm's length," the insider claimed.
[From The Sun]
If this story is true, which Kardashian do you think leaked it? I understand being excited to meet a new baby in the family, but speculating the order of invite shows zero chill. It's perfectly reasonable for Kourtney – and any other parent of a newborn – to set boundaries, including an "invitation only" rule. When my older son was born, we had our immediate family members who would be seeing him in those first few days/weeks get up-to-date on their vaccinations, specifically the Tdap one. And Poor Rocky almost died in utero, for goodness sake! Who knows what Kourtney's labor and delivery looked like? She's probably physically and emotionally drained. I get that Kris is probably breaking out in hives every day that passes without getting that baby on camera, but let the Barker-Kardashian brood have their quality, germ-free time.
https://www.instagram.com/p/CxvloB9JhCI/
https://www.instagram.com/p/Cy7KdWVL6xS/
https://www.instagram.com/p/Cse91OHuI9z/
photos via Instagram and credit: GAMR/Backgrid
Source: Read Full Article