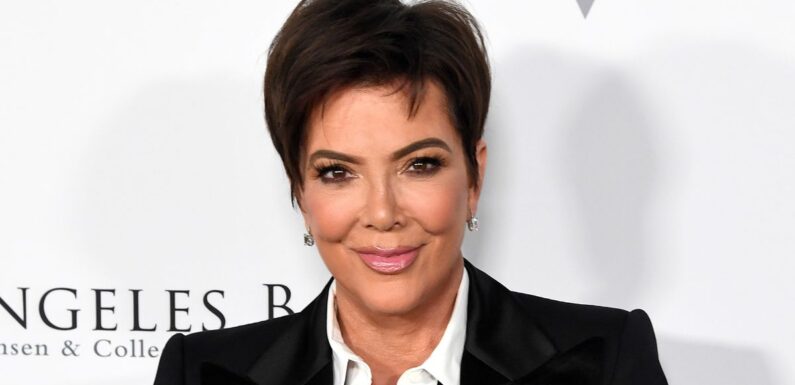 Kris Jenner was left furious after she found out about eldest daughter Kourtney Kardashian's pregnancy news at the same time as the rest of the world.
Kourtney, 44, was already showing off a rounded stomach when she held up a sign reading "Travis, I'm pregnant" at her husband Travis Barker's Blink-182 concert in June
The sign was a nod to the music video for the rock band's hit 1999 song All the Small Things, in which an over-zealous fan holds up a piece of cardboard with the same words on it.
But it seems that she hadn't shared her happy news with the rest of her family, including mother Kris, 67, who instead saw it in the press.
The moment is discussed on a teaser for the latest episode of The Kardashians, which airs on Disney+ and Hulu.
A silk robe-clad Kourtney, who is already a mum of three, can be seen getting her glam done in a makeup chair as she tells the camera: "So guys, I'm having a baby!" before the clip of her at Travis' concert is played.
Khloe and Kris can then be seen discussing the news and how it was revealed, as Khloe said: "My mom found out on the news. She wasn't very happy." As Kris then added: "I thought I was being Punk'd."
Kourtney appears to have been distancing herself from the rest of the Kardashian-Jenner clan in recent time, since she got hitched to her rocker beau Travis, in 2022.
Her ongoing feud with little sister Kim has been heavily documented on The Kardashians over the past few series.
Back in September, the reality TV star was rushed to hospital for emergency surgery to save her unborn baby son's life and undergo "urgent foetal surgery", with her beau Travis being forced to return home to America on an "urgent family matter".
Posting to Instagram, she said: "I will be forever grateful to my incredible doctors for saving our baby's life.
"I am eternally grateful to my husband who rushed to my side from tour to be with me in the hospital and take care of me afterwards, my rock."
She continued: "As someone who has had three really easy pregnancies in the past, I wasn't prepared for the fear of rushing into urgent foetal surgery.
"I don't think anyone who hasn't been through a similar situation can begin to understand that feeling of fear.
"I have a whole new understanding and respect for the mamas who have had to fight for their babies while pregnant."
Follow OK! on Threads here: https://www.threads.net/@ok_mag
Source: Read Full Article