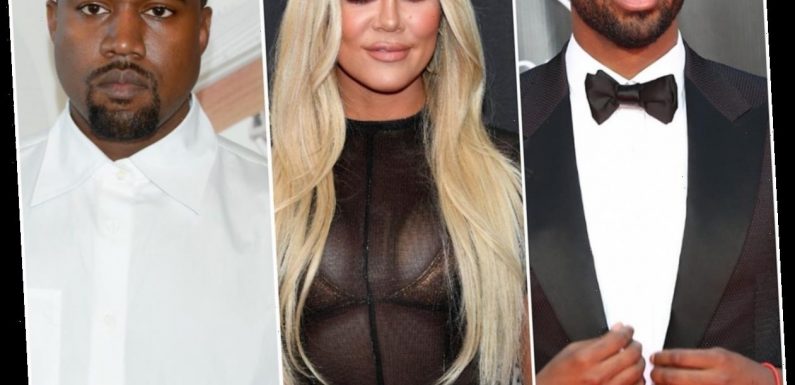 Khloé Kardashian is known for telling it like it is and playing by her own rules. Since rising to fame on Keeping Up With the Kardashians, the reality star has been praised for always being herself and not caring what other people think of her.
However, when it comes to her relationship with on-again, off-again boyfriend Tristan Thompson, Kardashian has been letting people's opinions get the best of her, which the NBA player believes wouldn't happen if she just acted more like her brother-in-law, Kanye West.
Tristan Thompson seeks relationship advice from Kim Kardashian West in new 'Keeping Up With the Kardashians' trailer
In a scene featured in the trailer for the upcoming season of KUWTK, Thompson confides in Kim Kardashian West about his relationship with the Good American founder.
Though Thompson admits that "some days are good" with Kardashian, he says others can be a bit frustrating when she gets upset about the media speculation over their relationship.
"I don't even think to her any more that it's about getting over the past and the things that you guys have been through," Kardashian West says. "I think it's just mostly what other people are gonna think. I think she's totally fine, otherwise she wouldn't be hanging out with you 24/7."
Though Khloé is known for being the tough one in her family, Kardashian West and Thompson believe that her romantic past with him has caused her to overly concern herself with other people's opinions and keep their relationship under wraps.
"I just never thought she was like that," Kardashian West continues. "I just feel like that's so…that wasn't who she was. She's always like, the tough Khloé that doesn't give a f*ck."
Tristan Thompson hopes Khloé Kardashian can be more like Kanye West in their relationship
Though Kardashian West thinks Khloé is embarrassed to admit she's given Thompson another chance, the NBA player believes she's letting what others think of their relationship get the best of her.
While he's been encouraging the mother of his daughter to "live for herself," Thompson believes that Kardashian wouldn't be so worried about other's people's opinions if she was more like Kanye West.
"We're never gonna get to the finish line, like, if you're trying to always please the masses," Thompson tells the KKW Beauty mogul before referencing West, and the fact that he never worries about what others are thinking. "Like Ye, he don't give a d*mn if you like him or not but guess what? He's happy and he's gonna do it his way and it's either, you're gonna like him or not."
The Boston Celtics player continued, "I have respect for him. It's like, you're gonna ride this journey the way you want to — either people are going to be with you or against you but at least, if you die, you're gonna die doing it your way… just do whatever the f*ck makes you happy."
Khloé Kardashian still hasn't admitted she and Tristan Thompson are back together
After sparking reconciliation rumors in the summer of 2020, insiders confirmed that Kardashian and Thompson have given their relationship another try, despite their tumultuous past.
"They are together and very happy," a source explained to E! News in October 2020. "She's very happy that he's around and that things have been going as well as they have."
But despite Thompson being back in Kardashian's good graces following his infamous 2019 cheating scandal with Kylie Jenner's former BFF Jordyn Woods, she's still nervous about their future together.
"Khloé realizes when Tristan goes back to playing basketball and on the road, everything will change," the E! News source revealed. "She isn't getting ahead of herself and she is just enjoying having him around right now and all of the family time they have had together with True. Obviously Khloé is hesitant and is taking it very slow. The time they have had together during quarantine has been very special and meaningful."
Though the pair has been moving in the right direction these past few months, Kardashian continues to keep a tight lip on their relationship.
However, with Season 20 of KUWTK on the horizon, will the reality star put her fears aside and finally admit that she's taken Thompson back? We'll just have to wait and see.
Source: Read Full Article