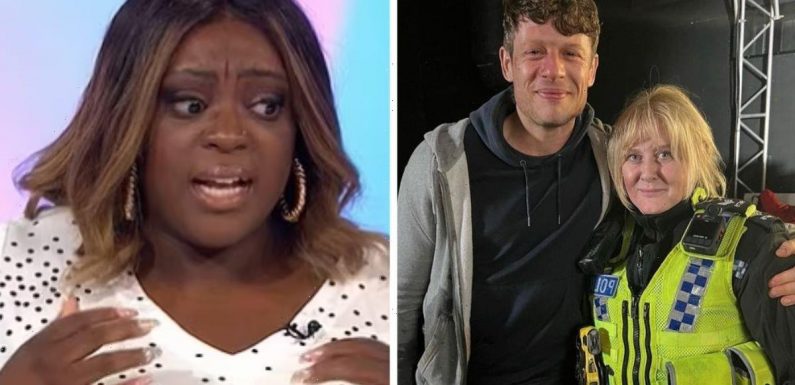 We use your sign-up to provide content in ways you've consented to and to improve our understanding of you. This may include adverts from us and 3rd parties based on our understanding. You can unsubscribe at any time. More info
Loose Women's Judi Love revealed that she'd witnessed some criticism of the final showdown between Catherine Cawood (Sarah Lancashire) and Tommy Lee Royce (James Norton), before the latter drenched himself in petrol and became a human fireball. Those who were expecting a dramatic tussle between the two saw only icy conversation at the end – but Judi insisted that's exactly how she thought it should be.
Judi revealed she'd seen some comments suggesting that there should have been more of an "action-packed conclusion" to the show's final episode, but she insisted it was no anti-climax for her.
The 42-year-old, who is a comedian by trade as well as a TV star, praised the pace of the action and reasoned: "That final conversation in the kitchen was purely psychological.
"It needed to be calm and collected to have us on the edge of our seats. Sarah is an acting legend," she added in her column for OK! magazine.
The bubbly Loose Women star added that she'd found herself adopting the brand of on-screen sarcasm for which the actress is known.
READ NOW: Blake Lively wows with post-baby body as she welcomes fourth child
The action-fuelled series, which depicts horror unfolding in the tranquil Yorkshire countryside, centres around police-woman Sarah's desire to avenge the death of her daughter Becky, who was driven to suicide by Tommy.
When the show first began back in 2015, viewers were introduced to Tommy, who had brutally raped Becky and impregnated her, but later claimed to have loved her.
The experience led the distressed teenage mum to commit suicide soon after baby Ryan (Rhys Connah) was born.
Ryan was raised by Catherine and her sister Clare (Siobhan Finneran) , who had been recovering from alcoholism and heroin addiction at the time.
Tommy later becomes obsessed with hunting down and having contact with his son, much to the horror of Catherine, who is equally invested in protecting Ryan from him.
By the second series, Ryan's resolve has cracked and he is questioning whether his dad should be forgiven.
Then, in the dramatic finale earlier this month, which marked the end of the show altogether, viewers witnessed Tommy on the run and breaking into Catherine's house armed with potentially explosive petrol.
Bleeding from a stab wound owing to a tussle moments earlier, he gains entry to her home and looks all set to send it bursting into flames.
Catherine then arrives, armed with a Taser in case he comes too close, and tentatively suggests she calls him an ambulance.
However, her resentment for the man who drove her daughter to her death soon spills over, and she goads him to his own suicide in a calm, icy, yet powerful closing scene.
Telling him his now 16-year-old son has seen "right through" him and no longer wants him, she then derides him for Becky's death.
Plaintive Tommy, who is wolfing down painkillers at the time, plaintively cries: "I loved her!", until the harsh reality check from Catherine leads him to pour petrol over himself.
Calm and controlled, Catherine merely advises quietly: "Don't do it" – but it is too late, as he soon sets himself alight.
Viewers later learned that Tommy fell into a coma and never regained consciousness – a dramatic end to the last ever episode of the show.
Judi has since revealed that she has "only just managed to recover from the jaw-dropping finale".
The BAFTA Award winning show will be sorely missed by the many fans it amassed over the years – and Judi has made it thoroughly clear she is one of them.
Source: Read Full Article