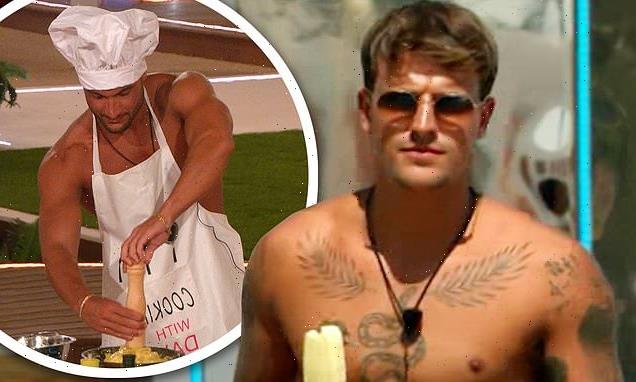 Love Island RECAP: Luca claims not to be 'punching' with Gemma as the Islanders put on a hysterical talent show while the final looms
Host commentator
Thanks for following along everyone, and make sure to be back tomorrow to find out the latest drama!
The Italian Stallion did what he does best, cooked up a delicious carbonara while shirtless. Because reasons.
Of course Davide's talent is being sexy and cooking 🤣❤ #loveisland pic.twitter.com/mFoWVo3kib
Only a few days left until the final!
My stomach is aching because of how much I was laughing 😂😂🤣🤣 #LoveIsland pic.twitter.com/eNrCUpJ0S7
Who will you be picking as your favourite couple?
Luca performs a slightly out of tune rendition of Breaking Free, with everyone else joining in!
'It was not in tone', comments Ekin-Su, however.
Indiyah tries her best to play the recorder, but can't stop her fellow Islanders cracking up!
same energy 💀 #LoveIsland pic.twitter.com/tNyWwcbyNR
Andrew has the Islanders and viewers in hysterics as he performs a house viewing of the villa
Andrew where did this sense of humour come from #LoveIsland pic.twitter.com/IwXhcUHEn6
Ekin-Su performs a dramatic speech where she compliments each of the Islanders and promises Davide he's in for one hell of a ride!
Ekin man fair play she deserved this moment #LoveIsland pic.twitter.com/0PZl3NxBF4
Ekin-Su says it was the best rap she's seen in all her 27 years. High praise indeed!
Paige and Gemma are me and my sister performing to my mom and dad when we were younger #LoveIsland pic.twitter.com/J3P7GDNDgd
HE SHOOTS, HE SCORES!
Michael Owen is crying rn 🥲 #loveisland pic.twitter.com/HcwL1RMKm3
'I would be a very bad girlfriend if I said the rap was a 10' admits Indiyah.
dami sounds like a soundcloud rapper🤣🤣🤣 #LoveIsland pic.twitter.com/LE52NFxrZr
10/10 for confidence!
TASHA IM CRYING WHATS THE MEANING OF THIS DANCE INSTEAD #LoveIsland pic.twitter.com/hy3ColqE6R
Adam is next where he does a long complicated card trick, to applause!
'Wish I could do it all over again!'
Ok Danica I see you #loveisland pic.twitter.com/gYJ3mejkTP
Nothing will top this moment, surely?!
I don't care what any of the islanders do, nobody is topping this performance #LoveIsland pic.twitter.com/pYw5kPmZkv
Paige and Luca get into a little tiff over who is punching.
Who do you think is punching between Gemma and Luca?
PAIGE PUTTING LUCA IN HIS PLACE HAHAHA #LoveIsland pic.twitter.com/erTlZBKrxy
Dami and Indiyah finally say they love each other!
indiyah and dami are too cute man 😭 #loveisland pic.twitter.com/P7Qkc3BGYp
Ekin-su describes a dish that's fat, long and meat inside it with creamy white sauce…
Davide tells her she'll have to wait a week for that!
Ekin SUUUUUU STOP IT #LoveIsland pic.twitter.com/g1dGlnMG1w
The boys cook the girls a scrumptious looking breakfast as a special treat, to their utter delight.
egglusive restaurant😭😭 #loveisland pic.twitter.com/E3sceyX9zg
NONE OF US ARE!
I'm actually not ready for it to end #LoveIsland pic.twitter.com/KRAwc3X6td
After becoming exclusive last night, Davide and Ekin-Su are still riding the high, and Davide even says they're basically boyfriend and girlfriend!
my parents are adorable #loveisland pic.twitter.com/QNNme7bwtP
We're picking up where we left off and Jamie and Danica are pleased that they were saved by the public.
'I do think I've found a good one here', says Danica.
Could this finally be her chance at love?
Neither can we!
#LoveIsland From watching the first look and the outfits they are wearing I can't wait to watch the talent show
Get your snacks at the ready, get comfy and settle in to watch the show!
Sorted dinner just in time for #loveisland 🥹
Another SPOILER coming your way!
Ekin-Su Cülcüloğlu gets emotional about making babies with entrepreneur Davide Saclimenti, both 27.
Stood on the terrace with Tasha Ghouri, 23, she and Ekin-Su start daydreaming about what could be in store.
Ekin-Su said of her and Davide: 'This place is magical. If we have kids I want to take them here.'
Tasha replied: 'Oh my god it'd be like, "This is where I met your dad!"'
Ekin-Su said: 'Oh stop, you're going to make me cry!'
SPOILER ALERT…. you have been warned!
Monday evening's episode is set to see Danica Taylor confide in pal Gemma Owen for some advice on dating footballers – given her family's legendary England history.
And discussing the budding relationship with Jamie Allan, Danica will also admit that she 'really likes' the Halifax Town striker.
Admitting she knows footballers have a reputation, Danica will tell Gemma: 'I know there's sometimes a bit of a stereotype. Is he the kind of guy, young footballers, go into the clubs… I do forget your dad is primetime…'
While Gemma will admit that Jamie knows he can get girls with his looks, but it depends on what kind of person he is.
'I don't want to be naive… I feel stupid saying it, I do really like him,' continues Danica.
While Gemma will comfort her by explaining: 'That's not stupid at all. If it clicks then it clicks.'
'I just have to hope and believe that the Jamie I'm seeing now is him and that is exactly what he'd be like on the outside,' she tells Gemma.
Now the recap is out of the way, let's have a sneak peek at what we've got to look forward to tonight…
🤩 FIRST LOOK 🤩
Our Islanders are showing off what they can really do… and how they really feel 👀❤️ #LoveIsland pic.twitter.com/Lch2nGGRdg
Deji Adeniyi, Lacey Edwards, Reece Ford and Nathalia Campos were all sent packing from the villa on Sunday night's episode in a shock dumping.
Deji and the three newest bombshells were all brutally dumped after receiving the lowest number of public votes for 'Most compatible couple'.
Danica and Jamie also found themselves in the bottom three, but were saved by the public from the dumping.
After being left coupled together on Friday night's episode, Reece and Nathalia had a chat on the beanbags, to see if they have a romantic connection, but later came to realise that they saw each other as friends.
Elsewhere in the episode, Andrew Le Page and Tasha Ghouri already had marriage on their minds as they discussed their potential future wedding.
The next day, the contestants showed their competitive sides as they went head-to-head in a villa sports day.
Led by Gemma Owen the red team was made up of Ekin-Su Cülcüloğlu, Danica Taylor, Indiyah Polack, Adam Collard, Andrew Le Page, Dami Hope and Jamie Allan.
While Paige Thorne's blue team contained Luca Bish, Tasha Ghouri, Davide Sanclimenti, Deji Adeniyi, Lacey Edwards, Reece Ford and Nathalia Campos.
With #NaughtyAndSporty and #TrackAndFeels being used to describe the sports day, the islanders received a text saying: 'It's time to get physical as you take part in the Love Island sports day.'
The blue team were victorious in the first challenge, an egg an spoon race, while the red team took the win in the three-legged race.
The two teams went head to head for the decider, tug-of-war, with the blue team clinching it and jumping into the pool with joy.
Davide proved he is committed to Ekin-Su, as he surprised the Turkish actress with a homemade Italian tiramisu.
Spelling out the words: 'Are you mine?' in Italian, Davide asked Ekin-Su to be exclusive with him, to which she replies yes, to the delight of fans.
We'll be here to keep you updated with all the action as it happens, so stay tuned!
Source: Read Full Article