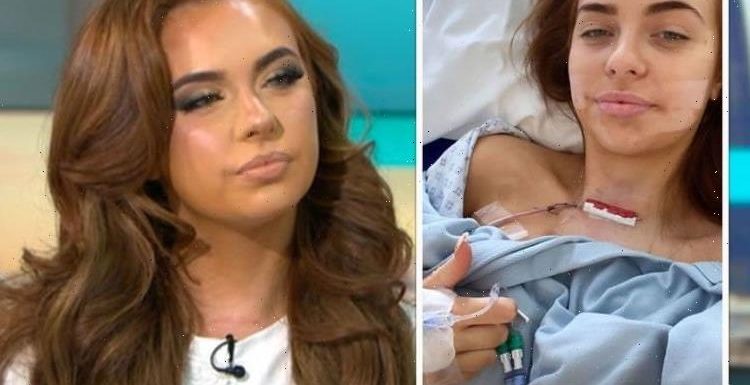 Demi Jones says she's been accused of 'lying about cancer'
When you subscribe we will use the information you provide to send you these newsletters. Sometimes they'll include recommendations for other related newsletters or services we offer. Our Privacy Notice explains more about how we use your data, and your rights. You can unsubscribe at any time.
Demi Jones, 22, was diagnosed with thyroid cancer after noticing a lump on her neck. The Love Island star shared the devastating news on social media last week after having a biopsy on the growth in April.
During an appearance on Good Morning Britain today, the reality star spoke of her diagnosis and the support she had received online.
However, she did reveal that cruel trolls had also targeted her via social media.
Demi said she'd been on the receiving end of some "nasty comments".
Unbelievably, some people claimed the TV star was lying about her recent cancer diagnosis.
Demi told Tuesday's GMB hosts Susanna Reid and Bill Turnbull about the messages that she had been sent.
"I've been really lucky that I haven't experienced a lot of trolling but even with my cancer, I've had nasty comments.
"Like people saying, 'Oh she's lying, she's this, she's that', and I woke up and saw my comments and thought this is ridiculous, but yeah unfortunately there are people out there like that."
"I don't respond to anything, I never respond to trolling on social media, it's not worth my time and I'm really strong about it anyway," she added.
"But it makes me sad, I'm not lying about this at all, it's a really serious thing and I don't want to be going through this," Demi sadly went on to add.
The ITV star found fame in 2020, appearing in the first winter edition of Love Island.
She shared her experience online in order to raise awareness for the condition.
"If I can just save one person's life, that's just amazing to me," she said.
DON'T MISS…
Lorraine speaks out on 'full of himself' Eurovision act [INSIGHT]
Louise Minchin reacts to Dan Walker's 'send off' after show farewell [UPDATE]
'Don't get me started!' Our Yorkshire Farm's Amanda Owen on new farm [UPDATE]
Earlier in the year, Demi told fans that she'd had a potentially cancerous lump removed and was awaiting the results.
A later update confirmed her worst fears.
"Hi guys, I got my results today and unfortunately I have Thyroid cancer," she wrote on Instagram in view of her 1.1 million followers.
"The tumour has been removed but I'm now due to have more surgery to remove the rest of my Thyroid.
"I'm staying very positive and I'm a strong girl so I'll be fine, thank you for your love and support always.
"I'll bounce back stronger," her update continued, alongside a picture of a Macmillian cancer leaflet.
No doubt the news struck a nerve with GMB presenter Bill, who was diagnosed with prostate cancer in 2017.
On yesterday's show, Susanna said he was looking "exceptionally well" as he spoke about his latest bout of treatment.
Source: Read Full Article