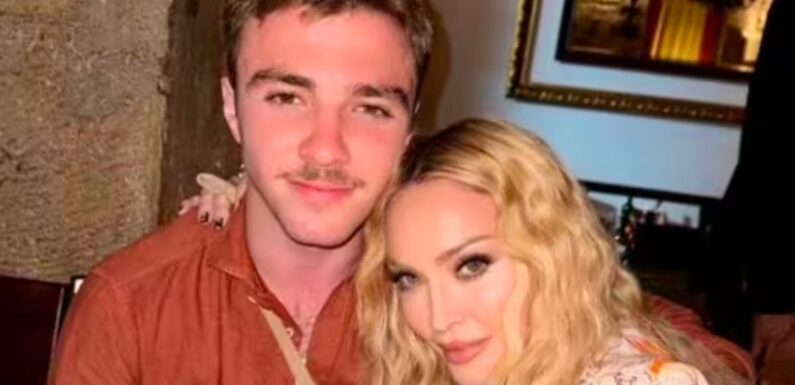 Madonna celebrates 40th anniversary of her first album
Madonna and her son Rocco Ritchie celebrated his August 11 birthday with a night out in Portugal, with the singer finally sharing photos on Instagram Tuesday night.
Rocco, whose father is acclaimed director and Madge's ex Guy Ritchie, turned 23 with his famous mom and some of his brothers and sisters.
While Rocco rocked a mustache and a burnt orange button-down, Madonna, 65, wore a floral wrap dress showing off her insane figure.
In the series of photos she posted on her stories, she can be seen posing with a flower, walking down the street with a friend, and even lounging on a bed.
There were also snaps of Rocco's gold birthday cake with a guitar on it as well as Madonna's other children, David, 17, Mercy, 17, Stella and Estere, 10. Seemingly missing from the celebration was her oldest child, Lourdes, 26.
READ MORE: Madonna shared the 'cracks' that sparked the end of marriage to Guy Ritchie
On his actual birthday, Madonna shared a series of photos of her oldest son on Instagram set to The Beatles song, Here Comes the Sun.
"Happy Birthday Dearest Rocco……." she captioned the photo. "From the day you were conceived, Life with You Has been an adventure. From Your Pre Mature Birth to your love of Skate Boarding, Dirt Bikes. Break Dancing, Parkour, Graffiti and all Adrenaline Provoking activities!"
Before adding, "You have made me worry— possibly more than any other person on the planet. But You have taken the road less traveled by and that will make all the difference!"
Don't miss…
Madonna confirms rescheduled Celebration tour dates after scary ICU dash[TOUR]
Madonna marks milestone with son Rocco and brands life with him an 'adventure'[LATEST]
Madonna shares heartfelt tribute to son Rocco on his 23rd birthday[TRIBUTE]
We use your sign-up to provide content in ways you've consented to and to improve our understanding of you. This may include adverts from us and 3rd parties based on our understanding. You can unsubscribe at any time. More info
The celebrations come after Madonna was hospitalized with what her manager described as a "serious bacterial infection" in June.
The infection was so serious, the Take a Bow singer was admitted to the intensive care unit for several days.
It also left her unable to kickoff the North American leg of her Celebration Tour.
"I'm on the road to recovery and incredibly grateful for all the blessings in my life," the pop superstar wrote at the time. "My focus now is on my health and getting stronger and I assure you, I'll be back with you as soon as I can."
On Tuesday Live Nation announced that most of the tours dates had been rescheduled. Madonna's North American Celebration Tour now stars on December 13 at Barclays Center in Brooklyn, New York, and runs through April 24, 2024, when it will conclude at Mexico City's Palacio de los Deportes.
Refunds are available for dates that had to be canceled because of conflicting schedules which include, San Francisco, Las Vegas and Phoenix Tulsa, and Nashville.
Source: Read Full Article