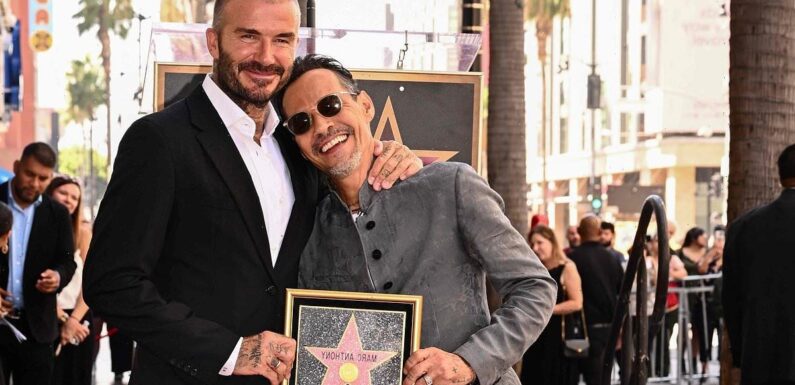 Marc Anthony is honored with a star on the Hollywood Walk Of Fame… as friend David Beckham SURPRISES him with a heartwarming speech
Marc Anthony has officially been honored with a star on the Hollywood Walk of Fame. 
The 54-year-old Latin Grammy winner was joined during the ceremony by his 24-year-old wife Nadia Ferreira, and his best friend, international soccer star David Beckham, 48.
Marc is the godfather to David's son Cruz Beckham, 18, who was also in attendance. 
Choosing to wear a simple grey suit jacket with black slacks, the New York-born crooner was supported by numerous family members and friends at the momentous event. 
Keeping his look elegant but casual, Jennifer Lopez's ex-husband rocked a pair of white sunglasses and black boots to complete his award-accepting ensemble. 
Other family members at the event included two of the Man on Fire star's sons, Ryan Adrian Muñiz and Cristian Muñiz. 
Standing ovation: Marc Anthony, 54, was honored with a star on the Hollywood Walk of Fame this week; seen Thursday
Proud bestie: The global athletic superstar David Beckham watched proudly as Marc accepted his star on the Hollywood Walk of Fame; seen Thursday
Both global icons have actually had a long-lasting bromance over the years – one that began because the world's most famous soccer player was simply a fan himself of the singer with a voice like velvet.  
However, Victoria Beckham's husband managed to pull a fast one on his musically inclined best friend, surprising him at the ceremony with a speech in his honor. 
The Grammy Award winning musical artist joked to Entertainment Tonight that he was, 'going to kick his a** now, because he kept it from me.' 
He added that David really tricked him into thinking he wasn't going to be there, explaining that, 'He just wrote me a text about 15 minutes ago saying, 'Hey, congratulations. Sorry I can't be there…I'm gonna kick his a**.'
Speaking as to how the pair met in the first place, the Deadpool 2 star recounted how, 'We met over 20 years ago. I was a fan of his, but now to have him as a brother, as a friend, godfather to my son, and just a friend to the family.' 
During the blonde heartthrob's heartwarming speech for his best friend, David joked, 'I learned salsa for one man only — but please don't tell my wife.'
Recognizing his impact in the world of Latin music, the H&M model added, 'He has done so much to promote Latin music and inspire the next generation of young people.'
Concluding with how he believed his friend of two decades and counting was, 'just getting started,' David noted, 'I can't think of anyone more deserving of this recognition.'  
Surprise guest: The Latin American singer joked that he was going to kick David's a** for tricking him into thinking he wouldn't be at the ceremony 
Supportive stars: The Tommy Hilfiger model helped his friend pose with his new star 
Friends forever: David actually surprised his long time friend with a speech
A star is born: Marc's best friend was right by his side when his star was unveiled on the Hollywood Walk of Fame 
Proud papa: The You Sang To Me crooner looked thrilled when two of his sons, Ryan Adrian Muñiz and Cristian Muñiz, joined him on the red carpet 
Couple goals: The Nada de Nada singer was also joined by his wife, Paraguayan model Nadia Ferreira
There is 30 years between them, but who's counting? The brunette looked gorgeous in emerald green
When the Tu Vida en la Mia singer took to the podium himself, he told the crowd full of emotion that, 'I've heard over and over again what it is to be humbled, this is absolutely humbling.'
He added, 'This is sobering because I look at my family, I look at my friends, my loved ones, my daily conversations, these are the people that shaped me.' 
Marc added, 'These are the people that made me.' 
Staying down to Earth about his achievement, he joked, 'I always say it's expensive to look this cheap. What that basically means is a lot of work goes into making it look easy, but it's not.' 
Source: Read Full Article