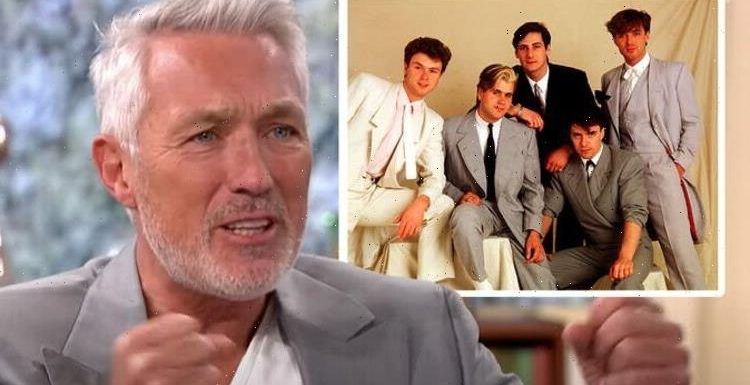 Martin Kemp says 'it's time to move on' from Spandau Ballet
We use your sign-up to provide content in ways you've consented to and to improve our understanding of you. This may include adverts from us and 3rd parties based on our understanding. You can unsubscribe at any time. More info
Martin Kemp, 60, is a man of many talents, but he is probably best known for being the bassist in band Spandau Ballet, who rose to fame in the 1980s. But following their split in 1990 due to "a dispute over royalties", he admitted he found it hard to listen to music again.
It's been a trial the past few years

Martin Kemp
Over the years, the band was made up of Martin and his bother Gary Kemp who played the guitar, Tony Hadley, Steve Normam, John Keeble and Ross William Wild.
They have had eight UK top 10 albums, including three greatest hits compilations and an album of re-recorded material.
In a new interview with Radio Times, he looked back on what was a turbulent time with his band mates.
"The importance of being in a band and making it work," he explained.
"When Spandau Ballet split up in 1990, I had about eight years when I wouldn't even buy a record because it made me feel physically sick.
"Being in Spandau was just one argument after the other.
"We'd go from arguing to being best friends to arguing.
"It's been a trial the past few years."
After a 20-year hiatus, the band reunited in 2009 for their sell-out "greatest hits" world tour, and surprised fans with a brand new album.
But despite the trials and tribulations of the break-up, Martin's latest show reminded him just how much fun the music business can be.
The series follows him and Lady Leshurr, as they form two bands whose members are aged over 64.
They are on the hunt for fresh talent who they hope will rock out at the Isle of Wight Festival.
"Rock Till We Drop made me remember how much fun the music business can be," he smiled.
"It's about achieving your dreams and having fun."
He went on to reveal what it was that drew him to the show, telling he publication: "I loved the driving force behind the show because it's so heart-warming.
"To help people realise a dream that they'd all but given up on and put them on stage in front of 60,000 people on a sunny afternoon…
"During rehearsals, my group would inevitably complain about aches and pains.
"I told them that when they were on stage for those 12 minutes at the festival, they wouldn't feel a thing."
He remembered: "One, who was 80, had a major operation just before the gig and she completely forgot about her pain when she was on stage."
Martin's full interview is available to read now Radio Times.
Source: Read Full Article