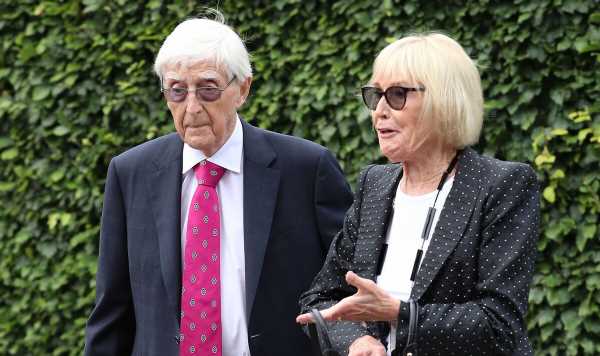 Sir Michael Parkinson dies aged 88
Sir Michael Parkinson's wife Mary was said to be by his side when he died aged 88 last night. 
The couple, who married in 1959, have three sons together; Michael, Andrew and Nicholas.
In an admission about his marriage, Michael once reflected on how his drinking had been a problem for the family.
The chat show host previously said he turned to drink following the death of his dad Jack in 1975. 
In his book Like Father, Like Son: A Family Story, his eldest Michael claimed the TV host would create a "charged and unpleasant atmosphere".
Read More… Michael Parkinson's cause of death as host dies after 'brief illness'
As well as this, his wife told him: "'Do you know what happens to you, the worst thing when you drink?' 'No', says I. She said, 'yYou become ugly'."
In an interview with The Telegraph, the chat show host said he was "very sad" to have "caused such unhappiness and disquiet in the family", but was "too drunk to realise" what was happening at the time.
"When you're drinking, where are you? You're not right," he added. "You're somebody else.
"I never thought that would happen to me because I didn't come from a drinking family – my dad hardly drank at all."
Don't Miss…
Sir Michael Parkinson breaks down in tears over interview he's 'most proud of'[REVEALED]
Sir Michael Parkinson branded 'sexist old fart' by Helen Mirren[OPINION]
Michael Parkinson on 'forgiving' pal George Best for his 'tragic end'[INTERVIEW]
We use your sign-up to provide content in ways you've consented to and to improve our understanding of you. This may include adverts from us and 3rd parties based on our understanding. You can unsubscribe at any time. More info
He did however say it was "very easy to stop" drinking upon learning it affected his loved ones.
In the same chat, published in 2020, the chat show host revealed he still enjoys the occasional glass of wine but admits he "doesn't miss it".
Today, Michael's heartbroken family announced he had died "peacefully" after a "brief illness".
He was last seen publicly at the Hay Festival bookshop signing copies of his book My Sporting Life in May.
Michael also made a rare public appearance at cricket umpire Dickie Bird's 90th birthday party a month prior.
The final pictures of him and his wife Mary were taken at the All England Lawn Tennis and Croquet Club in July last year.
Michael appeared to be in good spirits as he smiled for multiple snaps while hooking arms with his spouse.
In 2018, he said their long-lasting love was "one of the great mysteries" in his life.
"If you ask Mary how that has happened, she doesn't know either, but I can't imagine life without her," he added to The Guardian.
"Of course every family has its ups and downs but nothing is going to break the bonds between us."
Source: Read Full Article