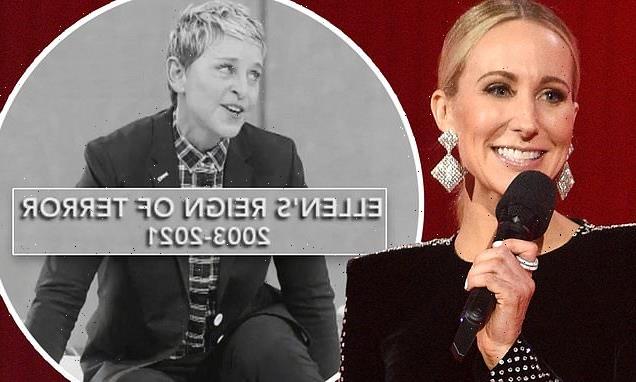 MTV Movie Awards' 'In Memoriam' segment mocks Ellen DeGeneres and her 'reign of terror' following the end of her show after 18 years amid 'toxic environment' claims
The 2021 MTV Movie & TV Awards: Unscripted, penned their own version of an 'in memoriam' to pay tribute to some of the most salacious moments and figures

Among the names and incidents mentioned was disgraced Ellen DeGeneres

Montage included image of DeGeneres with a caption which read: 'Ellen's reign of terror 2003-2021'
The 2021 MTV Movie & TV Awards: Unscripted, penned their own version of an 'in memoriam' to pay tribute to some of the most salacious moments and figures in reality television.
And among the names and incidents mentioned were talk show host Ellen DeGeneres, Scott Disick, and deported Real Housewife of New Jersey star Joe Giudice.  
'I'd now like to take a somber-slash-awkward moment to acknowledge all that we've lost in the world of unscripted entertainment this year,' host Nikki Glaser began, as the show cued up a parody-style montage of black and white images. 
The segment mocked Ellen after many reports surfaced about her show's 'toxic workplace', as an image of the talk show host read: 'Ellen's reign of terror 2003-2021.'
DailyMail.com revealed on Wednesday that Ellen is canceling her show amid plummeting ratings. This season, her 19th, is her last after 18 years.   
In Memoriam: The 2021 MTV Movie & TV Awards: Unscripted, penned an 'in memoriam' to pay tribute to some of the most salacious moments and figures in reality television
'Reign of terror:' Ellen who recently announced her longtime talk show would be coming to an end has continued to be slammed for fostering a toxic workplace environment 
BULLYING, RACISM AND A 'TOXIC WORK ENVIRONMENT': THE ALLEGATIONS AGAINST ELLEN
Ten former and one current member of Ellen's staff alleged they were bullied, fired for attending family funerals or taking sick leave, while one woman claimed to have walked off the job after facing comments about her race.
'That 'be kind' bulls*** only happens when the cameras are on. It's all for show,' one anonymous staff member said.
Staff said they were told not to talk to DeGeneres herself while she was on set, and that the day-to-day running of the show was left to producers.
The employees said they did not have first-hand experience of DeGeneres being unpleasant, but said she needs to take more responsibility for how her employees are treated.
However, allegations have mounted from other sources against the host herself – sparked by a Twitter thread from comedian Kevin T. Porter
Calling DeGeneres 'notoriously one of the meanest people alive', he asked people for 'the most insane stories you've heard about Ellen being mean'.
The tweet received 2,600 replies and saw Porter give $600 to an LA foodbank, after promising to donate $2 for every legitimate mean story.
Claims included that staff are required to chew gum before speaking to her because of her 'sensitive nose', and that she polices staff lunch orders and bans anyone from eating fish or meat.
Separately, security worker Tom Majercak – who was assigned to be Ellen's bodyguard at the 2014 Oscars – said she was 'sly' and 'demeaning' to him.
'Ellen is the one person that I've been assigned to – and I've been assigned to quite a few celebrities – that has never taken the time to say hi to me,' he said.
'She's not the person she portrays to be that she's playing off of society.'
But Ellen says the claims that she ran a toxic work environment were a 'coordinated, misogynistic' attack on her and that she couldn't 'possibly' have known her staff were unhappy. 
Black and white photos were set to classic montage music and they included time stamp markers on some particular pop culture moments – including a picture of Ellen on her show. 
The allegations of misconduct emerged first in a BuzzFeed article last July when several male senior producers were accused of sexual harassment. 
Ellen was accused of fostering an environment that tolerated bullying and one in which she reigned supreme. 
Staffers described bizarre rules she allegedly imposed like not being allowed to eat meat or fish at lunchtime, and that they weren't allowed to speak to her or look her in the eyes. 
If they did ever find themselves speaking to her, they said they'd been ordered to chew gum first because she has a 'sensitive nose'. 
One employee reported racial microaggressions, while another said they were fired after taking medical leave following a suicide attempt.     
It was also said that both DeGeneres and producers would publicly berate employees for mishaps including minor email mistakes. 
Ellen announced the show would end in 2022 in an emotional monologue, but later said it had nothing to do with the allegations of a toxic workplace in conversation with TODAY's Savannah Guthrie. 
'If it was why I was quitting, I would have not come back this year. I really did think about not coming back, because it was devastating. 
'It started with attacks on me and attacking everything that I stand for and believe in and built my career around. I am a kind person. I am a person who likes to make people happy,' she said.   
The tribute video opened with a nod to Love Is Blind star Giannina Gibelli's shocking reality show end, after she was set to marry Damian Powers on the season finale before he turned her down at the altar. 
She was seen emotionally fleeing the venue in her dress and stumbling through woods before removing her heels and falling over. 'Giannina's shoe 2020-2020,' the slide read. 
And Disick, 37, was next on the chopping block as a photo of he and Kourtney Kardashian read: 'Scott Disick dating age-appropriate women 2006 – 2015.' 
Since he and Kourtney's relationship ended he dipped his toes into a much younger pond, dating Sofia Richie, 22, for nearly three years before they called it quits last summer. 
He has now gone even younger with model Amelia Gray Hamlin, 19, who he has been with since October 2020. It is said that Scott is her first 'serious relationship,' and she had previously fired back at 'weird and judgmental' people for questioning the age-gap. 
And the montage moved on to include a nod to Teresa Giudice's ex-husband Joe who was deported to his native Italy after serving 41 months in jail for mail, wire, and bankruptcy fraud convictions. The slide read 'Joe Giudice's passport 1973-2019. 
The montage then turned to a black and white image of Ellen DeGeneres amid allegations of a 'toxic work environment' and the end of her show after 18 years.
The show's end comes after several former and current employees accused Ellen of fostering a toxic work environment last year and turning a blind eye to bullying by executives. 
Deportation: The former RHONJ castmate was deported to his native Italy after serving 41 months in jail
Torn apart: The couple were each convicted of mail, wire, and bankruptcy fraud convictions and Teresa served 15 months; pictured 2013
'Be Kind:' The host was accused of fostering an environment of racism, sexual harassment, and other toxic behaviors including firing employees who spoke to her or looked her in the eye
A source told DailyMail.com: 'The show has bled viewers since the toxic environment around Ellen and her show was made public.' 
The ratings for total households from February 2020 to February 2021 were down 40% in New York City and Chicago; in Los Angeles she's lost 59% of viewers.  
The Ellen DeGeneres Show got off to a strong ratings start last fall in her 18th season premiere when she addressed the scandal, but has seen a swift decline in the months since. 
The claims of Ellen's toxic work environment were revealed in July 2020 by one current and 10 former employees of the daytime talk show who accused three executive producers, Ed Glavin, Mary Connelly and Andy Lassner, of 'bullying.'  
Executive producers Glavin, Kevin Leman and co-executive producer Jonathan Norman were all fired from the popular talk show following the accusations leveled against them by current and former staffers. 
Ellen came out with an apology after it was announced that her show was subject to a probe by WarnerMedia which looked into 'staff experiences on set'.    
Tearful: 'The past 18 years … has changed my life. You all have changed my life. I am forever grateful to all of you for watching, for laughing, for dancing — sometimes crying,' she said
In addition to these claims, the show was rocked again when three dozen employees of the daytime talk show alleged that senior executives who work behind the scenes groped and kissed staffers, solicited one of them for oral sex, and were 'handsy with women.' 
Jonathan Norman, a co-executive producer, is alleged to have 'groomed' a former employee by taking him to concerts and showering him with other gifts and perks before attempting to perform oral sex on him. 
Kevin Leman, the show's head writer and executive producer, is alleged to have solicited oral sex from an employee. Others say they witnessed Leman grope another colleague.
And Ed Glavin, an executive producer, allegedly 'had a reputation for being handsy with women,' according to former employees. 
Executive producers (left to right) Jonathan Norman, Kevin Lenman and Ed Glavin were accused by over 30 former employees of misconduct and were all fired 
The former staffers told BuzzFeed News that they believe the host knew that several of her senior showrunners and producers were alleged to have committed sexual misconduct against junior-level employees.
The montage of black and white images continued to include 'Handwritten notes from Chris Harrison,' as the former Bachelor host recently 'stepped aside' from the franchise after fan outrage over his defense of racist behavior. 
In conversation with first black Bachelorette Rachel Lindsay, Harrison defended a white contestant on Bachelor Matt James' show named Rachael Kirkconnell who was seen attending a plantation themed party and was accused of bullying girls in high school for dating black men. 
She was later announced as the winner of James' season before the scandal rocked the relationship and they took time apart. In recent weeks they have been seen rekindling their romance after she vowed to put in work to unlearn racist behavior. 
And the tribute concluded with a list of shows that had been cancelled over the years.  'Let's also take a moment to acknowledge all of the canceled reality shows of the past. You may be gone, but you will also be forgotten,' Glaser concluded.  
'Stepping aside': The tribute continued to include 'Handwritten notes from Chris Harrison,' as the former Bachelor host recently 'stepped aside' from the franchise after fan outrage over his defense of a castmates racist behavior
MTV Movie & TV Awards 2021 Part Two: NOMINATIONS
UNSCRIPTED CATEGORIES
BEST DOCU-REALITY SHOW
Below Deck Mediterranean
Black Ink Crew New York
Bling Empire Unscripted
Jersey Shore: Family Vacation — WINNER
Love & Hip Hop: Atlanta
BEST COMPETITION SERIES
Legendary
RuPaul's Drag Race — WINNER
The Challenge
The Circle
The Masked Singer
BEST LIFESTYLE SHOW
Deliciousness
Fixer Upper: Welcome Home
Making The Cut
Nailed It! — WINNER
Queer Eye
BEST COMEDY / GAME SHOW
Floor Is Lava
Impractical Jokers — WINNER
Kids Say the Darndest Things
Nick Cannon Presents: Wild 'N Out
Ridiculousness
BEST HOST
Nicole Byer: Nailed It!
Rob Dyrdek: Ridiculousness
RuPaul: RuPaul's Drag Race — Winner
T.J. Lavin: The Challenge
Tiffany Haddish: Kids Say the Darndest Things
BEST FIGHT 
Chrishell Stause vs. Christine Quinn: Selling Sunset
Jackie Goldschneider vs. Teresa Giudice: The Real Housewives of New Jersey
Kandy Muse vs. Tamisha Iman: RuPaul's Drag Race: Untucked
Kourtney Kardashian vs. Kim Kardashian: Keeping Up With The Kardashians — WINNER
West Law Roach vs. Guest Judge Dominique Jackson: Legendary
BEST INTERNATIONAL REALITY SERIES
Acapulco Shore
Geordie Shore
Love Island (ITV) — WINNER
¡Nailed it! México
RuPaul's Drag Race UK
BEST DATING SHOW
90 Day Fiancé
Ex On The Beach
Love Is Blind
Ready to Love
The Bachelorette — WINNER
BEST REALITY CAST
90 Day Fiancé
Jersey Shore Family Vacation
Love & Hip Hop: Atlanta
RuPaul's Drag Race — WINNER
The Real Housewives of Atlanta
BEST NEW UNSCRIPTED SERIES 
Bling Empire
Cardi Tries
Selena + Chef — WINNER
The Real Housewives of Salt Lake City
VH1 Family Reunion: Love & Hip Hop Edition
BEST TALK / TOPICAL SHOW
A Little Late with Lilly Singh
Red Table Talk
The Breakfast Club
The Daily Show with Trevor Noah — WINNER
Watch What Happens Live with Andy Cohen
BREAKTHROUGH SOCIAL STAR
Addison Rae
Bretman Rock — WINNER
Charli D'Amelio
Jalaiah Harmon
Rickey Thompson
BEST REAL-LIFE MYSTERY OR CRIME SERIES
Catfish: The TV Show — WINNER
Evil Lives Here
Night Stalker: The Hunt for a Serial Killer
Tiger King: Murder, Mayhem and Madness
Unsolved Mysteries
Source: Read Full Article