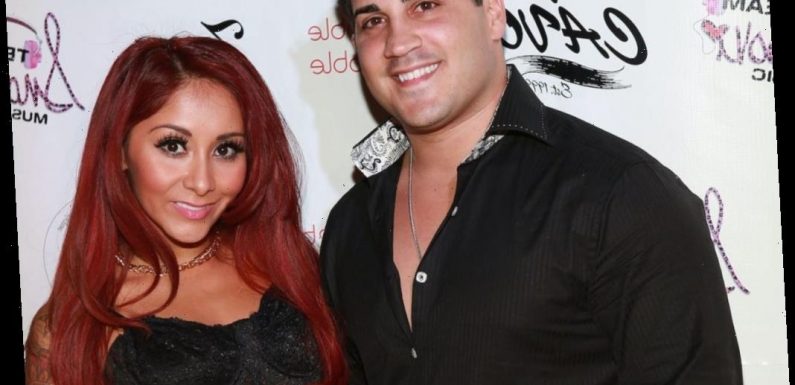 Jersey Shore star Nicole "Snooki" Polizzi and Jionni LaValle are married and have three kids together. But recently, some fans have noticed Polizzi not wearing her rings. Many assume the couple are experiencing problems in their marriage, but that's not the case. Polizzi clarified why she doesn't wear her wedding rings — and her reasons for doing so happen to be quite relatable.  
Nicole 'Snooki' Polizzi and Jionni Lavalle are married with 3 kids
Polizzi met LaValle in her old stomping grounds — Seaside Heights, New Jersey.
"We met at the club," she told Larry King in an interview. "I hated him at first. I was just like 'Oh he's cute, he'll do for tonight.'" After what Polizzi thought would be a one-night-stand, she and LaValle hit it off.
In a later interview with Vulture, Polizzi said she was "grateful" for Jersey Shore because without it, she would have never met her husband. And although she wishes the story of how they met was "something romantic," the couple are happily married today. 
Polizzi and LaValle welcomed their first child, Lorenzo Dominic LaValle, on Aug. 26, 2012. Giovanna Marie LaValle was born on Sept. 26, 2014, and the couple wed on Nov. 29, 2014. On May 30, 2019, Angelo James LaValle was born. 
'Jersey Shore' fans were upset to see Nicole 'Snooki' Polizzi without her wedding ring
Recently, fans have noticed Polizzi not wearing her wedding bands.
"I just read some conspiracy theories about myself from fans noticing that I don't wear my wedding rings anymore," Polizzi said on her Instagram Stories (via Reddit).
This isn't the first time Polizzi has been called out by fans for her choice not to wear a ring. In 2015, amidst the Ashely Madison scandal, fans noticed Polizzi wasn't wearing her rings and thought her marriage with LaValle was falling apart.
"FYI I don't wear my wedding rings because they're too big and I need to resize them so I won't lose them," Polizzi tweeted at the time. "I'm still happily married."
Now, rumors of Polizzi's marriage crumbling have surfaced once again because she's not wearing her rings. The reality TV star took to social media once again to clear things up. 
'Snooki' doesn't wear her wedding ring because she's busy being a mom
After reading up on fan conspiracy theories, Polizzi posted to her Instagram Stories to clarify why she doesn't wear rings.
"I do this all day," Polizzi continued in her video post. "I'm a mother of three. I don't need to be wearing the ring around the house or [to] run and go get Starbucks. It's just not my thing."
That's not the only reason Polizzi doesn't frequently wear her wedding ring.
"I also don't want to lose it," she continued. "I'm one of those a*sholes that if I wore it 24/7, it would fall off in Walmart while I'm getting Gatorade, so it's not happening." 
"Jionni hardly wears his ring either," the former Jersey Shore star added. 
Obviously I have my rings, they're here — they're in the bathroom. I'll wear it if we go on a date or we go to a family event or something cool, but other than that, I'm not wearing my ring b*tches.
This is what I do, I don't need to wear it when I'm at home.
Polizzi concluded: "Now you know, if I'm not wearing my ring, it's OK."
Source: Read Full Article