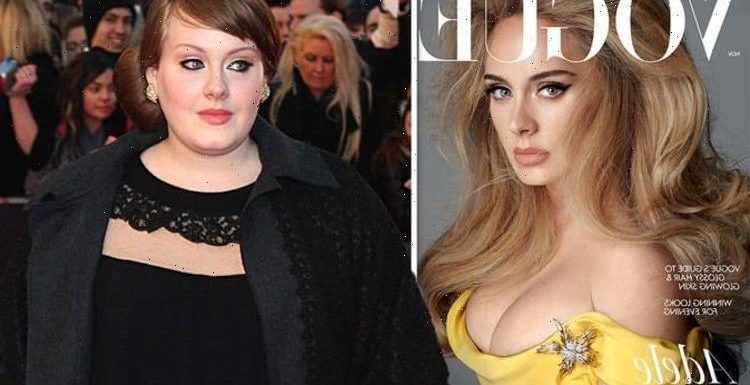 Adele teases the release of her new track 'Easy on Me'
We use your sign-up to provide content in ways you've consented to and to improve our understanding of you. This may include adverts from us and 3rd parties based on our understanding. You can unsubscribe at any time. More info
Easy On Me hitmaker Adele has broken her silence on her 100lbs weight loss. The star opened up about her stunning transformation in a candid new interview, as she revealed it had taken place "over a two-year period" and behind closed doors.
Detailing the reasons behind her weight loss, Adele explained she started getting into a fitness regime due to her "anxiety" rather than in a bid to shed the pounds.
She divulged: "It was because of my anxiety. Working out, I would just feel better.
"It was never about losing weight, it was always about becoming strong and giving myself as much time every day without my phone.
"I got quite addicted to it. I work out two or three times a day."
Detailing her rigorous daily workouts, Adele told British Vogue that she usually does weights in the mornings, enjoys hiking or boxing in the afternoons, and then completes her regime with cardio in the evenings.
However, the singer was quick to acknowledge that her health and fitness regime, which she completes with the help of personal trainers, is "not doable for a lot of people".
Adele also took the opportunity to hit back at rumours about how she achieved her slim figure.
She fumed: "The people that came out being like, 'I trained her,' I've never met in my life.
"It's disgusting. I cannot get over it. Some Pilates lady I've never met in my life! And I haven't done any diet."
Adele then denied doing the Sirtfood diet, which involves eating low-cal, wholefoods, and consuming green tea and blueberries.
The star, who unveiled her weight loss transformation following her split from ex-husband Simon Simon Konecki, told the publication: "Ain't done that. No intermittent fasting. Nothing.
"If anything I eat more than I used to because I work out so hard.
DON'T MISS:
Aljaz Skorjanec left 'sweating' over Strictly rule break concerns [VIDEO]
Kate Middleton 'taken aback' by personal questions from Rami Malek [COMMENT]
'It was horrible' Donny Osmond speaks out on 'losing' career [INSIGHT]
"And also, that whole thing of like, 'Gets Revenge Body'… Oh my god. Suck my d**k!"
She insisted: "I did it for myself and not anyone else."
In a glamorous photoshoot for the magazine, the star, who is releasing her highly anticipated new album soon, showed off her gym-honed physique.
She began by posing in a cleavage-baring yellow dress.
The star's hair was styled in Hollywood-inspired waves and she accessorised with a stunning statement brooch.
Adele then wore a black dress featuring a lace-up design and high heels.
In a black and white photo, the Rolling In The Deep singer shot a sultry look at the camera in the figure-hugging outfit.
The London-born singer's stunning photos will be featured on the cover of both British and American Vogue.
Adele covers the November issues of British and American Vogue.
Source: Read Full Article