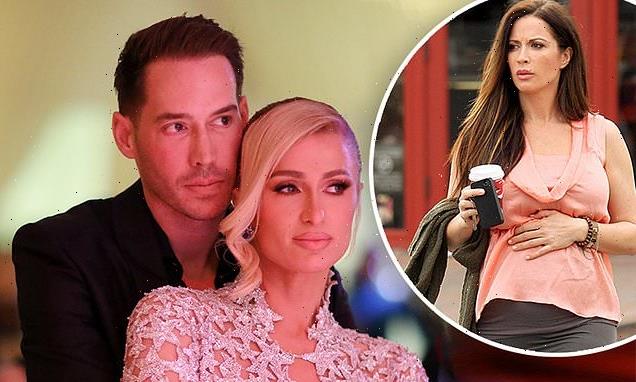 Paris Hilton's new husband Carter Reum has secret 9-year-old child 'he's only met ONCE' with reality star Laura Bellizzi who briefly dated Mel Gibson
Paris Hilton's new husband Carter Reum has a love child from a past relationship
He shares 9-year-old daughter with reality star Laura Bellizzi
A source has claimed Reum has only met his daughter once 
Bellizzi, who appeared on VH-1 show Secrets of Aspen, briefly dated Mel Gibson
Her show only ran for one season in 2010, and she has kept a low profile since 
At the time, Gibson denied rumors he was the father of Bellizzi's child
Bellizzi also refuted the rumors, saying: 'Mel Gibson is not the father of my child'  
DailyMail.com has reached out to reps who have been unavailable for comment 
Paris Hilton's new husband Carter Reum has a secret nine-year-old love child from a previous relationship who he has allegedly seen 'only once.' 
Millionaire entrepreneur Reum, 40, fathered a child with reality star Laura Bellizzi, known for appearing on the short-lived VH-1 show Secrets of Aspen, PageSix reported Monday. 
Bellizii – a Chicago native who now lives in California with the child – also briefly dated actor Mel Gibson. Hilton and Reum tied the knot at a lavish ceremony in Bel Air on Friday. 
In 2011, when Bellizzi was pregnant, it was reported that the baby was Mel Gibson's love child, though he vehemently denied the claims. 
DailyMail.com has reached out to Hilton and Reum's reps who have so far been unavailable for comment. 
Revealed: Paris Hilton's husband Carter Reum has 9-year-old love child with reality star Laura Bellizzi who briefly dated Mel Gibson
Bellizzi also refuted the rumors to TMZ in November 2011, saying: 'Mel Gibson is not the father of my child.'
As it turns out, she was carrying Reum's child.  
It is the first time that any significant details from Reum's relationship history has been revealed, after he and wife Hilton, also 40, have shared their romance openly in her new reality show Paris In Love.
A source claimed to the outlet that Carter has 'only seen [his daughter] once since she was born 9 years ago.'
In response, a spokesperson for Reum told said: 'The people who this story matters to have known about it for 10 years. Carter supports this child. While he does not have a traditional father-daughter relationship with her, he has provided for her since she was born, and will continue to do so.' 
Pictured: Laura Bellizi is seen above pregnant in 2011, and at the time it was speculated she was carrying Mel Gibson's baby – both ended up denying the rumors 
Bellizi has kept a low profile since hitting the headlines with Gibson in 2011.
The reality show, VH-1's Secrets of Aspen, that she appeared on in 2010, only ran for one season and she has not appeared on any other shows since.
A source close to the situation added to the outlet that her daughter had been 'triggered' by seeing Reum's lavish wedding to Hilton, and felt 'left out' of her father's life. 
The source said: 'Also, she saw the articles of Paris and Carter talking about starting a family. She felt tremendous rejection and felt left out. She wants to have a relationship with him.'
Reum is worth an estimated $40million, after co-founding investment company M13 with his brother Courtney Reum. Meanwhile, Reum's wife Hilton is worth an estimated $300million.
Reality star: Laura Bellizzi pictured in April 2010
The source continued that Reum's daughter wants to 'know her daddy.'
'She just wants to really complete the missing pieces of her puzzle,' the source divulged. 
'She's at that age where self-identity is so important, and children want to know who they are and where they come from. It's important for him to help her with that.' 
'It's not about [Reum] or the mother. It's about making the child whole. She is absolutely an amazing little girl. She has so much love to give. And she wants to give it to him, his family and whoever he chooses to love.'
A second source told the outlet: 'She is of an age now where she is cognizant and wants her paternal family to hear her and know her. He may not claim or love her, but she claims and loves him and his family.'
PICTURED: Paris Hilton stuns in Oscar de la Renta wedding gown as she marries Carter Reum at her grandfather's Bel-Air estate… and declares 'my forever starts today'
Hilton has made no secret of her plan to start a family with Reum of their own, now they are married.
In January this year, she revealed she is undergoing IVF with Reum to ensure she can have a 'boy and girl twin', after dating him for a year.
The socialite told The Trend Reporter with Mara podcast on Tuesday that best friend Kim Kardashian had introduced her to the idea.
Paris said: '[Kim was the one] who told me about that. I didn't even know anything about it. I'm happy that she told me that advice and introduced me to her doctor.
'We have been doing IVF, so I can pick twins if I like.'
Who is Carter Reum? Meet the man who hopeless romantic Paris Hilton has FINALLY settled down with…
He has been credited as the man who has finally tamed the ultimate 2000s party icon Paris Hilton. So, why is Carter Reum such a catch? DailyMail.com takes a look into the life of the entrepreneur and venture capitalist that has stolen the heart of a hotel heiress…  
He comes from a wealthy family, just like Paris
Carter's father, the late tycoon W. Robert 'Bob' Reum, was the chairman, CEO and president of Chicago-based industrial firm Amsted Industries. The company is currently valued at $4billion, and Bob is said to have left behind $7million when he died in 2017 at the age of 74 and is also said to have had a significant property portfolio. Meanwhile, his sister Halle is married to Oliver Hammond, a scion of the extremely wealthy Annenberg family.
He's an Ivy League graduate
Ivy League schools are considered to be the best in the country – and Carter received a B.A. in both Economics and Business/Managerial Economics from Columbia University in 2003, setting him on his road to success. His older brother Courtney and sister Halle also attended the same school. 
A good catch: Carter Reum at a sustainable style event in 2019 
He's a well-respected entrepreneur 
Carter's net worth is estimated to be between $35million-$40 million, and while that is no match for Paris Hilton's estimated $300million fortune – he has a promising career ahead. For the last four years in a row, he's been recognized as one of Goldman Sachs' Builders + Innovators Top 100 Most Intriguing Entrepreneur. He and his brother Courtney Reum co-founded their investment company M13, named after the brightest star constellation, after selling their spirits company VEEV in 2016. M13 has invested in over 125 companies including names like Lyft, Pinterest, SpaceX, and more. 
He's media savvy and has appeared on reality TV in the past 
While Carter may be a private person, he's also a media-savvy commentator who knows how to handle his public image. He has appeared on the business reality competition show Hatched with his brother Courtney. In 2018, Carter and Courtney released a self-help book for aspiring and seasoned entrepreneurs titled Shortcut Your Startup.
Fun: Carter (right) poses with his brother Courtney Reum (middle) and a male model at a 2006 fashion event 
He's accepting of his partner's 'imperfections' 
When asked about any of Paris's annoying habits, Carter said rather diplomatically that her 'creative mind' doesn't always make for a clean or organized house. 'Yeah, I'm not the most organized person in the world,' Paris agreed. But Carter reasoned: 'Yeah, I don't think we're gonna change that. I think we're just gonna have to accept that. If that's the only reason you're not perfect, could be way worse.' 
He's a private person with a child from a previous relationship  
It was revealed after their wedding that Carter is father to a nine-year-old daughter from a previous relationship with reality star Laura Bellizzi. In 2011, when Bellizzi was pregnant, it was reported that the baby was Mel Gibson's love child, though he vehemently denied the claims. As it turns out, she was carrying Reum's child. A spokesperson for Carter said on the matter: 'The people who this story matters to have known about it for 10 years. Carter supports this child. While he does not have a traditional father-daughter relationship with her, he has provided for her since she was born, and will continue to do so.'
Settling down: The happy couple are seen in a Instagram post from Paris 
Her infamous sex tape, bitter break-ups, fleeting celeb flings and FOUR engagements: A look back at Paris Hilton's wild love history
She may have finally found her prince charming in entrepreneur Carter Reum, but hopeless romantic Paris Hilton has had many false-starts on her road to wedded bliss. From a sex tape scandal, bitter break-ups, fleeting celebrity romances and a total of FOUR engagements, DailyMail.com takes a look back at the very extensive relationship history of the 40-year-old hotel heiress…
Chris Zylka – 2017-2018 
Paris's most recent proposal before finding love with Carter was with HBO actor Chris Zylka. The pair began dating in 2017, and he proposed just a year later on a Aspen, Colorado ski trip in January 2018. At the time Paris said of their romance: 'My best friend & soulmate. Perfect for me in every way.' They would break up a few months later.
Ex-factor: Paris and ex-fiancé Chris Zylka in 2018 
Thomas Gross – 2016
The Simple Life star and businessman Thomas Gross – who is worth over $200million – dated for a year before they split up in April 2016. The pair met at the Cannes Film Festival in 2015, and were said to have immediately hit it off. She named him her 'soulmate' in an Instagram caption at the time and even took him as her date to sister Nicky Hilton's wedding, but it wasn't to be.
River Viiperi – 2012 – 2014
This Spanish model River Viiperi and Paris dated for two years – and the pair were often seen packing on the PDA while out partying. But the hotel heiress had moved on in 2014, and confirmed their breakup by kissing a mystery man on the beach in Malibu.
Model ex: Paris and River Viiperiin 2014 
Afrojack – 2012
Paris was linked to Afrojack in 2012. Her reps denied reports that she had been dumped by the DJ, instead insisting that they were 'best friends' and 'love and support each other very much.'
Cy Waits – 2010-2011
The reality star dated nightclub organizer Cy Waits for almost a year before they split in June 2011. Things went downhill for the couple when they were arrested in Las Vegas, with Cy getting busted for driving under the influence. He ended up losing his job as head of nightclub operations for Wynn and Encore in Vegas.
PDA: The heiress seen with Doug Reinhardt in 2009 
Doug Reinhardt – 2009-2010
There was no love lost between Paris and The Hills star Doug Reinhardt. After a messy split, she told UsWeekly: 'I am, like, so past that – I don't even care! I don't even remember that time in my life. I am over it! I just realized that I'm better off without him. So I ended it because I deserve something much better! He wasn't right for me and I will eventually find somebody who loves me for who I am.'
Benji Madden – 2008
Before he was married to Cameron Diaz, Paris Hilton and Benji Madden dated for nine months. However, it wasn't to be as she split from the Good Charlotte guitarist in November 2008. 'She is saddened by the breakup but they're just too different and they wanted different things in life,' a source said at the time. 'He was loyal and sweet but it was time to take a break.' 
Rocker: The star is pictured with Benji Madden in 2008 
Stavros Niarchos – 2006 
Stavros Niarchos, the son of a Greek billionaire shipping tycoon, dated Paris around 2006 before calling it quits after a year. Before Paris, Niarchos had been linked to Mary-Kate Olsen. The pair pledged to remain friends. 
Paris Latsis – 2004-2005
Paris almost married her namesake Paris Kassidokostas-Latsis, a Greek socialite and shipping heir. They began dating in December 2004 and were engaged just eight months later. But the couple had called things off by September next year. She had famously complained that her 24 carat diamond – reportedly worth $4.7 million – was too heavy on her finger.
Selfie pioneer: Paris takes a snap with Stavros Niarchos
Pose: Paris and Paris Latsis in 2005 
Nick Carter – 2004
The socialite and Backstreet Boys singer Nick were an item for seven months before eventually splitting in July 2004. He would later say some unkind things about Paris in autobiography, writing: 'Paris was the worst person in the world for me to hook up with. [She] fed my worst impulses as far as partying.' Paris would respond saying: 'I don't believe I was a negative influence on Nick…. I'm glad he got help for his problems and wish him all the best.'
Deryck Whibley – 2003
Sum 41 frontman Deryck Whibley and Paris Hilton were linked for a few months in 2003. Although they were spotted kissing on the party circuit in Los Angeles at the time, things between the pair fizzled out quickly.
Pop stars the rivals: Paris has dated both Nick Carter from the Backstreet Boys and Sum 41 frontman Deryck Whibley 
First big love: Paris and her former fiancé, model Jason Shaw, in 2002 
Jason Shaw – 2002
The Hilton heiress was first engaged to model Jason Shaw, just before she turned 21 years old in 2002 but split in 2003. They were linked again later in 2010, though they appeared to be just friends. 'I love him so much. We're very close and I've known him a very long time,' she told Ellen DeGeneres at the time.
Rick Salomon – 2001
Arguably one of her most famous exes, Paris and Rick's relationship hit the headlines when the poker player leaked a sex tape of the two in 2004 years after they'd split. Paris later said she felt 'so betrayed' and recently claimed that the whole experience left her with PTSD. 'It was my first real relationship. Eighteen. I was so in love with him and I wanted to make him happy,' she said in her recent doc This Is Paris. 'And I just remember him pulling out the camera. And he was kind of pressuring me into it. It was like being electronically raped.'
Edward Furlong – 2000
Paris confirmed her romance with the Terminator 2: Judgment Day star after rumors were swirling about an engagement and wedding. 'No, we're not married, but he is my boyfriend. We've been going steady together for about a month,' she informed the New York Post in September 2000. 
Notorious: Paris is seen with Rick Salomon circa 2001 who she made the infamous sex tape with  
Source: Read Full Article