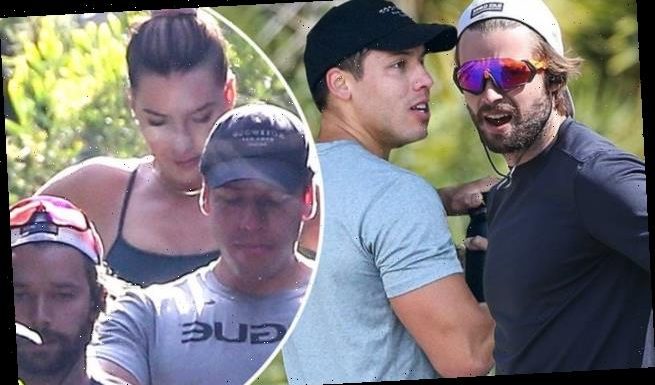 PICTURED: Patrick Schwarzenegger and half-brother Joseph Baena seen bonding for the first time… 10 years after Arnold's affair with family housekeeper was exposed
Patrick, 27, and Joseph, 23, were pictured hiking together in Los Angeles on Monday with Joseph's girlfriend Nicky Dodaj
It was revealed in 2011 that Arnold Schwarzenegger had fathered Joseph with his then-housekeeper Mildred Patricia Baena back in 1997
Joseph appears to have had a complicated history with his half-siblings since the revelation was made public  
Tellingly, Joseph did not attend the wedding of sister Katherine when she tied the knot with Guardians of the Galaxy star Chris Pratt in June 2019
Joseph himself posted 'Congratulations!' on Katherine's wedding Instagram snap of her big day, but the pair have not been pictured together 
He follows both Patrick and Katherine's official Instagram accounts, but they do not appear to follow him back  
Patrick Schwarzenegger and his half-brother Joseph Baena have been pictured out bonding together in Los Angeles, ten years after father Arnold's affair with the family housekeeper was first revealed. 
It is the first time that Patrick, 27, and Joseph, 23, have been seen spending quality time in public with one another, as they enjoyed a workout on Monday, along with Joseph's girlfriend Nicky Dodaj. 
The sighting comes after years of a complicated history between Joseph and his half-siblings, including brother Christopher, 23, and sisters Christina, 29, and Katherine Schwarzenegger, 31, which now appears to be on the mend. 
Arnold's former wife Maria Shriver is mother to their four children, while he fathered Joseph with his then-housekeeper Mildred Patricia Baena back in 1997. 
PICTURED: Patrick Schwarzenegger and half-brother Joseph Baena seen bonding for the first time on Monday in LA… 10 years after Arnold's affair with family housekeeper was exposed
However, news of The Terminator star's lovechild was not revealed until 2011, when Joseph was 13 years old, and it is unclear when he was officially introduced to his half-siblings.
Tellingly, Joseph did not attend the wedding of sister Katherine when she tied the knot with Guardians of the Galaxy star Chris Pratt in June 2019. 
Yet, Joseph himself posted 'Congratulations!' on Katherine's wedding Instagram snap of her big day – held in Montecito, California – with two hearts and a champagne bottle emoji. 
It was a star-studded wedding with guests including Katherine's parents, Maria and Arnold, as well as Guardians of the Galaxy director James Gunn and actor Rob Lowe.
Joseph follows both Patrick and Katherine's official Instagram accounts, but they do not appear to follow him back 
Rare outing: It is the first time that Patrick, 27, (left) and Joseph, 23, (right) have been seen spending quality time in public with another, as they enjoyed a workout on Monday
Family fitness: Joseph's girlfriend Nicky Dodaj was also pictured out for the daily bout of exercise in Los Angeles 
In April 2019, for National Siblings Day, Katherine posted a throwback of herself with Patrick, Christopher and Christina, captioning the post 'I love them so much #nationalsiblingsday.' 
Katherine then faced comments from trolls online who pointed out that she had failed to mention her half-brother Joseph in the 2019, despite the fact they were all well aware of one another by now. 
But Arnold has since fostered a great relationship with Joseph, and the pair have been regularly spotted together on trips out, particularly to the gym.
Joseph clearly follows his father's love of fitness, and has often been compared to a young Arnold when he was known as a world-renowned bodybuilder. 
Following in their father's footsteps: Both Joseph and Patrick appear to be avid fitness fans just like Arnold Schwarzenegger 
Hiking: The group appeared to be going on a strenuous hike in Los Angeles on Monday 
Daily grind: It appears that Joseph and his girlfriend Nicky Dodaj both share a love of fitness
Arnold addressed the situation in his book, Total Recall: My Unbelievably True Life Story, explaining that Maria had confronted him with suspicions in a couples' counseling session.
'The minute we sat down, the therapist turned to me and said "Maria wanted to come here today and to ask about a child – whether you fathered a child with your housekeeper Mildred." I told the therapist 'It's true',' he wrote in his book.  
 The former Governor of California went to explain that he tried to 'control the situation' by keeping Mildred in her job as housekeeper, despite the fact it raised further questions from wife Maria. 
'I blocked out the fact that as a husband and father, as a man with a family and wife, I was letting people down,' Arnold added, talking about his relationship with Guatemalan-born Mildred. 
Secret: Arnold fathered Joseph with his then-housekeeper Mildred Patricia Baena back in 1997 (the pair pictured above on Instagram)
Family affair: Some comments on social media have pointed out that Joseph has not been included in group family pictures (like this birthday post for Arnold last August) 
Like father, like son: Arnold Schwarzenegger has often been seen with son Joseph over the last few years working out together at Gold's Gym in Venice Beach  
Source: Read Full Article