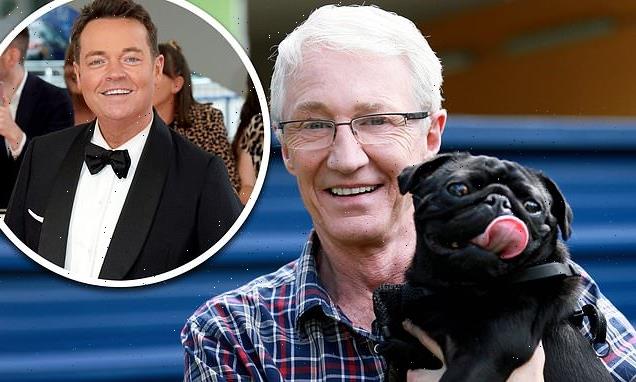 Paul O'Grady's For The Love of Dogs show 'could continue under new presenter' and honour his legacy as Stephen Mulhern favourite to host
Paul O'Grady's award-winning ITV show For The Love of Dogs could continue on after the presenter's death, says a PR expert. 
Paul's partner Andre Portasio announced he had passed away 'unexpectedly but peacefully' aged 67 on Tuesday. 
The TV star fronted the documentary series set at Battersea Cats and Dogs home for 11 series after it first aired back in 2012. 
Paul stayed on to be a volunteer at the rescue home for six months after the series first aired and continued to work with Battersea in the years that followed. 
Now, a PR expert thinks his beloved show can continue on in Paul's legacy with someone like Stephen Mulhern fronting it. 
RIP: Paul O'Grady's show For The Love of Dogs could continue on after the presenter's death, says a PR expert
PR expert Jack Cooper from EdHopkins PR told Entertainment Daily: 'In my perspective, For The Love Of Dogs will forever remain synonymous with Paul's name, having presented the entire series, it's apparent that Paul played a pivotal role in the show's success. 
'Although I firmly believe that no one can replace Paul, I do believe that the show's legacy could continue under a new presenter who shares the same passion for animals. However, it's crucial for the producers of the show to be cautious when selecting a replacement'.
The PR guru called Stephen a 'national treasure' and thought the ITV star could be a good replacement for Paul, who was so loved by viewers.  
Nick Ede of East of Eden, however, believes the show wouldn't be the same without Paul fronting it as he said: 'His charm and kindness shone though in everything he did and this is why he is a Royal favourite and wont be replacable, he will be a hard act to follow and I don't think anyone will be quite like Paul O'Grady.'
MailOnline has contacted ITV for comment. 
Throughout the series, Paul met members of the Battersea staff to talk about the dogs in their care and had his hands full looking after a whole range of pooches. 
The show won two consecutive National Television Awards for Most Popular Factual Entertainment Programme in 2013 and 2014 and again in 2019. 
O'Grady became a household name in the early noughties, known for his wit and love of animals, and hosted a string of television programmes including his self-titled daytime chat show, The Paul O'Grady Show, which began airing in 2004. 
National treasure: Now, a PR expert thinks his beloved show can continue on with someone like Stephen Mulhern fronting it
He also took over the reins from Blind Date's long-running presenter and his close friend Cilla to host the Channel 5 reboot of the show in 2017. And he fronted Blankety Blank, as well as ITV's award-winning For The Love Of Dogs.
Announcing his death on Tuesday, Paul's partner Portasio said: 'It is with great sadness that I inform you that Paul has passed away unexpectedly but peacefully yesterday evening.
'We ask, at this difficult time, that whilst you celebrate his life you also respect our privacy as we come to terms with this loss.
'He will be greatly missed by his loved ones, friends, family, animals and all those who enjoyed his humour, wit and compassion.
'I know that he would want me to thank you for all the love you have shown him over the years.' 
Paul's cause of death is yet to be announced.  
Shock news: Eulogies have poured in for the legendary presenter after his partner Andre Portasio shared that he had passed away 'unexpectedly but peacefully' on Tuesday
Source: Read Full Article